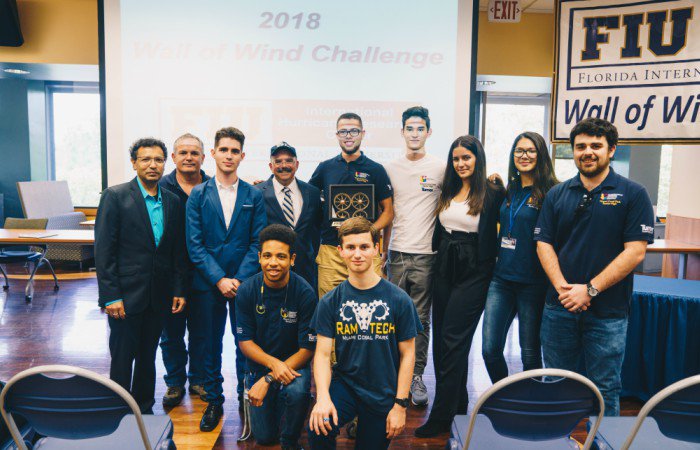 The students from Coral Park Senior High School earned first place with their impressive model building.
Each year, the WoW Challenge invites local high school students to build scale model structures that test their engineering skills against the WoW – a hurricane research facility at FIU's Engineering Center with fans capable of generating 150-mph winds and category five hurricane conditions. The WoW is one of eight Natural Hazards Engineering Research Infrastructure (NHERI) Experimental Facilities nationwide, designated by the National Science Foundation (NSF) to research the impacts of earthquake, wind and water hazards. WoW's research focuses on wind effects on infrastructure and how to prevent these wind events from becoming community disasters.
The WoW Challenge is hosted by the International Hurricane Research Center – housed within FIU's Extreme Events Institute – and is supported by a grant from the Florida Division of Emergency Management.
This year's challenge was to create an aerodynamic building model at least 32 inches high and 8 inches wide that could withstand winds of 50 mph or higher. Students also completed a technical paper and an oral presentation about their design.
Six schools participated in the competition.
Coral Park students built a 40-pound cylinder-shaped structure made of cardboard and solid materials. It was the only model in the competition that sustained winds of a category one hurricane (at least 74 mph) – earning the team first place, with a ten-point lead over the second-highest placing team.
Read the FULL STORY.