StEER FAST-1 prepares to depart from Orlando for Abaco, Sept 24, 2019. (Photo: Daniel Smith, StEER)
On September 10, as the remnants of Hurricane Dorian were dissipating off the coast of southern Greenland, the NSF-funded Structural Extreme Events Reconnaissance network, known as StEER, released its Preliminary Virtual Reconnaissance Report (PVRR) summarizing its findings on the impacts of Hurricane Dorian to the Bahamas and the U.S.
The report was prepared by StEER's Virtual Assessment Structural Team (VAST) and relies upon publicly available news reports, social media and other resources. The PVRR is accessible at the NHERI DesignSafe website: doi.org/10.17603/ds2-saf8-4d32. The StEER PVRR serves as the precursor to the on-site investigations conducted by the StEER Field Assessment Structural Teams (FAST).
On-site, on the double
On Sept. 21, StEER activated its first FAST (FAST-1) to survey impacts of Hurricane Dorian in the Bahamas, through a joint mission with the NHERI RAPID Equipment Facility from the University of Washington. This scout team documented the performance of multiple building typologies, with specific emphasis on mitigation strategies that enabled structures to survive this category 5 hurricane, using a mixture of door-to-door (D2D) assessments and a range of aerial and terrestrial imaging technologies supplied by the RAPID EF, including Applied StreetView technologies.
In light of the ongoing recovery work, the FAST-1 mission was time-constrained, with data collection September 24-25, only on Great Abaco Island. Day 1 specifically focused on Marsh Harbour, the landfall location; Day 2 focused on Treasure Cay.
The FAST-1 team is led by Justin Marshall of Auburn University, along with Daniel Smith of National Center for Atmospheric Research/University of Florida and Andrew Lyda with the University of Washington RAPID EF, with a local support team graciously led by Steve Pece, president of Orlando-based Pece of Mind Environmental, a demolition and environmental remediation company.
Mission coordination was provided by StEER Director Tracy Kijewski-Correa of the University of Notre Dame, with StEER Associate Director David Roueche of Auburn University guiding the sampling strategy and data fusion.
"The FAST-1 deployment marks our fifth deployment in three land-falling hurricanes since StEER was formally established in 2018," says Roueche. "With each deployment we have refined our methods and tools and our coordination and partnerships. We can now capture richer datasets that have even greater learning potential available to the research community. We will continue to work hard at building out the capacity of the structural engineering community, so that we can advance science and strengthen the resilience of our communities against the most extreme events such as Hurricane Dorian."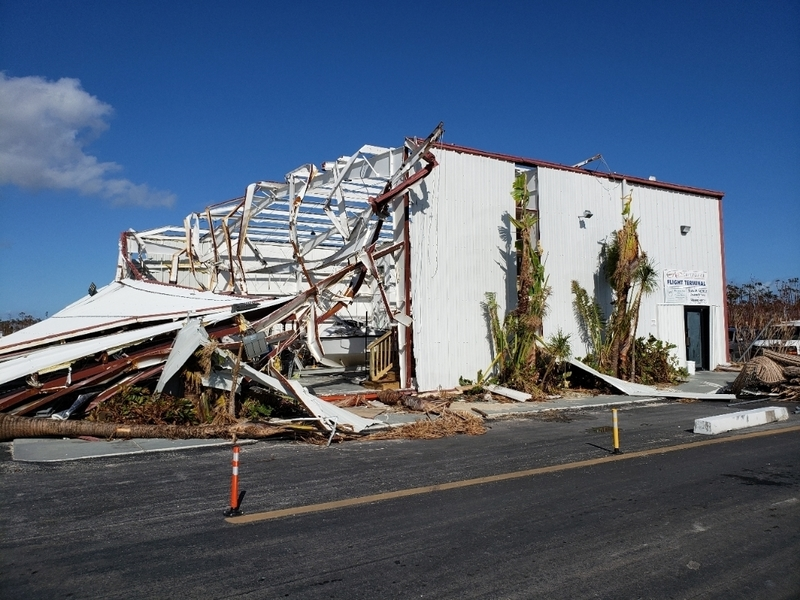 Exterior view of one of the flight terminal buildings at Leonard M. Thompson International Airport in Marsh Harbour, Bahamas airport, Sept 24, 2019. (Photo: Justin Marshall, StEER)
Coming full circle
A second phase of StEER's mission in the Bahamas will initiate in early October 2019 and will include a coastal survey team, a building damage assessment team and an imaging team. Details of that mission will be posted on the #steer Slack channel once their itinerary is finalized.
"StEER FAST-1 had unprecedented access to Great Abaco Island much sooner than we had ever dreamed thanks to the support of Steve Pece," says Kijewski-Correa. "The imaging strategy we have developed with the RAPID EF capitalizes on this access and generate a rich dataset that will be shared with researchers, practitioners and the Bahamian Government who all hope to learn from this disaster. While many may focus on the catastrophic losses of this hurricane, StEER has already identified a number of successes: surviving buildings employing mitigation strategies similar to those used in the U.S. The opportunity to understand why these survivors performed well is invaluable — considering the historic wind speeds, storm surge, and duration of this Category 5 storm's passage over the Bahamas."
Unprocessed D2D damage assessments are currently visible in StEER's Fulcrum community platform: https://web.fulcrumapp.com/communities/nsf-rapid.  Be sure to enable the StEER Building – US (Windstorm) project in the layer set, located in the upper right corner of the map.