Opens in a new window
Opens an external site
Opens an external site in a new window
Opens an external site in a new window
CONVERGE Training Modules Bring Social Science Insights to Natural Hazards Engineering Research
Published on February 7, 2020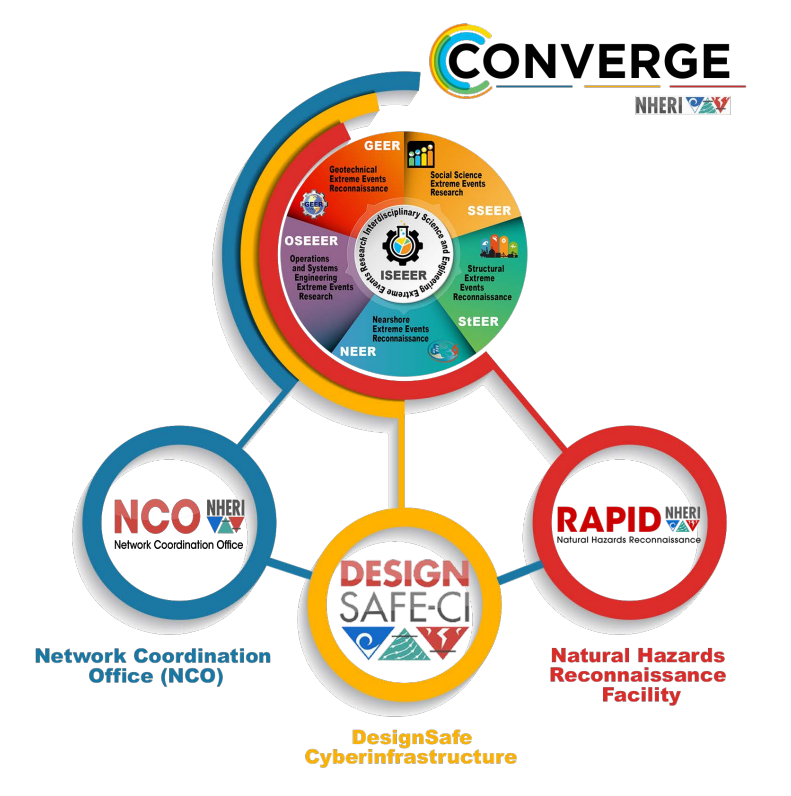 U of Colorado Boulder facility uses convergence science approach for advancing natural hazards research.
Since its inception in August 2018, the NHERI-CONVERGE facility has made significant advancements in identifying, coordinating, and training social science and engineering researchers and interdisciplinary teams. The National Science Foundation- funded CONVERGE facility is based at the Natural Hazards Center at the University of Colorado Boulder.
Growing Convergence Research (GCR) is one of NSF's 10 Big Ideas. Lori Peek, principal investigator of CONVERGE, explains that "convergence science starts with a complex problem — like rising disaster losses — that requires interdisciplinary collaboration to solve." She adds: "Convergence science focuses on applications and solutions, which makes crossing disciplinary and organizational boundaries so necessary."
By providing free, online resources based on social science research, the CONVERGE team enables individuals from differing disciplines to work together as they design ways to protect the built environment — and the people living within it — against earthquakes, tsunamis, windstorms flooding and other natural hazards.

The Social Vulnerability and Disasters module focuses on potentially vulnerable populations such as the elderly, children, and low-income persons.
EDUCATIONAL MODULE CONCEPT
On the education front, the CONVERGE team is developing a series of training modules. The 30- to 60-minute online courses are intended for the broad natural hazards research community, which includes social scientists, reconnaissance engineers, urban planners, public health and medicine researchers, first responders, and others involved in natural hazards or disaster research. Each standalone module concludes with a 10-question quiz required to receive a certificate of completion.
"Our modules are designed to help train early-career researchers from various disciplines and others new to the natural hazards and disaster field," Peek says. "Those who complete the modules receive a certificate for each one, which will eventually build toward a credentialing system." She notes this is similar to earning certification for conducting human subjects research. "Our goal is to ensure a minimum competence in the field, which remains highly event-driven, and to democratize access to research information."
Peek and her team encourage educators to adpot the modules in their classrooms. Currently, two training modules are available that focus on social vulnerability and disaster mental health. Upcoming training modules will emphasize cultural competence in hazards and disaster research, institutional review board procedures for hazards and disaster researchers, and conducting emotinoally challenging research.
THE CONVERGE TEAM
Lori Peek, PhD, sociology professor and director of the Natural Hazards Center at UCB, leads the CONVERGE initiative. Working with Peek on the CONVERGE modules is postdoctoral research associate Rachel Adams. Adams earned her PhD in community health sciences from the UCLA Fielding School of Public Health, and she has a Master of Public Health degree in epidemiology and biostatistics from the University of Southern California.
Adams led the design and development of the Social Vulnerability and Disasters module. "We've received a lot of positive feedback and enthusiasm surrounding the first module and the other upcoming modules," she says. "A number of engineering students have expressed their desire to apply their newfound knowledge about the social aspects of disaster vulnerability to inform their future research endeavors."
Candace Evans, a graduate research assistant at the Natural Hazards Center and part of CONVERGE, helped Adams and Peek create the first two modules. Evans is a second-year PhD student at UCB in the department of sociology.
In addition to the current core team, a variety of other researchers associated with the CONVERGE facility have contributed in numerous ways. For instance, a former CONVERGE postdoc, Haorui Wu, led the development of two other modules before he accepted his first faculty position. Graduate students affiliated with the Natural Hazards Center have also contributed to the review and testing of several other forthcoming modules.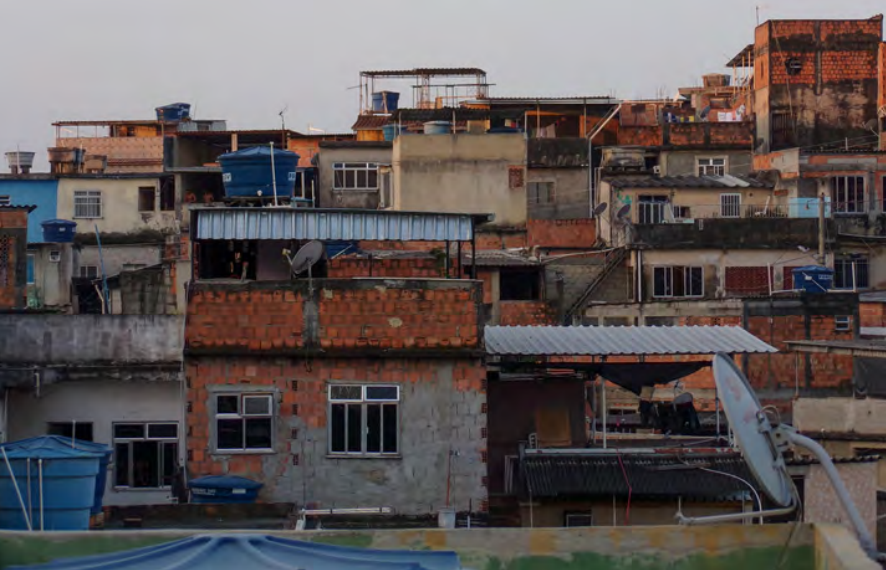 The Dissater Mental Health module makes evidence-based connections between damage to the built environment, slow recovery processes, and mental health outcomes.
MODULES GROUNDED IN SOCIAL SCIENCE RESEARCH
Similar to a college-level seminar, the CONVERGE modules provide a review of the academic literature. In the Social Vulnerability and Disasters module, participants learn common research approaches, how to understand and incorporate secondary sources, and apply ethical considerations. Also, the team develops case studies for real- world understanding of the module topic.
"For each module, our team works for months developing and testing," Adams says. "With our first module, we piloted it with 23 undergraduates taking part in the NSF-funded NHERI Research Experience for Undergraduates program. They enjoyed learning about vulnerable populations, and they gave us excellent practical feedback."
All of the students and the staff affiliated with CONVERGE thoroughly test and review the modules, Peek emphasizes. "Reviewing and synthesizing the literature takes time," Peek says. "We've learned, too, that using case studies and other interactive lessons in the module can really help the lessons to stick."
Social Vulnerability and Disasters module. For this module, participants learn to understand and recognize vulnerable groups, understand ways to study social vulnerability, understand the ethics of such research, and learn how vulnerability research can improve natural hazards research as a whole — and improve outcomes for citizens and improve resiliency in communities.
Disaster Mental Health module. This module teaches participants about common mental health outcomes associated with disasters, with a particular emphasis on risk factors over time that render certain populations vulnerable to poor disaster mental health outcomes. Examples of methods used to study mental health during a disaster and evidence-informed policy and practice are highlighted throughout.
Key partnerships. The UCB team prepares each course with academic rigor typical of the social sciences. For the Social Vulnerability and Disasters and Disaster Mental Health modules, the team worked closely with subject matter experts at the Centers for Disease Control and Prevention's Center for Preparedness and Response. Such collaborations ensure the modules are empirically thorough and relevant to a wide audience of researchers and practitioners.
Both modules are informed by decades of research indicating that certain groups in society are more vulnerable to the impacts of natural disasters. The Social Vulnerability module incorporates CDC data and practical solutions for reducing exposure in target populations, as well as links to additional resources for students seeking to research the topic further.
In addition to the CDC, Peek and her team have worked with other key partners through the CONVERGE Leadership Corps. For instance, the principal investigators for the NSF-supported Structural Engineering Extreme Events Reconnaissance, or StEER, network, have begun reviewing forthcoming modules to ensure their relevance to reconnaissance engineers.
"Receiving feedback from so many partners representing different disciplines has helped advance the modules and ensure they can reach a wider audience," Peek says. "We are serious about using convergence science to improve these modules."
NEXT STEPS
Over the next five years, CONVERGE will release additional training modules. The next three modules will focus on the following:
Cultural Competence in Hazards and Disaster Research.
Institutional Review Board (IRB) Procedures for Hazards and Disaster Researchers.
Conducting Emotionally Challenging Research.
Once those modules are published, the CONVERGE team will delve into modules covering high-level topics such as:
Broader Ethical Considerations for Hazards and Disaster Researchers.
Social Science Methods and Approaches for Hazards and Disaster Research.
Interdisciplinary Methods and Approaches for Hazards and Disaster Research.
The Science of Team Science: Forming Interdisciplinary Teams for Hazards and Disaster Research.
Publishing Disaster Data, Data Collection Protocols, and Research Instruments.
Public Disaster Science: Best Practices for Sharing Hazards and Disaster Research.
CONVERGE IMPACT
As of December 2019, there have been over 1,500 views of the CONVERGE website's Training Module page and 225 visits to the Natural Hazards Center's article announcing the launch of the first module.
Nearly 700 people have registered for the training modules, with 164 receiving a certificate of completion for the Social Vulnerability and Disasters module and 52 receiving a certificate for Disaster Mental Health. About 70% of those completing the first module are students and faculty members, with the remaining 30% representing government, non-profit, and private sector organizations.

A RESOURCE FOR THE DISASTER WORKFORCE
A key aspect of Peek's vision is to train and mentor a diverse next-generation disaster workforce. "The rising disaster losses we currently face demand this kind of training and interdisciplinary integration," she says. "I think we have a fighting chance when, as researchers, we recognize our interconnection and value the knowledge that has been produced by this vibrant natural hazards research community."
NSF AWARD #1841338
CONVERGE: Coordinated Social Science, Engineering, and Interdisciplinary Extreme Events Research