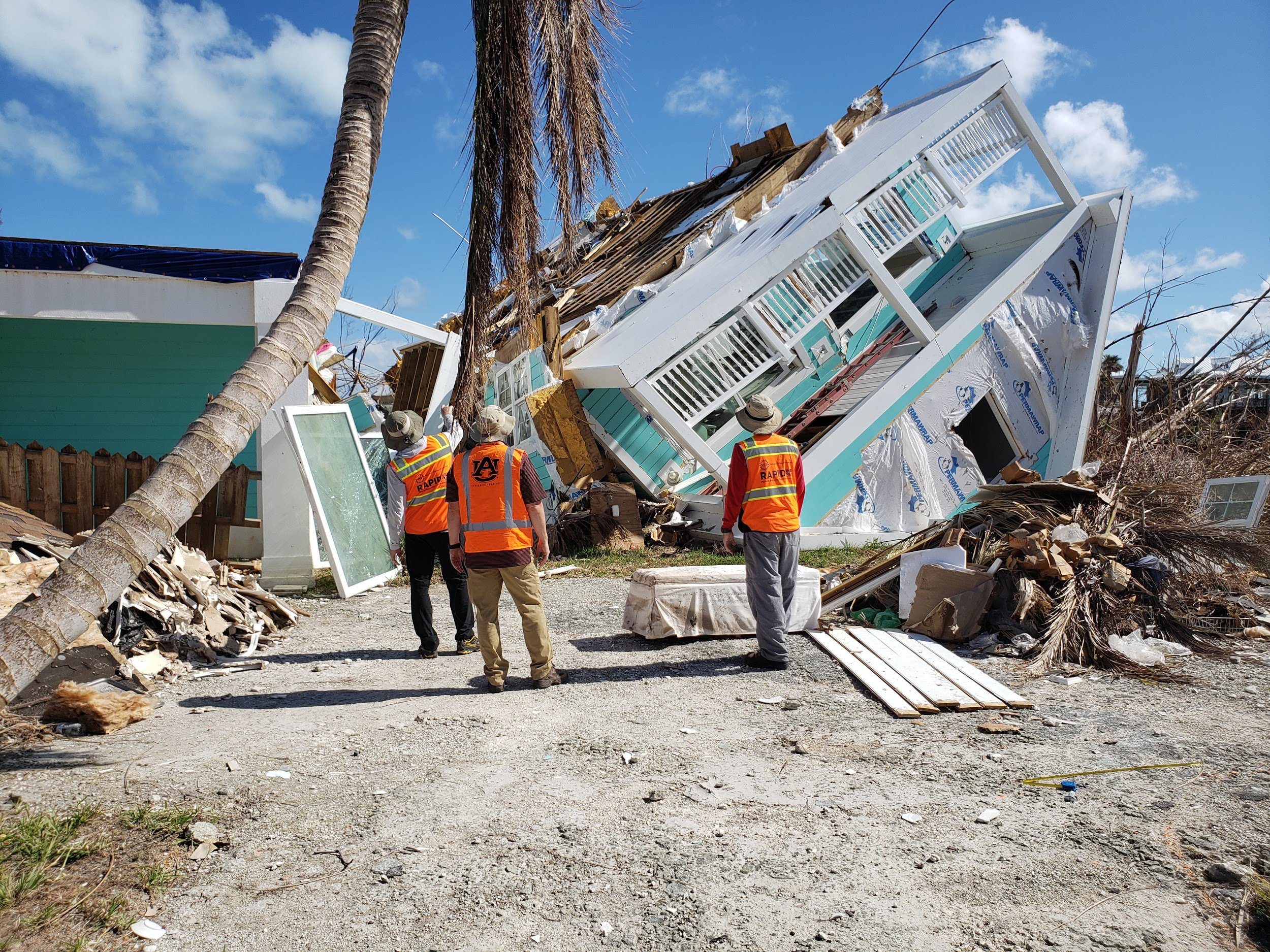 The FAST-1 in front of a notable failure in Great Abaco. Hurricane straps at the roof/wall connection were typical, but poor bottom plate connections were a recurring theme. (Photo: Daniel Smith)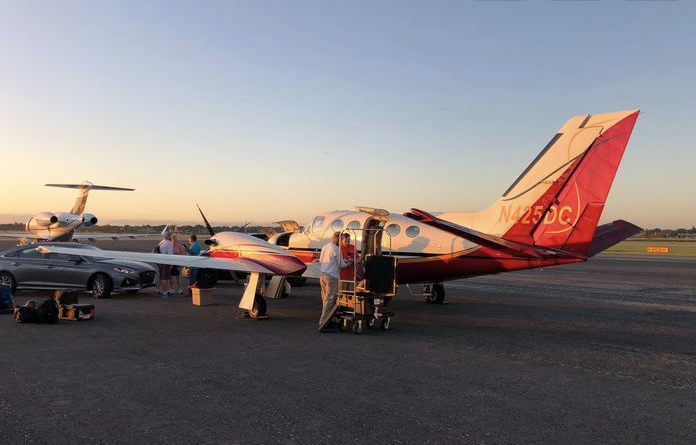 The FAST-1 team loading their gear, destination Grand Abaco Island, Bahamas. The team was led by Justin Marshall, along with Daniel Smith and Andrew Lyda, with a local support team graciously led by STeve Pece of Orlando, FL. Mission coordination was provided by Tracy Kijewski-Correa, with david Roueche guiding the sampling strategy and data fusion. (Photo: Daniel Smith)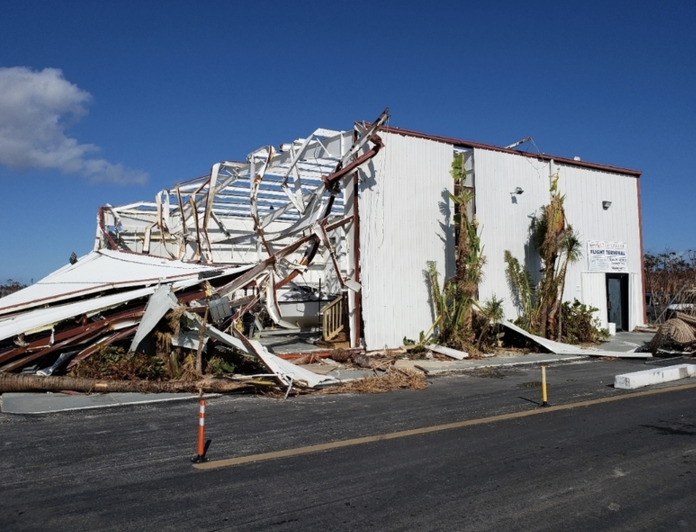 Exterior View of one of the flight terminal buildings at the Great Abaco airport. (Photo: David Roueche)
When it comes to making a difference, disaster reconnaissance teams typically aim at future improvements.
But with its post-Dorian missions to the Bahamas, the Structural Extreme Events Reconnaissance network (StEER) proved that post-disaster teams can have an immediate positive impact on local communities.
On September 24, 2019, shortly after Dorian's landfall, the first of two NSF-funded StEER reconnaissance teams, FAST-1, landed in the Bahamas. The three-person team deployed cameras, including terrestrial, 360-degree cameras, and Applied StreetView technology. They also obtained door-to-door assessments of damaged buildings using the Fulcrum mobile app.
Within days, the data team was making imagery and info publicly available. The NHERI RAPID EF hosted a temporary server, and the team's door-to-door assessments were accessible online on the Fulcrum Community site.
Data accessible to everyone
"The imagery collected on our missions was actually transferred to Google to serve as a post-disaster StreetView collection. Anyone looking at maps of the Bahamas could access our data through the Google platform," says Tracy Kijewski-Correa, Director of the StEER network. "Humanitarian aid groups found our imagery helpful in enumerating damage levels and assessing needs for debris removal," she says. Kijewski-Correa is the Leo E. and Patti Ruth Linbeck Collegiate Chair and associate professor of civil engineering and global affairs at the University of Notre Dame.
The StreetView technology allowed local Bahamian teams, from their desktops, to conduct the mapping necessary to mobilize recovery assistance. "This kind of access reduces the burden on the community and speeds the understanding of impacts," Kijewski-Correa says.
Once the data was on Google StreetView with attribution to NSF, the Grand Bahama Port Authority contacted NSF Program Director Joy Pauschke. Port officials expressed their appreciation of the StEER team for providing mission data on Google for everyone to use. Kijewski-Correa reports that the Bahamian Port Authority hopes to continue to engage StEER, and others groups organized under NHERI CONVERGE, in collecting data and documenting the region's recovery process.
Making connections
As part of the Hurricane Dorian mission protocol, StEER teams distributed info cards to local officials and homeowners, inviting community members to get email updates on the availability of StEER data. "With our info cards, we spread the word about our work and data through each interpersonal interaction," Kijewski-Correa explains.
Another key to StEER's impact was having connections on the ground. From earlier missions, StEER teams had established a rapport with Florida businessman Steve Pece, a long-time vacation homeowner of Abaco, Bahamas. Pece actually reached out to StEER to invite their work in the Bahamas, facilitating access to Great Abaco Island as the logistical lead of StEER's FAST-1 reconnaissance team. Afterward, he continued to share StEER's data-access instructions with officials and other interested parties he knew — as he assisted the recovery process.
In addition, with Pece's introductions, the FAST-1 team was able to gain site access and coordinate quickly with local officials, including the chamber of commerce, all of whom were added to the StEER mailing list. And, after the FAST-1 team attended a local Shelter Cluster meeting, team members began interacting directly with local NGOs — who in turn helped support the follow up mission, FAST-2, and provided updates from the Shelter Cluster working group.
Value in simplicity
Thanks to StEER's relationship with Mike Vorce of Site360, a member of FAST-2, the imagery was swiftly shared on the Google platform, making it easily accessible in the StreetView interface, so local users needed no additional training, Kijewski-Correa says. The Fulcrum community also provides a very simple, map-based interface. Users can easily click on pins to see damaged structures. "Even today," she says, "I still see anonymous users accessing our Google Doc with instructions and for accessing the Dorian data."
A virtuous cycle
With the post-Dorian mission in the Bahamas, the StEER teams demonstrated that researchers can indeed give back to vulnerable communities, and immediately. In fact, Kijewski-Correa is convinced that StEER's reputation for professional, high-quality work is the likely the reason Steve Pece requested their presence in Abaco, giving them access sooner than they ever imagined.
Because the Bahamian community recognized the value of working with StEER, they were much more willing to support the team's efforts on the ground, she says.
For Kijewski-Correa, the experience confirmed that the value of reconnaissance data goes well beyond its service to researchers. Reconnaissance research doesn't have to be merely extractive, she says, work that entails taking photos, data and testimonials from affected populations only to author papers and make presentations — giving the disaster-struck community little in return.
"With our streamlined collection of high-quality data and efficient workflows to share it openly and quickly after a disaster, we can actually expand our broader impacts and give back immediately to affected communities," she says. "And that gives us terrific satisfaction."
FAST-2 joint team of U.S. and Bahamian engineers preparing for door to door damage assessments.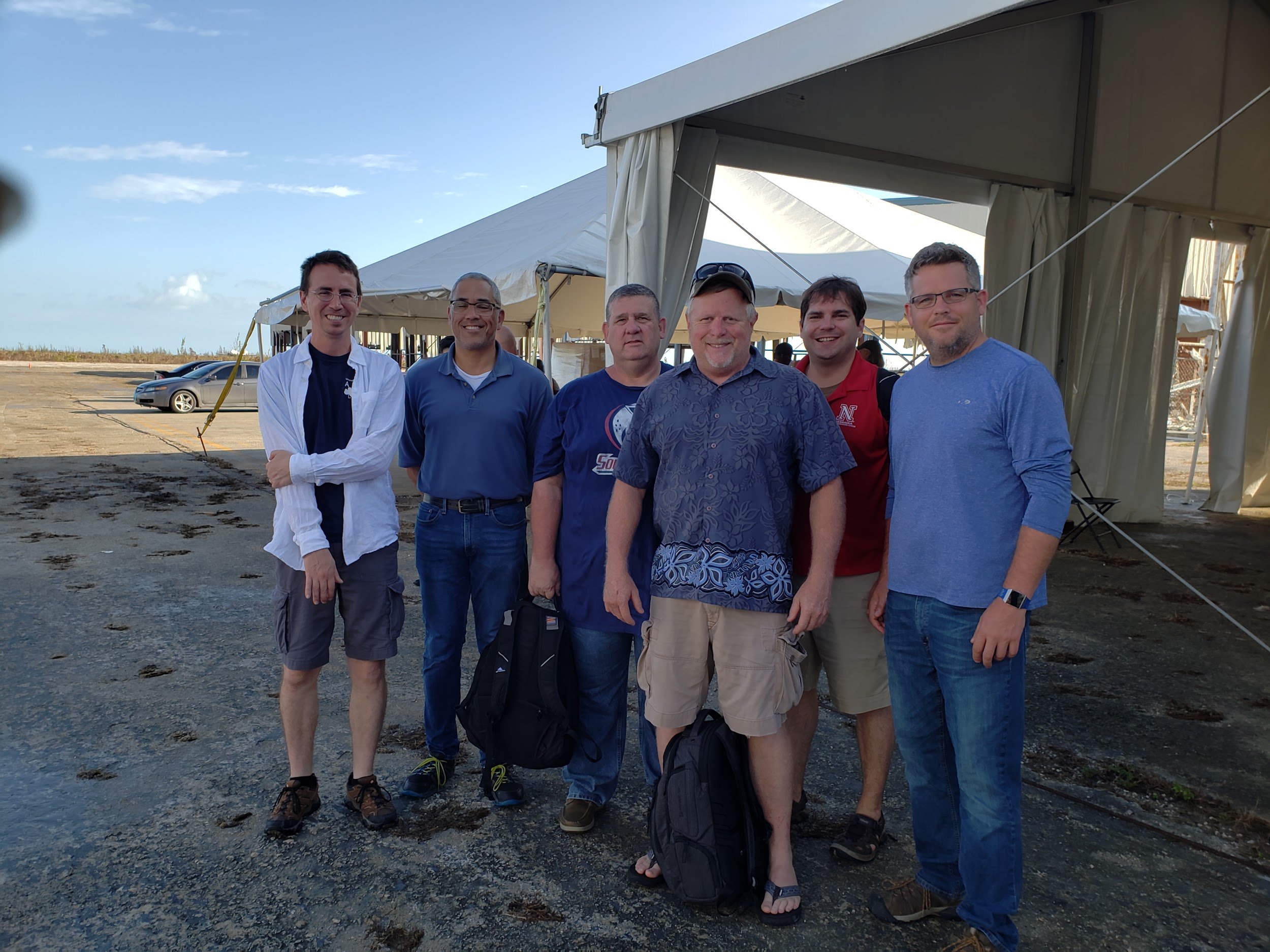 FAST-2 in Grand Bahama.