Opens in a new window
Opens an external site
Opens an external site in a new window
Opens an external site in a new window
FOR IMMEDIATE RELEASE
Major Upgrade Underway at the World's Largest Outdoor Shake Table
The LHPOST6 shake table at UC San Diego is raising the bar in earthquake engineering research
San Diego, CA, Jan. 8, 2021 — Recently at UC San Diego, two giant cranes lifted the 330,000 lb. steel floor, or platen, off the world's largest outdoor shake table, revealing a complex network of pipes, wires and catwalks.
This was the first step in a major $16.3 million upgrade to the seismic simulator funded by the National Science Foundation. The operation and maintenance of the UC San Diego shake table is currently funded through a five-year grant from NSF's Natural Hazards Engineering Research Infrastructure (NHERI) Program.
Over the next 10 months, the facility will undergo major construction. When completed in October 2021, the shake table will be able to reproduce multi-dimensional earthquake motions with unprecedented accuracy.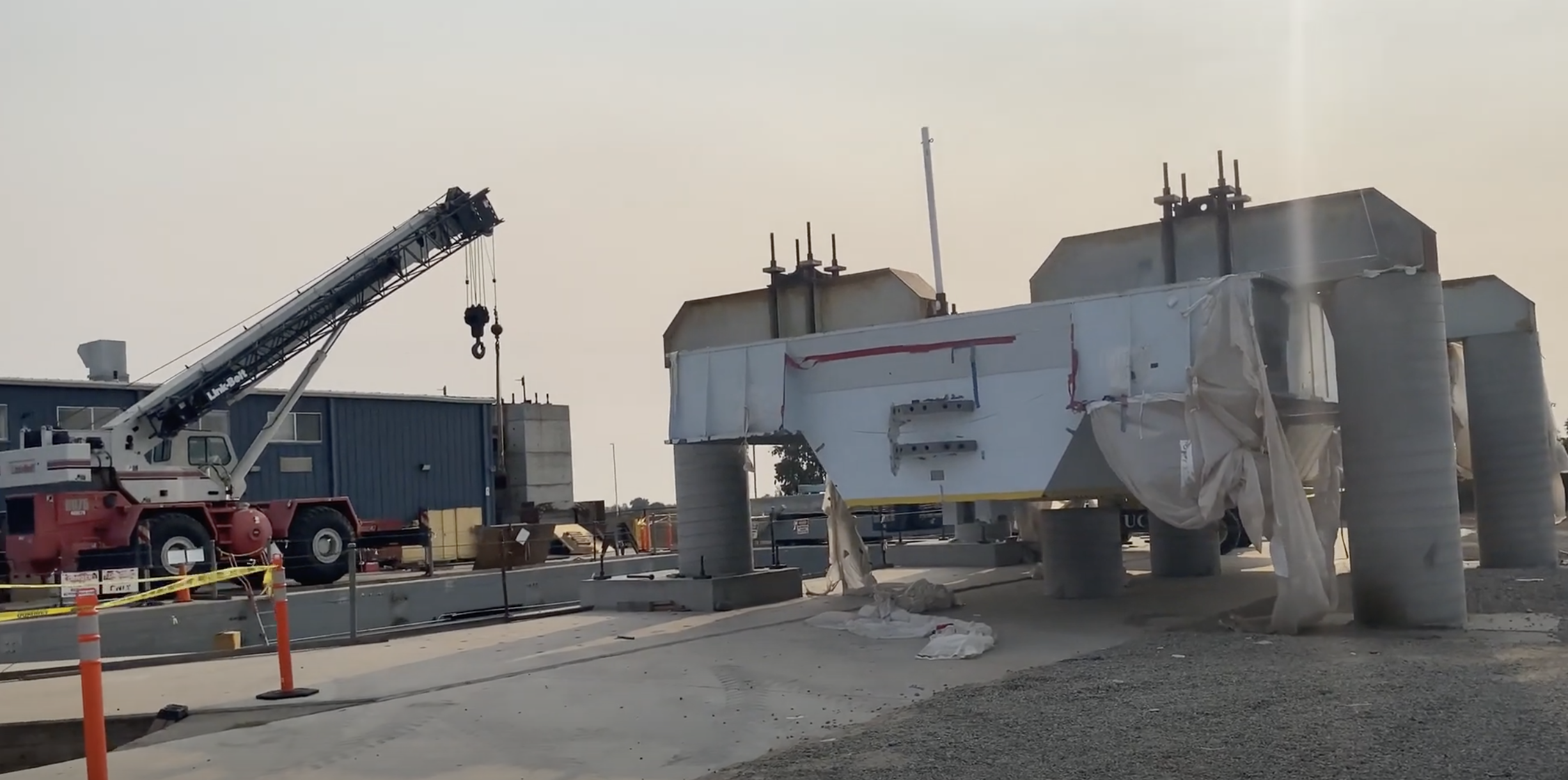 The shake table platen is being stored temporarily on reinforced concrete columns. The 145-ton platen will be machined underneath to accommodate new wearplates and new vertical actuators.
"We take a lot of pride in having such accuracy," said Joel Conte, principal investigator of the UC San Diego shake table and a professor in the Department of Structural Engineering. "It's very, very difficult to achieve on such a large shake table."
"We will be able to replicate, in full 3D, the combined effect of all the motions of an earthquake applied to a structure, as well as the interaction between soil and building, and soil liquefaction," he added.
The principle behind the table is relatively simple: various structures are built on top of the facility's floor, or platen, which is connected to a series of horizontal and vertical actuators, or pistons that move back and forth, simulating earthquake motions. The movements follow precise earthquake records researchers have gathered from around the world.
Each structure on the table is wired with hundreds of sensors recording how it fared during earthquake simulations. The data acquisition system will be completely overhauled during the upgrade as well. Data analysis from the tests has led to many changes in the nation's building codes in the shake table's 15-year history.
Until this year, the facility could only simulate backward and forward ground motions, or what is known as one degree of freedom. Thanks to the NSF funds, it is getting more actuators, and more power, so that it can also simulate up and down, left and right, as well as pitch, roll and yaw motions, which is known as six degrees of freedom (6-DOF).
Reproducing earthquake motions in 6-DOF is key because during a temblor, the ground may move in any direction. For example, during the 1994 Northridge earthquake in the Los Angeles area, bridge columns punched through bridge decks, hinting at a strong vertical ground motion component. Similarly, during the 1971 San Fernando earthquake, the buildings twisted and swayed, hinting that the ground was probably rotating.
"We will be able to achieve the ultimate level of validation for new retrofit methods, new materials, new components and new construction methods," Conte said. Conte provides a virtual walk-through of the upgrade in this short video.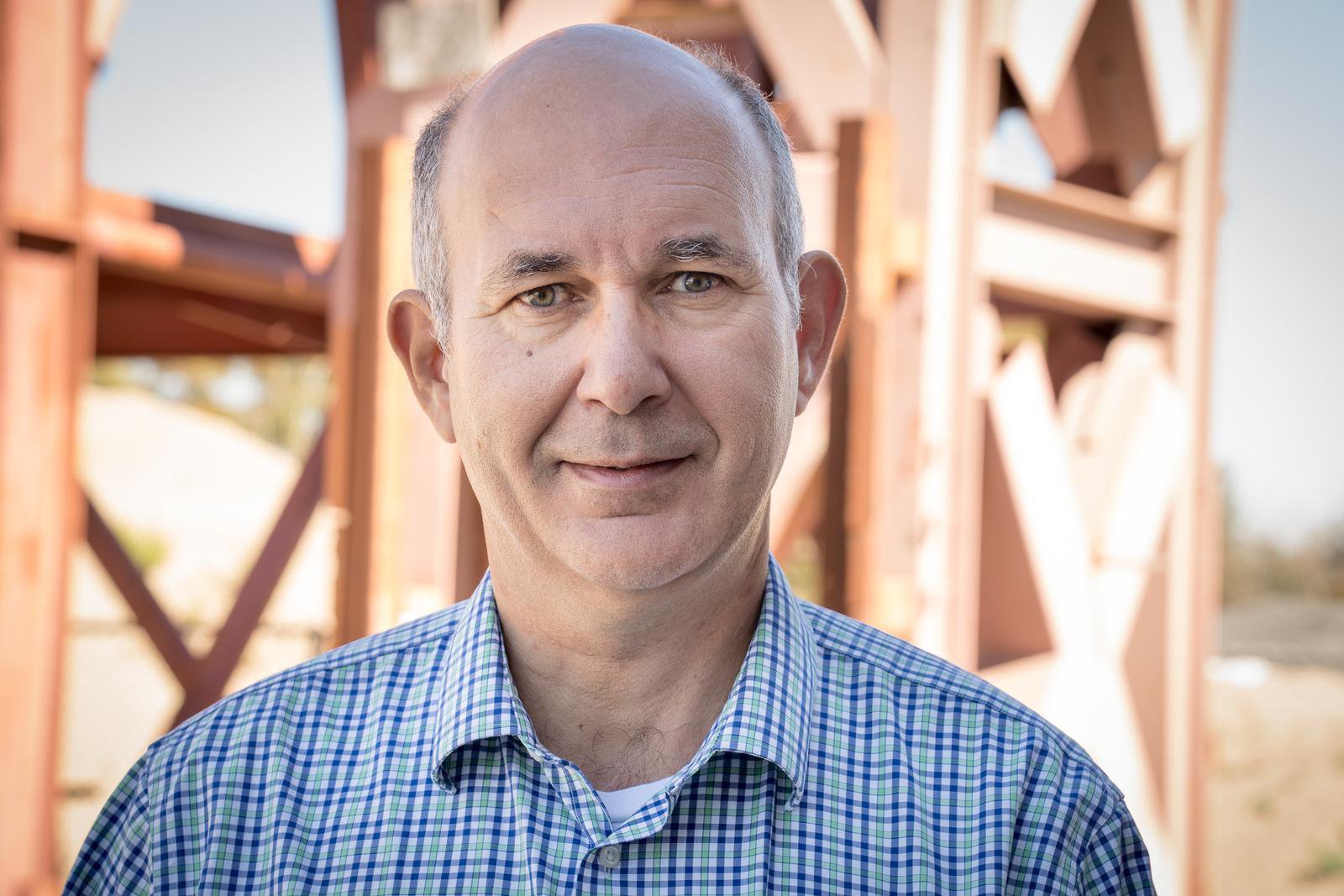 Professor Joel Conte is the principal investigator at UC San Diego's shake table.
After the upgrade, the facility also will be able to test the tallest and heaviest test specimens in the world, from multi-story buildings, to bridge columns, bridge bents, and wind turbines — with a full range of ground motions that can occur during an earthquake.
Shake table impact
In the 15 years of operations of the shake table, known as the LHPOST in its one degree of freedom configuration, a total of 34 major research projects have been tested on the shake table. The research has led to important changes in design codes for commercial and residential structures and new insights into the seismic performance of geotechnical systems, such as foundations, tunnels and retaining walls. It also has helped validate the use of innovative technologies to make buildings more likely to withstand earthquakes.
For example, in San Francisco, approximately 6,000 soft-story wood-frame buildings are being retrofitted to make them safer in strong earthquakes. Full-scale testing of retrofit systems for these "soft-story" wood frame buildings on the UC San Diego shake table, led by Professor John van de Lindt from Colorado State University, was critical to make this possible.
Research by Professor Jose Restrepo at UC San Diego, co-principal investigator for the NSF upgrade grant, and Professor Robert Fleischman at the University of Arizona, led to new design standards for so-called floor diaphragms, which transfer seismic forces from building floors to columns, walls and eventually foundations.
10-story building test
The first structure to undergo tests on the shake table after the upgrade will be a full-scale 10-story building made from cross-laminated timber. The goal of these tests, led by Shiling Pei, a professor at the Colorado School of Mines, will be to gather critical fundamental data to design wood buildings as tall as 20 stories that do not suffer significant damage during large earthquakes. That is, not only can occupants leave the building unharmed, but they can also return and resume living in the building shortly after an earthquake.
---
About the Natural Hazards Engineering Research Infrastructure
Funded by the National Science Foundation, the Natural Hazards Engineering Research Infrastructure, NHERI, is a network of experimental facilities dedicated to reducing damage and loss-of-life due to natural hazards such as earthquakes, landslides, windstorms, and tsunamis and storm surge. It is supported by the DesignSafe Cyberinfrastructure. NHERI provides the natural hazards engineering and social science communities with the state-of-the-art resources needed to meet the research challenges of the 21st century. NHERI is supported by multiple awards from NSF, including the Network Coordination Office, Award #1612144 and NHERI at UC San Diego, Award #1520904.