Opens in a new window
Opens an external site
Opens an external site in a new window
Opens an external site in a new window
Real-World Networking for NHERI REU Students
In a hands-on workshop, the 2022 NHERI REU cohort gets an introduction to the NHERI network via social media
Published on July 25, 2022
USC engineering undergrad Alejandra Reyes (right) is doing summer research at the FIU Wall of Wind facility this summer, along with Destiny Meyers (left) and Bennard Amponsah (center).
The NHERI ECO team kicked off the 2022 REU season by introducing undergraduate researchers to the fundamentals of using social media as academics and research professionals.
In the two-hour Zoom workshop, 31 REU students heard first-hand stories, participated in lively discussions — and created their online profiles on LinkedIn, the standard social media platform for professionals around the world.
Leading the workshop was Robin Nelson, NHERI ECO coordinator and instructional designer. Nelson invited a panel of NHERI REU alums – all now working on advanced degrees – to offer their social networking know-how as students entering the world of academia.
The alums shared their experiences building a professional social media network. They provided real-world examples, contrasting personal social media posts with professional ones. "Our REU alums offered important insights," said Nelson. "When our mentors are peers, lessons can be especially effective."
Hearing personal stories was interesting and persuasive. "It was really helpful to hear from graduate students talking about their experiences with social media and how we can use it to our advantage," said Matthew Latham, REU student at the Oregon State University wave laboratory. "The REU social media workshop made me reconsider my view of social media."
In breakout rooms, students discussed the purpose of networking as undergraduates, how to build a useful network, and how to craft a professional brand online.
Next, students practiced hands-on exercises in LinkedIn. They created and modified their professional profiles, added accomplishments and experiences, and connected with fellow REU students, as well as with their facility professors and mentors.
"The workshop really helped me edit and add to my LinkedIn page," said Keely Patelski, REU student at the University of Washington RAPID facility. "I liked that we learned more about LinkedIn, since I feel like that's something that we are always told we should have, but not usually something someone explains how to use."
NHERI communications staffers Grace Kang (SimCenter) and Marti LaChance (NCO) were on-hand to offer professional viewpoints. They shared ideas about useful language for social media posts and approaches for initiating social media connections – which can be awkward, especially for individuals new to a network. The NHERI communicators encouraged REU participants to connect with them on LinkedIn, giving students a chance to practice their networking skills — and expand their NHERI network connections at the same time.
"The session on social media was interesting, and it helped me understand why developing a social network is important," said Josué Dieppa Ortiz, REU student at Lehigh University. "All the tips were helpful and also we got to expand our network with colleagues from the seminar."
By the session's end, the students had fleshed out their LinkedIn profiles and had created posts about their REU internships.
Nelson said the session was an excellent ice-breaker for the REU cohort, most of whom had never met. "Now they have firm connections with fellow researchers and mentors in NHERI and in the community of natural hazards engineering," she added.
Interested in watching the progress of NHERI REU students? Follow @NHERIDesignSafe on LinkedIn and join our network!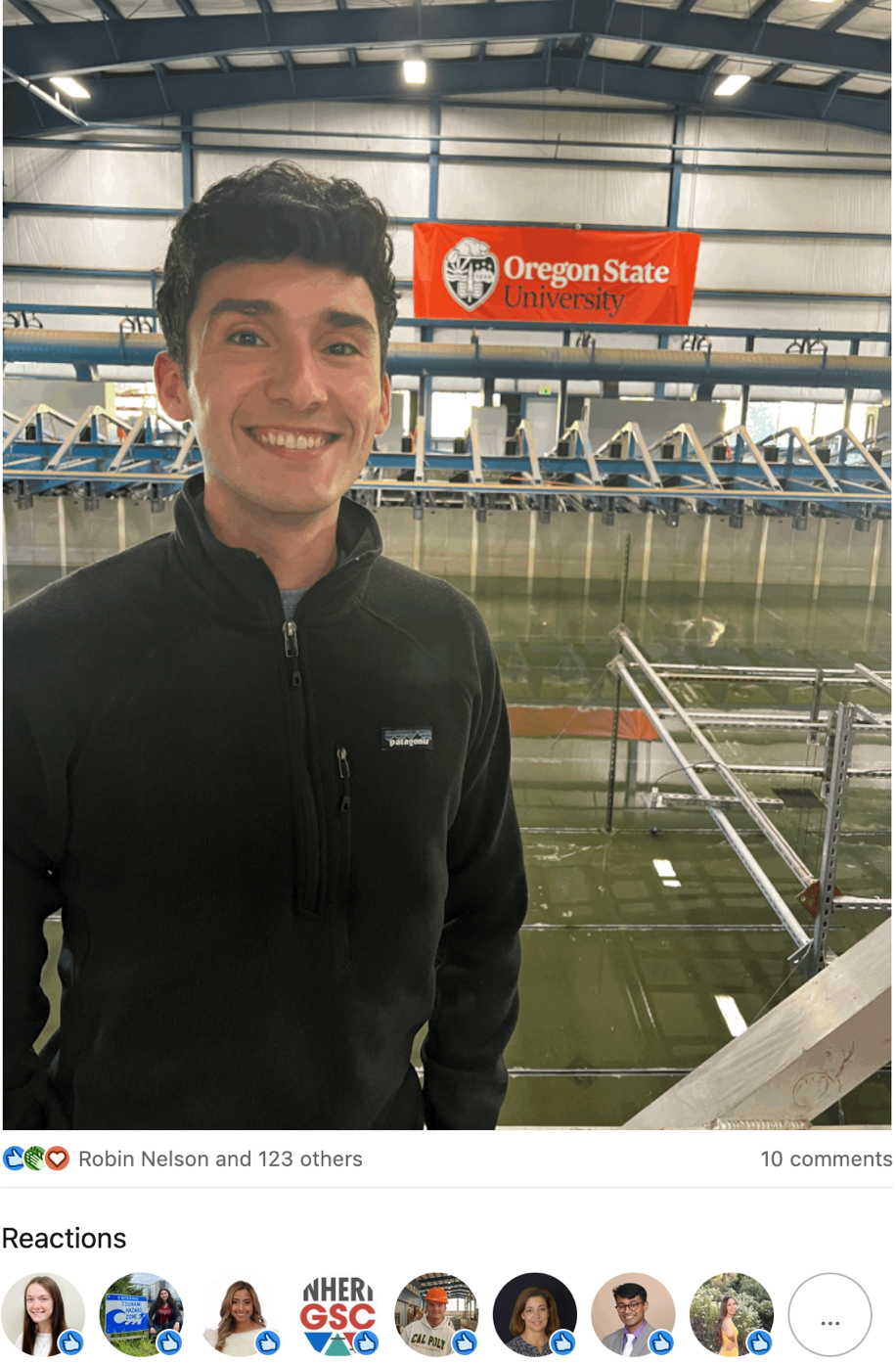 University of Florida senior Nicholas Mesa is interning at NHERI OSU.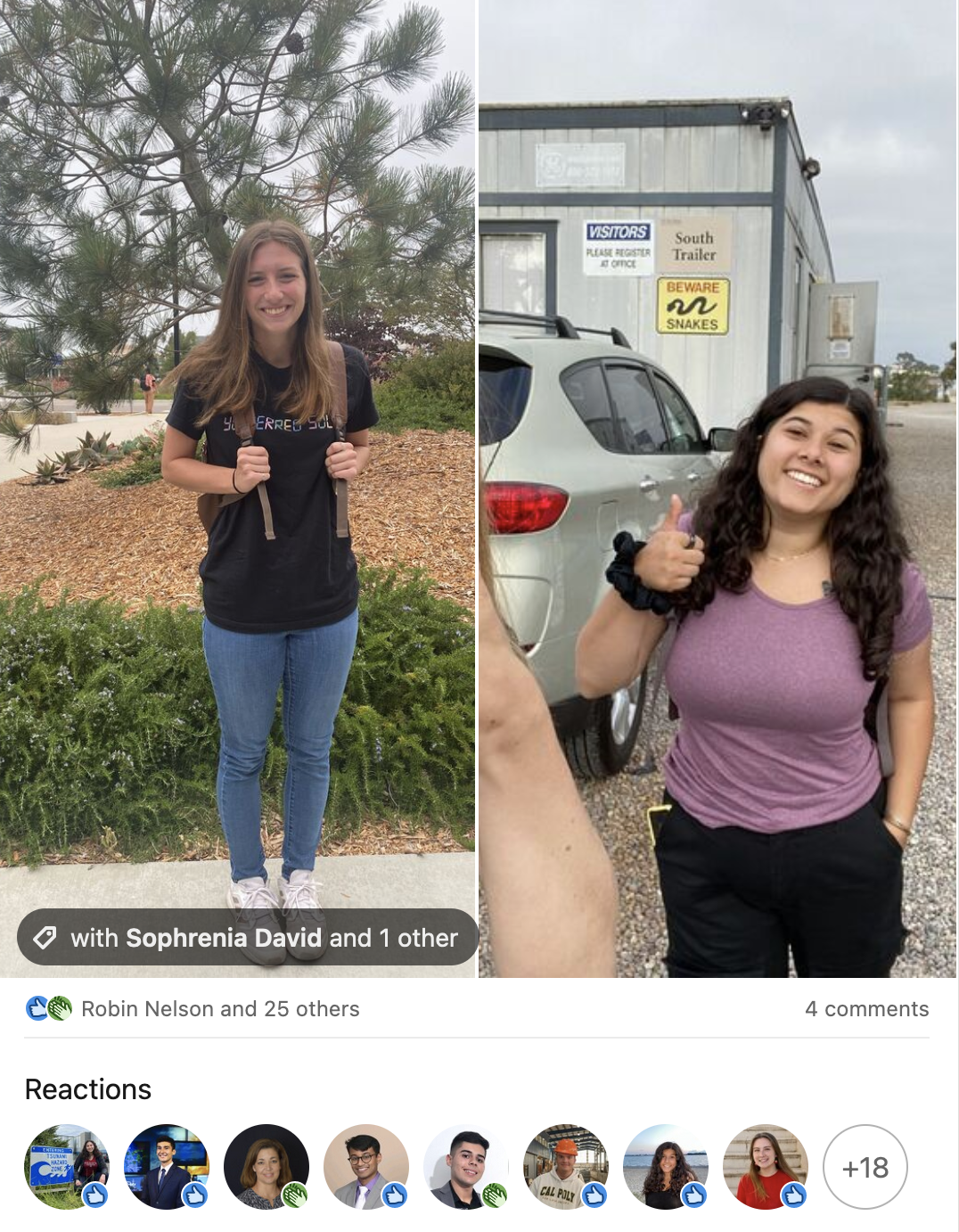 Embry-Riddle undergrad Megan Butcher (left) is working at NHERI UC San Diego, along with fellow REU Sophrenia David from U of Massachusetts Amherst.