DesignSafe News Feed
Meet NHERI/DesignSafe Webmaster, Hedda Prochaska
05-01-17   |   Visitors to the NHERI website see the handiwork of Hedda Prochaska, our web designer based at the Texas Advanced Computing Center (TACC). Here's a brief introduction, in her own words.
13th Americas Conference on Wind Engineering
04-26-17   |   There is still time for members of the wind engineering and research community to register for the 2017 ACWE conference in Gainesville, Florida, May 21-24.
The NHERI Summer Institute
04-10-17   |   The inaugural NHERI Summer Institute will be held at UTSA on July 24-28, 2017, to train early career faculty, K-12 educators, professionals, and researchers in how to perform work in NHERI.
11NCEE Call for Papers
03-24-17   |   The Eleventh U.S. National Conference on Earthquake Engineering (11NCEE) will convene June 25-29, 2018, in Los Angeles. The conference is accepting abstract submissions until May 31, 2017.
Meet the NCO's Dan Zehner
03-17-17   |   As hazard researchers and site managers gear up for testing, they will come to know Dan Zehner, a key member of the NHERI NCO.
Update on NHERI's Summer REU Program
03-03-17   |   Applications for the Research Experience for Undergraduates (REU) program closed on March 1. The ECO team is now evaluating candidates and will begin informing selected students soon.
NCO Leadership Overview
03-03-17   |   The Network Coordination Office (NCO) is charged with providing a structure for the leadership committees of NHERI, and the NCO organization chart shows how NCO staff support those tasks.
Webinar: Using the New Facility Scheduling Dashboard
02-27-17   |   The Network Coordination Office (NCO) held an introductory webinar for the new Facility Scheduling Dashboard on February 28, 2017. Watch the recording to learn about requesting and managing NHERI projects.
RAPID Facility Slated to Support Deployments in September 2018
02-09-17   |   University of Washington has announced the RAPID experimental facility will begin supporting post-disaster field deployments in September 2018, following a year of planning and equipment commissioning.
Steve Mahin Introduces the SimCenter at the 2017 WCEE
02-02-17   |   Steve Mahin, NHERI SimCenter director, highlighted the center during his keynote at the 16th WCEE held in Santiago, Chile.
Communications Update from JoAnn Browning
02-02-17   |   Marti LaChance is now the NHERI communications contact for news and publications.
REU Applications Now Available
01-06-17   |   The Learning Center is taking applications to the 2017 Research Experience for Undergraduates (REU) program until March 1, 2017.
EERI 69th Annual Meeting Registration Now Open
12-16-16   |   The Earthquake Engineering Research Institute's (EERI) 69th Annual Meeting will be held March 7-10, 2017, in Portland, Oregon.
University of Notre Dame and University of Florida Joint Hurricane Damage Survey for Haiti
11-18-16   |   The joint post-hurricane damage survey team to assess masonry buildings in Haiti following last month's Hurricane Matthew.
Automated Method Allows Rapid Analysis of Disaster Damage to Structures
11-09-16   |   Computer vision advances and "deep learning" algorithms will dramatically reduce time to analyze structural disaster damage data.
University of Washington Joins NHERI
11-02-16   |   UW is now home to NHERI's new Rapid Response Research Facility (RAPID).
Oregon State Takes on Tsunamis and More
11-02-16   |   Wave research uncovering misconceptions about coastal protection from islands.
Florida International University Looks at the Big Picture
11-02-16   |   The damage from natural disasters extends beyond structures.
Florida International University and the Wall of Wind
10-01-16   |   Cutting edge research will lead to safer structures in extreme wind.
University of California at San Diego is Shaking Things Up
10-01-16   |   The world's largest outdoor shake table is making an impact at UCSD.
University of California at Davis Sifts Through the Soil for Answers
10-01-16   |   Research at UC Davis evaluates soil system contributions to structural responses during earthquakes.
Lehigh University Utilizes NHERI Facilities to Educate Future Engineers
10-01-16   |   A 6th grade class has hands-on outreach activity at the real-time multi-directional engineering facility.
ASCE Call for Papers for New Book
08-24-16   |   A call for outstanding papers for a special ASCE book publication entitled "Wind Engineering in Natural Hazards" by Guest Editors Aly Mousaad Aly and Elena Dragomirescu.
Purdue University team named as recipient of the Network Coordination Office (NCO)
07-20-16   |   A Letter from NCO Director Julio A. Ramirez
4th American Association for Wind Engineering Workshop
06-09-16   |   The 4AAWE will take place in Miami FL, August 14-16, 2016.
Shake Table Competition Introduces Students to Natural Hazards Engineering
05-18-16   |   DesignSafe initiative hosts students and works to develop curriculum.
Data Management Plan Guidance Available for ENH Proposers
02-03-16   |   For researchers submitting proposals to use the Experimental Facilities via the NSF ENH program.
NHERI Session at ASCE Geotechnical & Structural Engineering Congress
01-12-16   |   PI's of the 8 NHERI Program awards presenting and hosting Q&A session.
Proposals Due Feb 16 to NSF Engineering for Natural Hazards Program
01-07-16   |   Support for research that utilizes the NHERI cyberinfrastructure and experimental facilities.
DesignSafe Requirements Workshop
01-07-16   |   Researchers convening at UT-Austin to share their cyberinfrastructure needs.
Register for NHERI Experimental Facilities Workshops
01-04-16   |   NHERI Experimental Facilities hosting Workshops to provide attendees with the knowledge to prepare research proposals.
NSF Invests $40 million in research infrastructure for earthquake, wind and water hazards
09-24-15   |   Experimental facilities and cyberinfrastructure will offer opportunities for natural hazards research to bolster community resilience.
$13.7 Million NSF Grant Creates Natural Hazards Engineering Center at UT Austin
07-21-15   |   A new cyberinfrastructure effort funded by a $13.7M grant from the NSF will help engineers build safer structures that can better withstand natural hazards.
NHERI Publications
Registered users who opt to receive messages from the DesignSafe website are sent a NHERI Monthly Recap as an email digest which includes all the news stories published here on DesignSafe over the previous month and a listing of upcoming community events.
Users also receive the NHERI Quarterly with unique additional articles featuring in depth interviews and insight into some of the exciting research projects and work of the NHERI program.  These issues are available online at the Quarterly Publication archive page.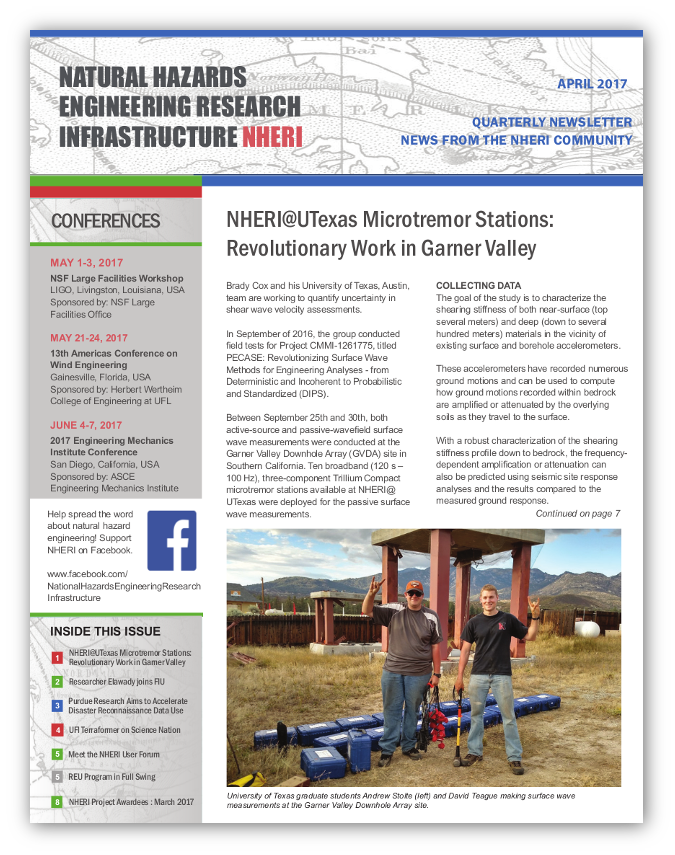 Community & Conference News
Call for Participation for NSF Workshop Series on Interdisciplinary Approaches in Disaster Research
11-30-16   |   The NSF Infrastructure Management and Extreme Events program has awarded funding for two workshops dedicated to the advancement of interdisciplinary disaster research methods through University of Colorado Boulder and University of Michigan.  Those interested can apply at the Natural Hazards Center website by December 19, 2016.
NSF invests additional $19 million in research infrastructure for earthquake, water and wind hazards
10-05-16   |   NSF announced the establishment of three additional components of NHERI with a planned investment of $19 million over the next five years.
The 13th Americas Conference on Wind Engineering
09-22-16   |   The 13th Americas Conference on Wind Engineering (13ACWE) will be held in Gainesville, Florida on May 21-24, 2017 at the Hilton University of Florida Conference Center.
Opportunities and Needs in Integrated Water Prediction, Risk Assessment, and Management for Coastal Resilience
09-13-16   |   Registration is now open for the September 27-28 workshop.