REU students Emma Donnelly-Bullington (left) and Salwa Badr tour the Ferguson Structural Engineering Laboratory at The University of Texas at Austin. (Photo: Patricia Clayton)
Once again, the NSF-funded NHERI network is preparing amazing summer research opportunities for undergraduate students at NHERI experimental facilities (EFs) located across the country.
The Research Experience for Undergraduates (REU) program runs from May through August, in two 10-week cohorts. Each EF will host 2 or 3 undergraduates who will participate in meaningful research projects alongside an experienced faculty mentor.
The application is now online: 2020 NHERI REU application.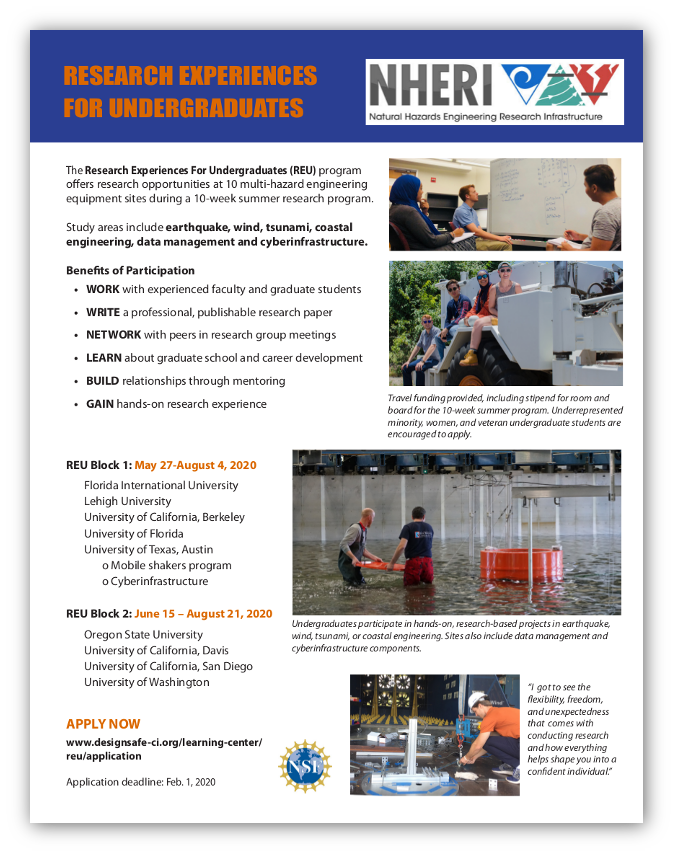 Please share this REU opportunity with the high-achieving undergrads you know. Please download and post our flyer:
Faculty colleagues: please note that you are our most powerful REU student recruitment tool. Direct encouragement from professors and instructors is incredibly important. If you are a faculty member and know an undergraduate student who will benefit from participating in this summer research experience, please encourage her or him to apply. Your recommendation will make a big difference!
The REU experience looks outstanding on any new graduate's resume or graduate program application. Our students network with faculty and peer researchers around the nation. They will present their research findings at a research symposium in August. The 10-week program includes a stipend.
The NHERI REU is open to U.S. citizens and permanent residents who are enrolled in an undergraduate degree program. The program welcomes students from all majors who are interested in mitigating the effects of natural hazards. The (extended) application deadline is February 12, 2020. Find program and application details on the DesignSafe Learning Center.
Questions: Please contact NHERI Educational Community Outreach (ECO) administrator Karina Vielma: karina.vielma@utsa.edu.