Opens in a new window
Opens an external site
Opens an external site in a new window
Opens an external site in a new window
NHERI Computational Academy
Summer 2023 | Texas Advanced Computing Center | Austin, TX
---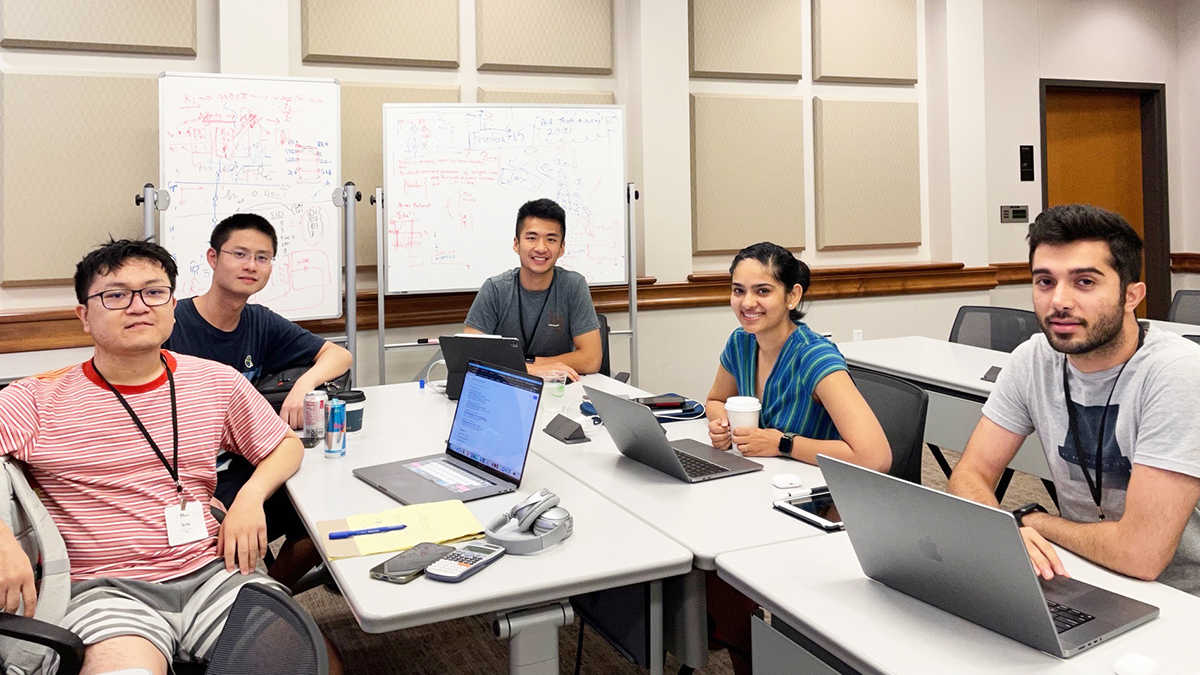 The 2022 NHERI Hackathon winning team, the "Disaster Doctorates." From left: Te Pei, Shitao Shi, Louis Lin, "Saanchi Singh" Kaushal, and Shayan Razi
Register Now
Registration is closed.
---
Agenda
Download 2023 NHERI Computational Academy agenda
Program Information 
DesignSafe and the NHERI SimCenter are pleased to announce the NHERI Computational Academy on July 17 - 20th, 2023, at the Texas Advanced Computing Center.
The NHERI Computational Academy (NCA) includes hands-on training on DesignSafe and SimCenter tools and explores real-world case studies through project-based learning. The projects are designed to provide new graduate students and postdocs working on natural hazards research opportunities o learn about DesignSafe and SimCenter tools and to use these tools in new and innovative ways. The NCA covers a range of tools and workflows for data analysis, regional-scale modeling, uncertainty quantification, artificial intelligence, high-performance computing, and data visualization.
The NCA offers lectures that include  hands-on training as well as project-based learning employing real-world case studies. Participants will be able to explore projects focussed on hurricanes, flooding, and earthquakes hazards with mentoring provided by domain experts. The academy covers these main topics:
Jupyter notebooks for research

Data analysis, artificial intelligence, and machine learning for natural hazards

Deploying high-performance computing applications through DesignSafe/SimCenter

Uncertainty quantification

Regional-scale modeling of multi-hazard scenarios
Participants will develop new workflows that advance their research and educational goals with support from experts in Natural Hazards and TACC staff. Workflows have the potential for publication and deployment on DesignSafe and SimCenter for broader use in the natural hazards community. Participants are encouraged to choose from a suite of NCA projects based on their interests. The projects are an exciting opportunity to improve knowledge of NHERI tools, discover new research workflows, and explore interesting research topics.
NCA Projects:
Project 1 (DesignSafe): Identifying inequity in situational awareness data during flooding to facilitate equitable emergency response and recovery
Situational awareness data inequity could translate to inequitable emergency response and recovery assistance. This project will collect historical community flood reports and contextualize them with sociodemographic and flood inundation data to quantify and visualize situational awareness data equity during a past flood event in Houston. Insights gained during this project will enable inequity-aware emergency response and recovery strategies and promote long-term community resilience.
Project 2 (Designsafe): Optimizing ADCIRC parameters with AI for storm-surge prediction
The project will involve modeling storm surges using full-scale ADCIRC. The team will then train ML models such as XGBoost and random forest to develop a fast and accurate surrogate model. The coastal impact of storm surges across Texas will be evaluated.
Project 3 (DesignSafe): Physics-Informed Neural Network for solving inverse problems
The team will develop a PINN using DeepXDE to solve inverse full-waveform inversion problems. The team will also explore differentiable simulators, which can simulate both forward and reverse modes, improving the training time and developing physics-based ML models.
Project 4 (DesignSafe): Leveraging ChatGPT to identify new knowledge in liquefaction
Accessing ground motion databases and Next Generation Liquefaction dataset requires sophisticated knowledge of API requests or SQL query construction. The project aims to develop a plugin interface to facilitate complex queries and discover new knowledge through Large Language Models, such as ChatGPT.
Project 5 (SimCenter): Mitigating wind loads on tall buildings by aerodynamic shape modification: CFD-based comparative case study on a landmark skyscraper.
Wind-induced excitation of tall buildings is a critical design consideration, especially for dynamically sensitive tall buildings. One way to reduce wind loads is to modify the building's shape to alter its aerodynamic signature. This project demonstrates the use of Computational Fluid Dynamics (CFD) to explore mitigation measures by introducing openings at different locations in the building. A landmark skyscraper in downtown Manhattan is used as a case study to simulate several test configurations for comparison with the base case. The training will use the SimCenter WE-UQ tool, which has advanced CFD capability for steady state and transient simulations.
Project 6 (SimCenter): From uncertainty to robust predictions: Model Calibration and Selection with SimCenter Tools.
In this project, participants will develop OpenSees models to efficiently and accurately approximate the nonlinear response of a steel frame structure subjected to seismic loads. During this process, participants will have to make crucial decisions about the form of the model and its parameters. They will receive training and support as they use SimCenter tools to calibrate their models and determine which model accurately approximates the structural response with the fewest parameters.
Project 7 (SimCenter): Bridging the Data Gap: Using Predictive Modeling to Fill Missing Records in a Building Information Datasets.
Bring your data analysis, predictive modeling, or machine learning skills to predict missing data in a building information dataset. This dataset contains information from various sources that can be used for regional-scale hazard analysis and risk management. However, considerable information is missing, making it challenging to use for its intended purpose.
Dates and Venue
The NHERI Computational Academy (NCA) will occur at the Texas Advanced Computing Center (TACC) at the University of Texas at Austin from July 17th, 2023, to July 20th, 2023.
Registration Fees and Travel Support
The registration fee for the NCA is $150. We will offer domestic travel support up to $1,500 can be requested on the application form.
Accommodation
You may stay near TACC at any of these hotels(opens a new window).
---
Eligibility  
The course will use Python as the main programming language. It is expected that participants will have some basic programming experience. If you are familiar with other languages such as MATLAB or Java, refresh your Python knowledge by following Google's Python course(opens a new window).
---
Explore 
Listen to an overview of the NHERI Hackathon from event organizer, Professor Krishna Kumar, on the DesignSafe Radio podcast(opens a new window).
Presentations from DesignSafe Academy 2021. View as playlist on YouTube(opens a new window).
Read about the winning project from the 2022 NHERI Hackathon on the SimCenter website(opens a new window).
Explore previous hackathon projects(opens a new window).
---
Contact Us 
Professor Krishna Kumar
The University of Texas at Austin
krishnak@utexas.edu