Summer 2023 | Texas Advanced Computing Center | Austin, TX
---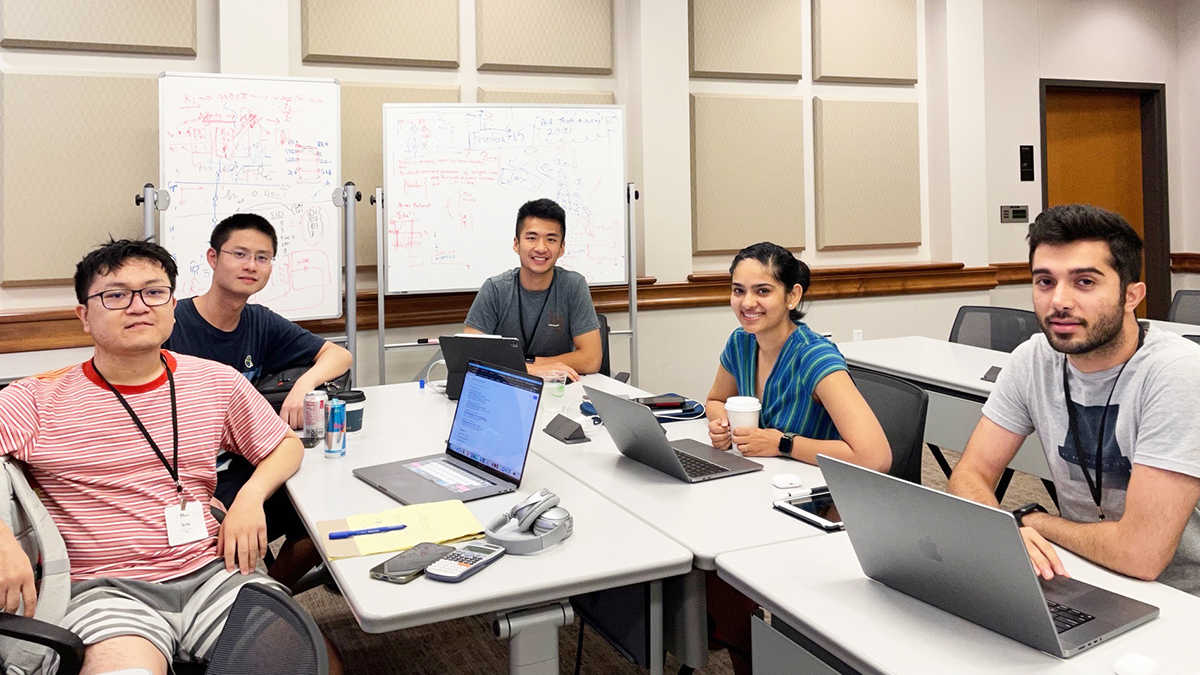 The 2022 NHERI Hackathon winning team, the "Disaster Doctorates." From left: Te Pei, Shitao Shi, Louis Lin, "Saanchi Singh" Kaushal, and Shayan Razi
---
Updates 
Event dates and application information will be posted in Spring 2023.
Listen to an overview of the NHERI Hackathon from event organizer, Professor Krishna Kumar, on the DesignSafe Radio podcast.
---
Program Information 
DesignSafe and the NHERI SimCenter are pleased to announce the DesignSafe Academy and NHERI Hackathon.
DesignSafe Academy
The DesignSafe Academy (DSA) includes hands-on training on DesignSafe tools and explores real-world case studies. It enables graduate students and postdocs working on natural hazards to use DesignSafe in new and innovative ways. The DSA covers a range of tools and workflows around data analysis, artificial intelligence, high-performance computing, and visualization in DesignSafe.
The DSA offers regular lectures followed by hands-on training and discussion sessions covering several real-world case studies. Participants will have the opportunity to explore case studies in hurricanes, flooding, and earthquakes and interact with experts. The academy covers these main topics:
Jupyter notebooks for research
Data analysis on published DesignSafe data on natural hazards
Utilizing ML and AI using DesignSafe resources
Deploying high-performance computing applications through DesignSafe
NHERI Hackathon
The academy culminates in the NHERI Hackathon, where participants incorporate DesignSafe, SimCenter and other NHERI components into natural hazards research. Participants will have the opportunity to develop new workflows for your research with support from Experts in Natural Hazards, TACC staff, potentially to be deployed on DesignSafe and SimCenter for broader use in the natural hazards community.
After NHERI Hackathon participants are selected, they are given the opportunity to choose from a suite of hackathon projects. The project matches programming ability (there are hackathon projects for every skill level). The NHERI Hackathon is an exciting opportunity to improve knowledge on the use of NHERI tools, discover new research workflows, and explore interesting areas.
Explore previous hackathon projects.
Dates and Venue
For one week each summer, the DesignSafe Academy and NHERI Hackathon take place at the Texas Advanced Computing Center (TACC) at the University of Texas at Austin. Stay tuned for 2023 dates and application details.
We encourage attending these events in person to get the most out of the activities. We will also offer a limited version of the program online.
Registration Fees and Travel Support
The registration fee for the DSA and NHERI Hackathon is $125 (DSA: $50, Hackathon: $75).  Some domestic travel support is available and can be requested on the application form.
Accommodation
You may stay near TACC at any of these hotels.
---
Eligibility  
The course will use Python as the main programming language. It is expected that participants will have some basic programming experience. If you are familiar with other languages such as MATLAB or Java, refresh your Python knowledge by following Google's Python course.
---
Explore 
Presentations from DesignSafe Academy 2021. View as playlist on YouTube.
Read about the winning project from the 2022 NHERI Hackathon on the SimCenter website.
---
Contact Us 
Professor Krishna Kumar
The University of Texas at Austin
krishnak@utexas.edu