---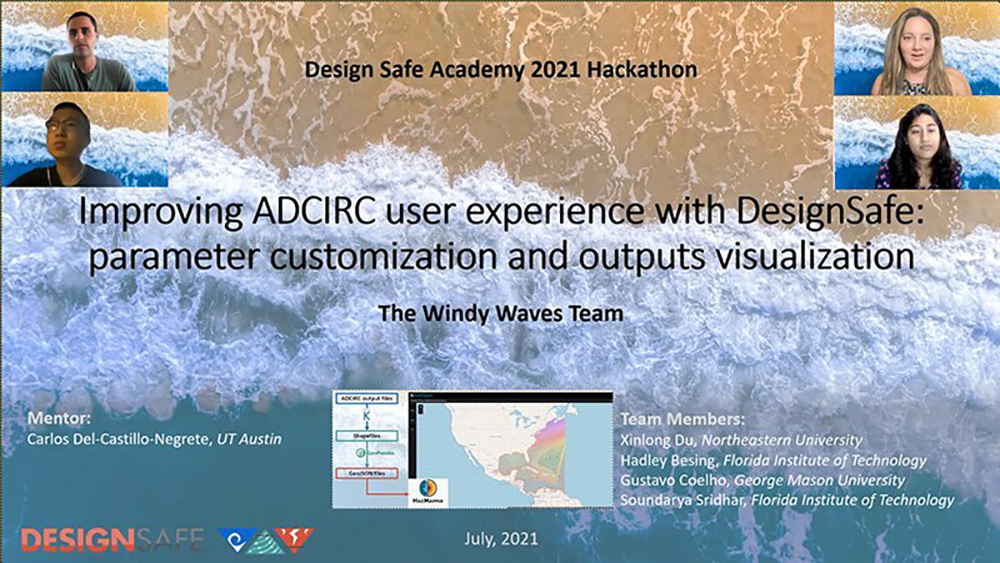 Hackathon presentation by "The WindyWaves" winners of the 2021 DSA hackathon
Updates 
The 2021 DesignSafe Academy has concluded. Registration for 2022 will open in the Spring.
---
Program Information 
The DesignSafe Academy (DSA) enables undergraduate, graduate, and postdocs working on natural hazards to use DesignSafe in new and innovative ways. The DSA is a weeklong workshop and hackathon designed to introduce users to the different elements of the DesignSafe Cyberinfrastructure for research in natural hazards. The workshop component is typically three days covering a range of tools and workflows around data analysis, artificial intelligence, high-performance computing, and visualization in DesignSafe. The DSA workshop offers regular lectures followed by hands-on training and discussion sessions covering several real-world case studies. Participants will have the opportunity to explore case studies in hurricanes, flooding, and earthquakes and interact with experts. The academy covers these main topics:
Jupyter notebooks for research
Accessing and publishing research data on DesignSafe
Utilizing ML and AI using DesignSafe resources
Deploying high-performance computing applications and utilizing visualization through DesignSafe
Case studies
The academy will culminate in a two-day hackathon, where participants will incorporate DesignSafe components into natural hazards research. Explore previous hackathon projects.
2021 DSA HACKATHON Projects
Full waveform inversion with convolution neural networks
Developing a web app for earthquake ground motion processing
Automated model calibration for cyclic tests using OpenSees and Jupyter notebooks
Evaluation of material parameters of non-linear models using physics-informed machine learning (Structures and Geotech)
Webapp for launching storm-surge analysis on HPC with Jupyter
Visualization tool for geotechnical site investigation and evaluation of liquefaction potential
---
Eligibility  
The course will use Python as the main programming language. It is expected that participants will have some basic programming experience. If you are familiar with other languages such as MATLAB or Java, refresh your Python knowledge by following Google's Python course.
---
Registration 
Registration for the next DesignSafe Academy will open in the Spring of 2022.
---
Explore 
Presentations from DesignSafe Academy 2021. View as playlist on YouTube.
---
Contact Us 
Professor Krishna Kumar
The University of Texas at Austin
krishnak@utexas.edu