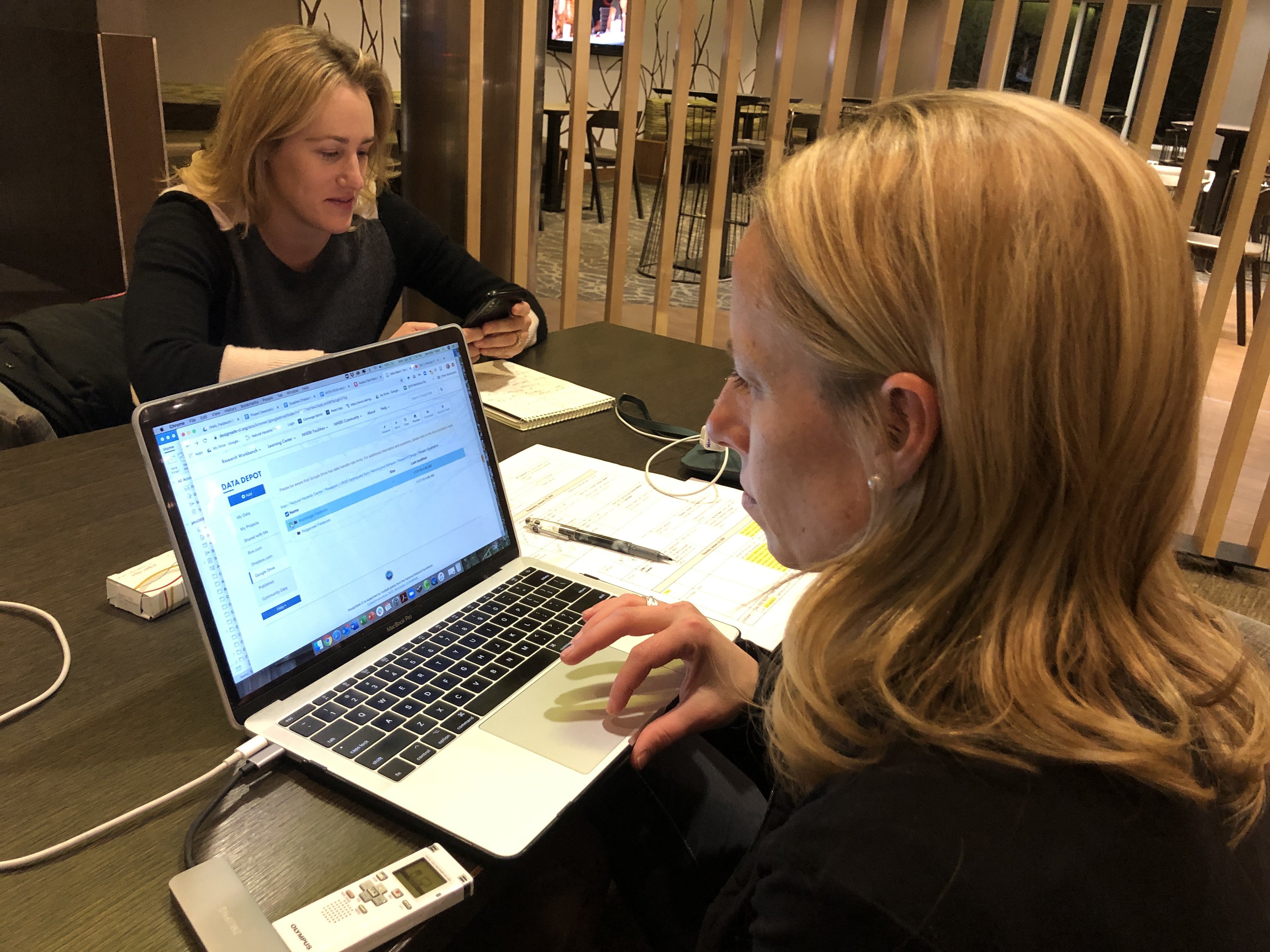 Natural Hazards Center researchers Rachel Adams (left) and Jennifer Tobin (right) upload qualitative interview audio files to the secure DesignSafe Data Depot after a day of conducting fieldwork in Anchorage, Alaska. Source: Lori Peek, 2020.
NSF-funded team develops new DesignSafe tool to advance interdisciplinary research
Austin, TX, Dec. 8, 2020 — NSF-funded researchers have recently released a novel data model for field researchers in natural hazards. For the first time, social and behavioral scientists, engineers, and members of interdisciplinary teams have a data model they can use independently or in collaborative projects. The model can be used to share and publish qualitative, quantitative, and mixed-methods field research data specific to hazards and disasters.
The R&D team was a partnership among research scientists with DesignSafe at the University of Texas Austin, CONVERGE at the University of Colorado Boulder, and the RAPID facility based at the University of Washington. All are components of the NSF-funded Natural Hazards Engineering Research Infrastructure, NHERI.
"DesignSafe provides a secure data repository and the latest software tools needed to manage, analyze, and publish critical data for natural hazards research," said Ellen Rathje, principal investigator at NHERI DesignSafe. "We are so excited to extend these capabilities to social science and interdisciplinary hazards and disaster researchers."
A robust data model
Users can think about the data model as the template that standardizes data organization and description and clarifies how different data and documentation components relate to one another.
DesignSafe's model is robust enough for researchers to publish qualitative and quantitative data as well as data collection protocols, research instruments, and Institutional Review Board (IRB) protocols. In this way, the final publication reveals the structure of data in relation to how the research project was conducted. All data, protocols, and instruments published via DesignSafe Cyberinfrastructure are assigned a permanent Digital Object Identifier (DOI), allowing researchers to share and others to cite their work.
DesignSafe's novel data model was developed with the expertise of Maria Esteva, data curator for the DesignSafe data repository, and Craig Jansen, who specializes in user interface design. Researchers in the NHERI community contributed their knowledge, field experience, and feedback to the design.
"This new data model will help advance collaboration across disciplines, geographic sites, and hazards within the disaster social science and engineering fields," said Lori Peek, principal investigator of the NHERI CONVERGE facility.
This example of the data model in use illustrates how engineers and social scientists can work together to structure an interdisciplinary, multi-component project. With the new data model, researchers can curate and publish preliminary field reports, field data, research protocols, and research instruments. Source: Craig Jansen, 2020.
Fostering an interdisciplinary culture
In order to introduce the new data publication capabilities to the natural hazards research community, in the summer of 2020, CONVERGE and DesignSafe hosted a series of Publish Your Data! events for social scientists and interdisciplinary researchers. Over 40 researchers and graduate students took part. Several have already begun publishing their research data and protocols from recent as well as legacy studies using the new data model. Upon completion of the training and data publication process, researchers are designated as CONVERGE Data Ambassadors.
"Data Ambassadors are now sharing their new knowledge with others and helping to shift the culture in the field," Peek said. Rathje agreed and is impressed by the eager participation. "This is really exciting to see the interest from the social science community, and it has helped us to expand our capabilities even further at DesignSafe," she said.
Nathanael Rosenheim, was one of the first research team members to publish a data collection instrument using the new data model, described the new data model as "intuitive and easy to use." He added, "I can really see the value of data sharing and publication. I hope that other researchers will use the household survey instrument we developed for the Longitudinal Community Resilience Focused Technical Investigation of the Lumberton, North Carolina Flood of 2016."
Other motivating examples of recent data publications under the new data model can be found at the CONVERGE website.
The new data model tool is available to all researchers wishing to publish their data, data collection instruments, and research protocols securely and in compliance with data protection best practices. To learn more, please review the videos and other materials from recent Publish Your Data! events.
The DesignSafe team supports the efforts of all researchers in natural hazards social science, engineering, and interdisciplinary research. All are encouraged to visit DesignSafe, join the community, and start curating and publishing data.
---
About the Natural Hazards Engineering Research Infrastructure
Funded by the National Science Foundation, the Natural Hazards Engineering Research Infrastructure, NHERI, is a network of experimental facilities dedicated to reducing damage and loss-of-life due to natural hazards such as earthquakes, landslides, windstorms, and tsunamis and storm surge. It is supported by the DesignSafe Cyberinfrastructure. NHERI provides the natural hazards engineering and social science communities with the state-of-the-art resources needed to meet the research challenges of the 21st century. NHERI is supported by multiple awards from NSF, including: DesignSafe #520817, CONVERGE #1841338, and RAPID #1611820.