Large swaths of southeastern Louisiana were damaged by Hurricane Laura. Above, a gas station canopy was picked up and rotated about 45 degrees. (StEER, FAST-1)
Notre Dame, IN, Sept. 4, 2020 — For natural hazards engineers, data is foundational. That is why the NSF-funded Structural Extreme Events Reconnaissance Network, known as StEER,  deployed directly after Hurricane Laura's landfall. It is essential to record structural damage swiftly, before cleanup and repairs occur.
Although deploying reconnaissance teams during a pandemic is not ideal, StEER Director Tracy Kijewski-Correa reports that StEER is using small, self-contained, regional teams to conduct phased assessments to gather perishable data while minimizing COVID-19 risks. Kijewski-Correa is a faculty member in the College of Engineering and Keough School of Global Affairs at the University of Notre Dame, where she is the Leo E and Patti Ruth Linbeck Collegiate Chair and Associate Professor.
The day of Hurricane Laura's landfall, StEER data gathering began with unmanned aerial systems (UAS) and street-level panoramic images, capturing data over wide swaths of the affected areas with minimal human contact.
"We entered this mission with a 'do no harm' strategy: using small regional teams collecting data quickly without heavy demands on the affected population, which now grapples with the loss of homes, electricity and running water, all essential to mitigating the COVID-19 pandemic," Kijewski-Correa said. "The approach and our new operating guidelines also ensured that our teams minimized their own exposure to the virus during their work in the field."
StEER's Field Assessment Structural Teams, FAST, are engineers with expertise in evaluating damage caused by wind, storm surge and other hazards. In a typical mission, the teams physically visit affected areas where they move door-to-door to assess the performance of buildings and other structures, documenting damage with photos, videos and other scientific measurements. In the process they routinely spend days in a local area and talk to residents and local officials to understand local conditions.
In this pandemic-modified mission, they employed a new model – allowing StEER FASTs to drive through affected areas quickly collecting street-level panoramas that are uploaded to Google Maps. These images are then accessible to other StEER members working on Virtual Assessment Structural Teams (VAST), who conduct the more in-depth analysis that normally would take place in the field. By sharing on Google Maps, other stakeholders, such as FEMA Mitigation Assessment Teams (MAT) can also benefit from StEER's datasets.  More importantly, the approach allows the FASTs to cover larger segments of the affected area in just a few days for a more complete documentation of the built environment's performance.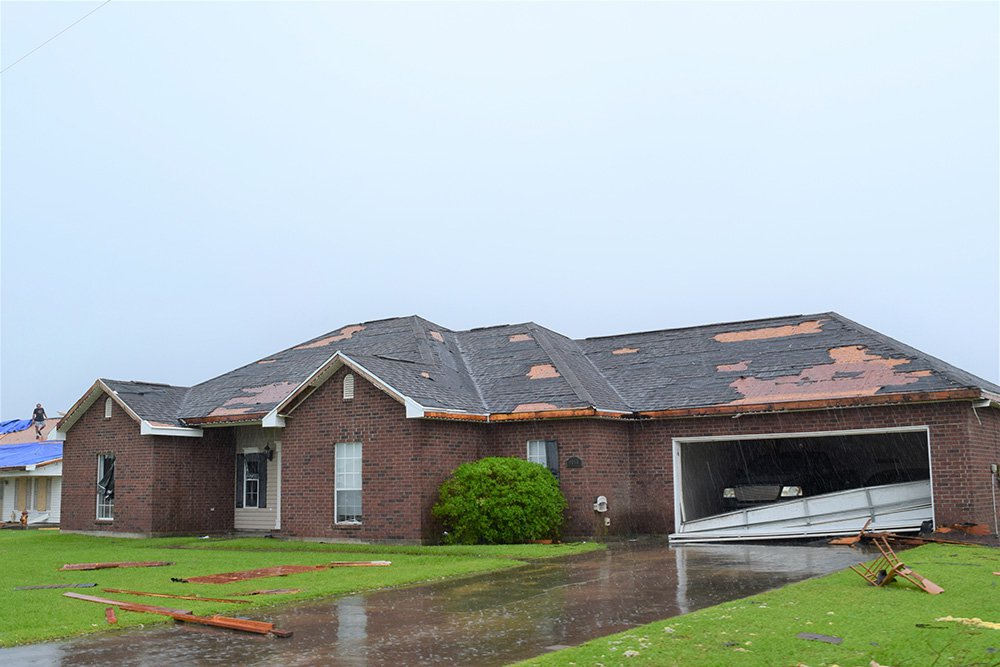 Garage door buckling was common in residential construction. (StEER FAST-1)
Hurricane Laura reconnaissance
Hurricane Laura made landfall in Cameron, Louisiana, in the early hours of August 27. By the end of that day, the first StEER team, FAST-1, had completed its initial collection of street-level image data in Lake Charles, one of the cities hardest hit by Laura. StEER Associate Director David Roueche and veteran StEER member Justin Marshall, engineers from Auburn University, posted their impressions on the DesignSafe chat forum, Slack.
Louisiana State University natural hazards engineer Sabarethinam Kameshwar and his graduate student Naqib Mashrur comprise the FAST-2 team, which continued collecting data September 2-4. The LSU team collected street-level panoramic imagery in StEER target areas using NCTech Pulsar imaging equipment. Additional FASTs may be deployed to continue the data collection over the coming weeks.
The NSF-funded RAPID facility, headquartered at the University of Washington, provides reconnaissance equipment and technical expertise and is a key partner in StEER missions.
"Working with the RAPID, we have been able to create an efficient workflow that moves the data collected on their street-level platforms quickly into Google Maps, so they can be accessed to support some of the immediate damage assessments critical for recovery processes," said Kijewski-Correa. "We believe this experience navigating data collection in the pandemic will set a new standard for how to make our missions more efficient and impactful, even in non-pandemic contexts."
DesignSafe data hub
In the days and weeks following a major event such as a hurricane, StEER teams post their assessments, formal reports – and data – on the DesignSafe platform. Also funded by NSF, the DesignSafe cyberinfrastructure serves as a communication and data hub for natural hazards researchers.
StEER's initial findings for Hurricane Laura will appear in a special joint report combining information from public sources with the analysis of its FAST street-level and UAS data. It will be available on the StEER web site and on DesignSafe.  
Learning from damage
The StEER reconnaissance missions in places like Cameron, Holly Beach, and Lake Charles, Louisiana, revealed widespread heavy damage to residential and commercial buildings, including major collapses of roofs and walls. In residential buildings, buckled garage doors were a common problem. Unsurprisingly, more recently constructed homes and buildings weathered the wind and storm surge better.
StEER and its sister organization NEER – the Nearshore Extreme Events Reconnaissance Association --  is just one of many teams that collect and share post-storm data and share critical information on DesignSafe's Slack channels. The National Oceanic and Atmospheric Administration (NOAA) and the Federal Emergency Management Agency (FEMA) collect aerial imagery and enlist crowdsourcing efforts to tag damage after major storms such as Laura. Among other groups, the National Institute of Standards and Technology (NIST) also plays a critical role in getting reliable wind field data into the hands of these teams. These wind field maps for Hurricane Laura and associated data is already available on DesignSafe-CI Recon Portal. 
StEER's report for Hurricane Laura and associated street-level panoramic images and UAS data will be available on the DesignSafe Data Depot.
Find details about CONVERGE, the coordinating body for StEER and NEER, the NHERI RAPID, and other NSF-sponsored natural-hazards facilities on the DesignSafe website.
---
Media Contact:
Tracy Kijewski-Correa
University of Notre Dame
Structural Extreme Events Reconnaissance (StEER) Network
Email: tkijewsk@nd.edu
---
About the NHERI network
The Natural Hazards Engineering Research Infrastructure (NHERI) is a distributed, multi-user, national facility that provides the natural hazards engineering community with state-of-the-art research infrastructure. Funded by the National Science Foundation, NHERI enables researchers to explore and test ground-breaking concepts to protect homes, businesses, and infrastructure lifelines from the impacts of earthquake, wind, and water hazards, enabling innovations to help prevent natural hazards from becoming societal disasters. The research infrastructure includes earthquake and wind engineering experimental facilities, cyberinfrastructure, computational modeling and simulation tools, research data, and expert personnel. When coupled with training and mentoring initiatives and community outreach, NHERI facilitates research and educational advances that contribute knowledge and innovation toward improving the resiliency of the nation's civil infrastructure to withstand natural hazards.