BOULDER, Colo, August 31, 2021 – The NHERI CONVERGE facility offers a bank of classroom assignments developed by instructors who have integrated the CONVERGE Training Modules into their courses.
If you are considering requiring or recommending the CONVERGE Training Modules for your graduate or undergraduate students, please visit the Assignment Bank for example assignments for a range of hazards- and disaster-focused classes.
Available assignments showcase ways to incorporate the CONVERGE Training Modules into a classroom setting. "The assignments build on the content presented in the modules and provide students with the opportunity to apply the knowledge and skills they have gained," said Lori Peek, principal investigator of CONVERGE and director of the Natural Hazards Center at the University of Colorado Boulder.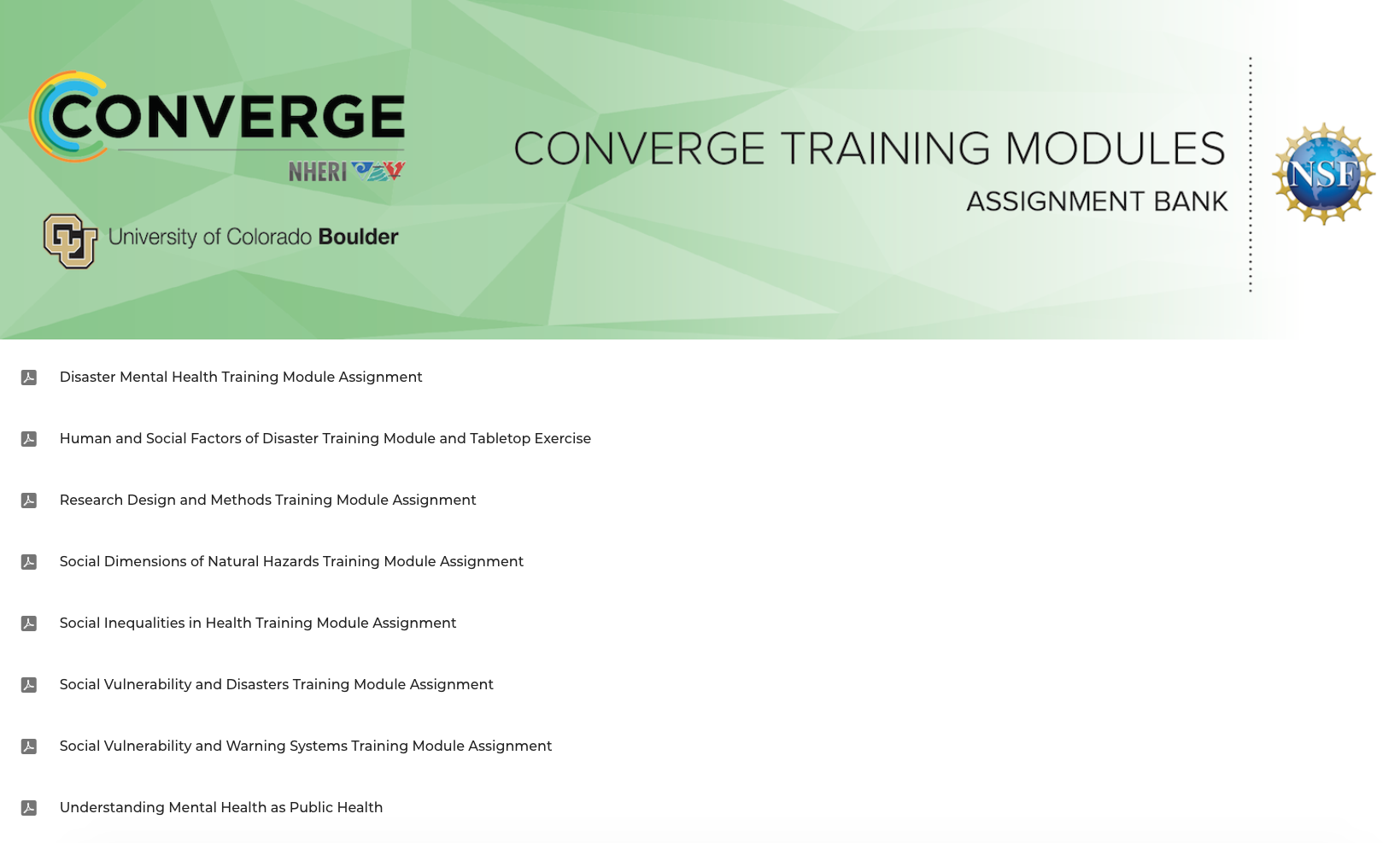 The Assignment Bank currently includes nine distinct assignments that require students to complete one or more of the Training Modules. For example, Reggie Ferreira from the Tulane School of Social Work has his students take both the Social Vulnerability and Disaster Mental Health Training Modules, and then they engage in an interactive tabletop exercise. Christine Gibb, who is a faculty member at the University of Ottawa, created an assignment that requires students to complete the CONVERGE Training Modules and then to develop their own module as part of a group assignment.
Gibb and Ferreira, as well as three other instructors who have contributed to the Assignment Bank, recently participated in a special session at the 2021 Researchers Meeting dedicated to encouraging the adoption of CONVERGE Training Modules in college and university courses. That session recording, which includes helpful advice on assignment development, implementation, and evaluation, is available via the CONVERGE YouTube page.
"We welcome additional contributions to the Assignment Bank," Peek said. "Our goal is to continue to build out these resources for educators, to help expand the use of the modules in classrooms."
The CONVERGE Training Modules are funded by the National Science Foundation, Centers for Disease Control and Prevention, and U.S. Geological Survey. Those who are interested in accessing the modules, assignment bank, annotated bibliographies, and other free resources should visit: https://converge.colorado.edu/resources/training-modules.
If you have any questions or an assignment to contribute, you can contact the CONVERGE team at converge@colorado.edu.
---
About the Natural Hazards Engineering Research Infrastructure
Funded by the National Science Foundation, the Natural Hazards Engineering Research Infrastructure, NHERI, is a network of experimental facilities dedicated to reducing damage and loss-of-life due to natural hazards such as earthquakes, landslides, windstorms, and tsunamis and storm surge. It is supported by the DesignSafe Cyberinfrastructure. NHERI provides the natural hazards engineering and social science communities with the state-of-the-art resources needed to meet the research challenges of the 21st century. NHERI is supported by multiple awards from NSF, including the NHERI Network Coordination Office, Award #1612144 and NHERI CONVERGE, Award #1841338.