Opens in a new window
Opens an external site
Opens an external site in a new window
Opens an external site in a new window
Keeping Up with NHERI at UC San Diego
Published on July 22, 2021
The NHERI at UC San Diego experimental facility is home to the world's largest outdoor shake table, called the Large High-Performance Outdoor Shake Table, or LHPOST.
Thanks to a $16.3 million NSF grant, the shake table is undergoing a major renovation, giving the facility the capability of testing structures with six degrees of freedom. The work is nearly complete. The upgraded LHPOST6 can move in all directions: back and forth, up and down, and left to right – and can reproduce rotations similar to that of an airplane: yaw, pitch and roll.
Fifteen years of research with the original LHPOST has led to significant impact in earthquake engineering, including changes to building codes. But the improved shake table, now dubbed LHPOST6, stands to advance earthquake engineering even further.
"The table's movements will be much more realistic," said Joel Conte, principal investigator at the NHERI UC San Diego facility. "We will be able to replicate, in full 3D, the combined effect of all the motions of an earthquake applied to a structure, as well as the interaction between soil and building, and soil liquefaction." He added: "It will be a big jump in our knowledge of how buildings and bridges and other infrastructure respond to earthquakes, and that research will find its way to the design code."
In June 2021, the platen, the 300,000-pound floor of the shake table, was returned to its position. This summer, the NHERI at UC San Diego site team is working with contractors to reconnect the equipment's massive infrastructure and recommission the shake table.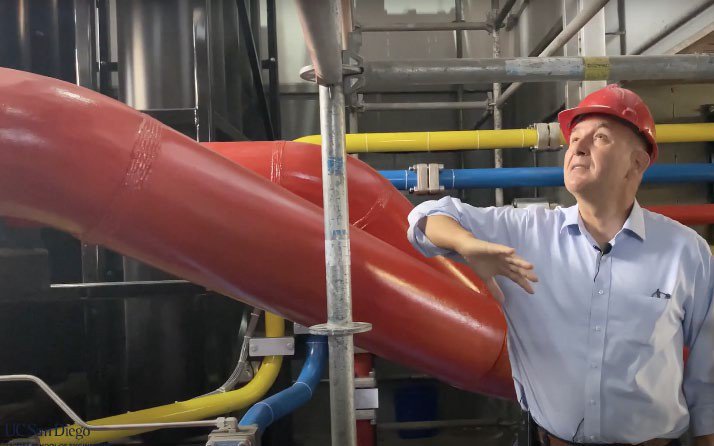 The first NSF project slated for testing on the upgraded facility is NHERI Tallwood. The team will construct a full scale, ten-story wooden structure on LHPOST6 (NSF Award #1636164). The tests, led by Shiling Pei of the Colorado School of Mines, will gather fundamental data for designing wood buildings as tall as 20 stories. The goal is to design highly resilient wooden structures that do not suffer significant earthquake damage and that can be re-occupied shortly after an earthquake.
The NHERI at UC San Diego team estimates construction to begin on the 10-story specimen in October of 2021.
Be sure to view the facilitys June 2021 video update with some dramatic images of LHPOST.
Related Links
---