Opens in a new window
Opens an external site
Opens an external site in a new window
Opens an external site in a new window
A Burning Need: NHERI RAPID Enables Researchers to Understand, Mitigate Post-Wildfire Landslide Hazards
Published on June 25, 2021
The 2020 megafires that turned more than seven million acres of West Coast land into smoldering rubble last summer left behind something valuable for researchers: perishable data.
"Seeing this ongoing and growing threat from wildfires, I think it is a prelude of what's to come," says civil and environmental engineering professor Joe Wartman, who directs the Natural Hazards Reconnaissance Facility (known as RAPID), which supports data acquisition in the aftermath of natural disasters. "There are long-term lingering effects of these wildfires that we don't fully understand – and which can significantly impact affected communities." After the 2020 megafires, RAPID partnered with researchers on the West Coast to gather perishable data. The most immediate use of the data will be to better understand a type of landslide called post-fire debris-flow, which has resulted in numerous deaths.
Funded by the National Science Foundation and headquartered in Civil & Environmental Engineering, the NHERI RAPID is the first center of its kind in the world. Researchers like Wartman work with universities, government agencies and international organizations to conduct natural hazards reconnaissance missions. Since launching in 2018, RAPID has responded to more than 70 natural disasters, including hurricanes, earthquakes, tsunamis, landslides and wildfires.
Read the FULL STORY.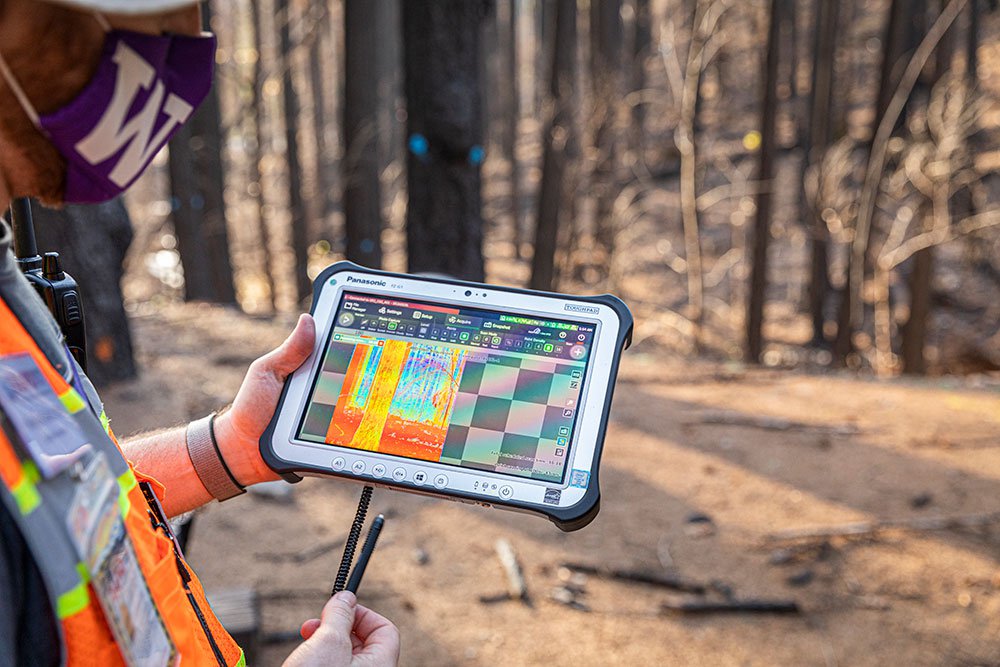 Caption: Data from the laser scanner being downloaded and visualized in real-time. (Image: Mark Stone / University of Washington)
Caption: Mike Grilliot, NHERI RAPID operations manager, sets up laser scanning equipment. (Image: Mark Stone / University of Washington)