Opens in a new window
Opens an external site
Opens an external site in a new window
Opens an external site in a new window
NHERI Facility Experiments, July 2021
Published on June 25, 2021
At NHERI's Oregon State University O.H. Hinsdale Wave Research Laboratory, investigators from MIT will begin testing on a prototype structured dubbed the Emerald Tutu, a biomechanical barrier in Boston Harbor that would protect the city from storm surges. Find details on this $256K NSF-funded project (award #2016199) at MIT News.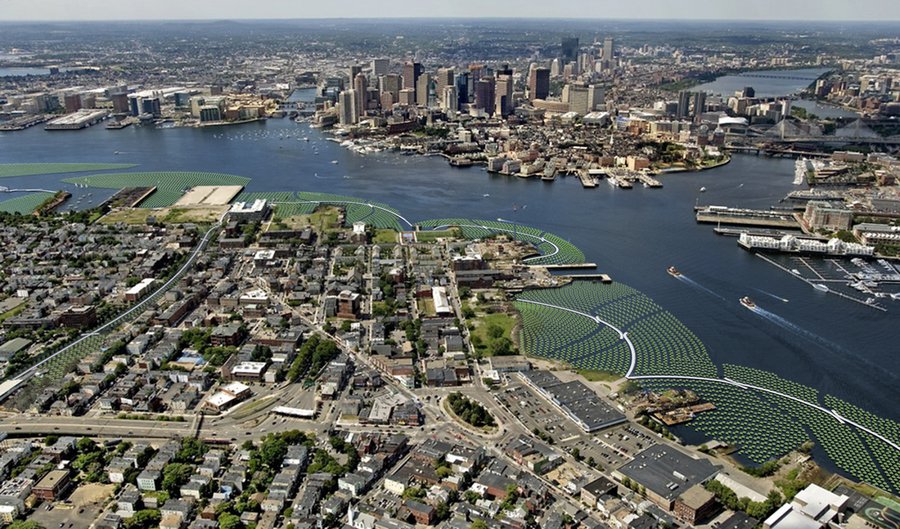 Aerial view photo montage of the Emerald Tutu in Boston Harbor, here shown flanking and protecting the waterfront areas of East Boston. Image: The Emerald Tutu
---
Also at NHERI OSU, a second round of testing commences on the NSF project called Collaborative Research: Wave, Surge, and Tsunami Overland Hazard, Loading and Structural Response for Developed Shorelines (Award #1661315). Researchers from Oregon State University, Notre Dame University and the University of Southern California hope to improve coastal building design, mitigate coastal damage and enable communities to make better, risk-informed decisions. Watch a video overview of the project, here.
Testing ways to protect structures from storm surge using the NHERI at OSU large wave flume. Image: National Science Foundation
---
University of Florida researchers will begin tests with NHERI at University of Texas mobile shakers for the NSF-funded project 3D Ambient Noise Tomography (3D ANT) for Natural Hazards Engineering (Award #1930697). The project addresses two issues related to natural hazards: (1) the need for developing realistic 3D subsurface models for use in earthquake ground motion studies, and (2) the need for improved 3D in-situ imaging for anomaly (e.g., void/sinkhole) detection.
In situ testing with University of Texas mobile shaker unit. Image: NHERI at University of Texas.
---
At the NHERI at Lehigh University experimental facility, researchers are performing component-substructure testing for the multi-award NSF project Resilience-based Seismic Design Methodology for Tall Wood Buildings. Also called "Tallwood," this collaborative effort is investigating a seismic design methodology for resilient tall wood buildings that can be immediately re-occupied following a design level earthquake and quickly repaired after a large earthquake. This project culminates with a full-scale, 10-story shake table test at the NHERI UC San Diego LHPOST6 shake table in the fall of 2021. (Collaborative awards include #1636164, #1635227, #1635156, #1634204, #1635363, #1634628, #1520765.)
Cross-laminated timber testing for Tallwood project at the NHERI at Lehigh University facility. Image: NHERI at Lehigh University.