Opens in a new window
Opens an external site
Opens an external site in a new window
Opens an external site in a new window
FOR IMMEDIATE RELEASE
Understanding and Ending Gender-based Violence in Fieldwork
NSF-funded CONVERGE releases new module for natural hazards researchers
BOULDER, Colo., March 11, 2021 — The Natural Hazards Engineering Research Infrastructure (NHERI) CONVERGE facility announces the release of a new educational tool for natural hazards researchers: the Understanding and Ending Gender-Based Violence in Fieldwork Training Module.
This online module, which was developed in partnership with The Fieldwork Initiative, describes gender-based violence in the context of field research. The module tackles misconceptions about gender-based violence and provides real life scenarios and strategies for safe fieldwork practices. This course is part of a series of online training modules developed by the CONVERGE research team. These interactive, 30- to 60-minute modules cover topics that support hazards and disaster researchers and research teams to conduct ethical and methodologically sound studies.
The National Science Foundation-sponsored CONVERGE facility is headquartered at the Natural Hazards Center at the University of Colorado Boulder and is led by Lori Peek, sociology professor and director of the Center.
Gender-based violence in fieldwork is common (Source: shutterstock.com)
Examining Gender-Based Violence in Field Research
The latest CONVERGE training module draws on a wide range of research studies to define gender-based violence and highlight its key identifying characteristics. It assumes an intersectional approach that examines how gender intersects with multiple identities such as race, social class, and age to influence prejudice and privilege among researchers. Examples of different types of gendered violence — from gender role stereotyping to sexual harassment and assault — are highlighted to demonstrate the varied ways that this issue manifests within hazards and disaster research.
"Gender-based violence in fieldwork is surprisingly common. It is important that researchers recognize and unlearn the many misconceptions surrounding fieldwork to ensure safe, healthy, and realistic experiences in the field," said Jerika Heinze, who served as lead developer of the module and is founder of The Fieldwork Initiative, an advocacy space on fieldwork trauma. "This module draws on many of the insights of The Fieldwork Initiative to unpack common beliefs regarding field research and the difference between acceptable and unacceptable struggles that researchers may encounter," Heinze said.
By presenting personal stories and case studies from past research, the module can help researchers recognize the various contexts of problematic fieldwork and understand aspects of heightened risk and prevalent dangers. The module discusses challenges of reporting violence and seeking help while in the field and recommends strategies for self-advocacy and institutional change to empower researchers to mitigate incidents of gender-violence. A step-by-step plan to report or seek intervention is also provided, as well as links to resources and organizations that can be helpful to researchers before, during, or after fieldwork.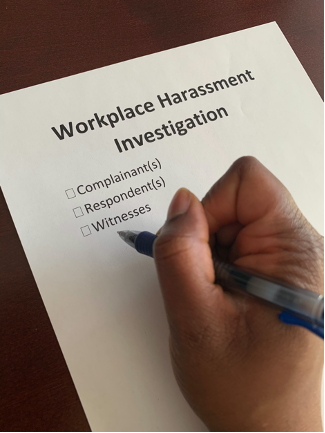 The Understanding and Ending Gender-Based Training Module provides a step-by-step plan to report violence or seek intervention. (Source: shutterstock.com)
"We believe this module will be useful for researchers from diverse backgrounds and all disciplines," said Lori Peek, principal investigator of the NHERI CONVERGE facility. "It is essential that researchers are aware of the dynamics of gender-based violence and the complexities associated with field research. This module provides the tools to address enduring challenges.
The CONVERGE website includes lists of available resources and previously released modules on topics of social vulnerability and disasters, disaster mental health, cultural competence, institutional review board procedures, and emotionally challenging research. The next training modules to be released in the series include:
Broader Ethical Considerations for Hazards and Disaster Researchers (in partnership with the Centers for Disease Control and Prevention)
Collecting and Sharing Perishable Data (in partnership with the Centers for Disease Control and Prevention)
Reciprocity in Field Research (in partnership with the U.S. Geological Survey)
To receive updates and information on new CONVERGE training modules and other free online resources, please subscribe here.
---
Join us on Tuesday, March 16, 2021 from 3:00 to 3:30 p.m. MDT for a demonstration webinar of the Understanding and Ending Gender-Based Violence in Fieldwork Training Module.
---
Media Contacts
Lori Peek, PhD
Professor, Department of Sociology
Director, Natural Hazards Center
Principal Investigator, NHERI CONVERGE, SSEER, and ISEEER
University of Colorado Boulder
lori.peek@colorado.edu
About the Natural Hazards Engineering Research Infrastructure
Funded by the National Science Foundation, the Natural Hazards Engineering Research Infrastructure, NHERI, is a network of experimental facilities dedicated to reducing damage and loss-of-life due to natural hazards such as earthquakes, landslides, windstorms, and tsunamis and storm surge. It is supported by the DesignSafe Cyberinfrastructure. NHERI provides the natural hazards engineering and social science communities with the state-of-the-art resources needed to meet the research challenges of the 21st century. NHERI is supported by multiple awards from NSF, including the NHERI Network Coordination Office, Award #1612144 and NHERI CONVERGE, Award #1841338.