Opens in a new window
Opens an external site
Opens an external site in a new window
Opens an external site in a new window
Update from NHERI at FIU:
NHERI at FIU Introduces Particle Image Velocimetry
Published on October 29, 2021
The NHERI at Florida International University facility is renowned for its large-scale Wall of Wind open jet wind tunnel. Now, augmenting its toolset, NHERI at FIU offers Particle Image Velocimetry (PIV), an optical method of flow characterization.
By seeding wind streams with tracer particles and using ultra-high-speed cameras, PIV equipment can obtain instantaneous velocity measurements for characterizing turbulent wind flows. This will permit whole-flow-field measurements (rather than just the impact of wind on the built environment) to study fluid-structure interaction at high Reynolds numbers that cannot be achieved in conventional wind tunnels.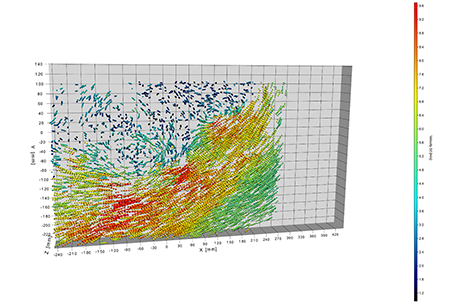 A snapshot of three-dimensional particle tracks for flow around a bluff body. The color scaling indicates the speed of the particles. (Image: NHERI at FIU)
These data will enable improved understanding of the correlation of peak wind loads on buildings and turbulent flows around buildings in urban settings. Enhanced understanding of the physics of turbulent wind flows may lead to major breakthroughs in both fluid mechanics and wind engineering. The instrumentation will also spur new cross-disciplinary research collaborations at WOW in areas ranging from pollutant dispersion in urban areas to energy systems and aerodynamics of unmanned aerial vehicles. The PIV will also provide an important tool for the validation of high-fidelity computational fluid dynamics simulations.
At the upcoming FIU user workshop, December 2-3, the FIU team will introduce the facility's PIV capabilities and demonstrate how they can be used to perform large- and full-scale synoptic and non-synoptic wind simulations using the NHERI WOW EF.
Those interested in exploring the NHERI at FIU PIV capabilities may contact Dr. Amal Elawady.