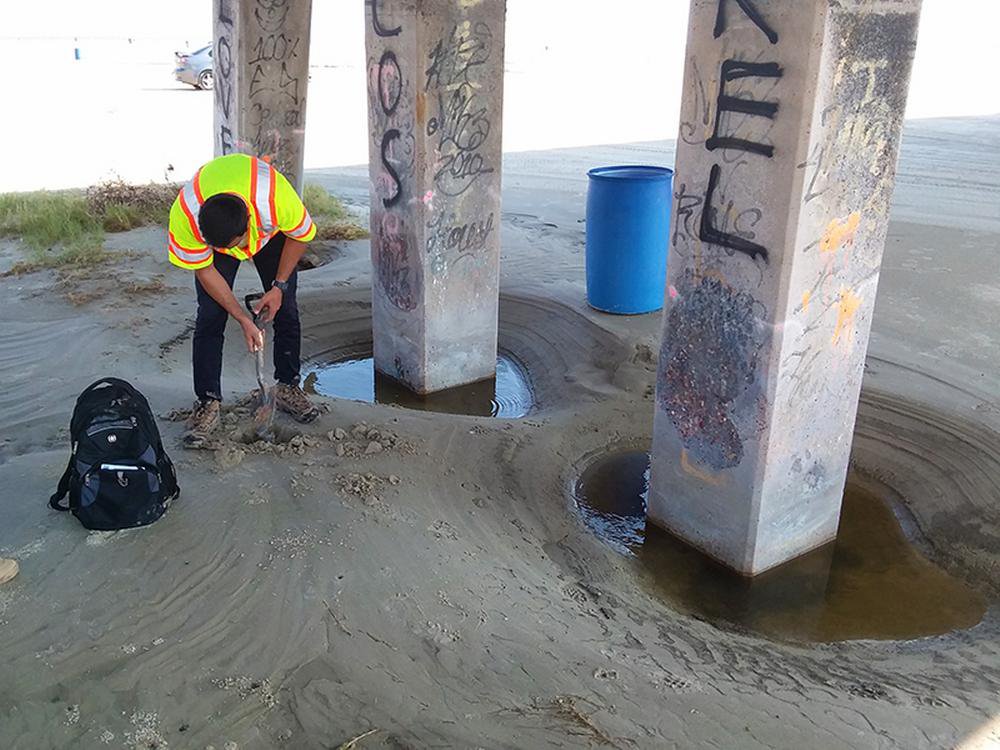 Natural hazards researchers in the NHERI network collecting perishable data after Hurricane Harvey. (Image: Stephanie Smallegan, Structural Extreme Events Reconnaissance)
Oct. 1, 2021, West Lafayette, IN — Advancing research and education to reduce damage and loss of life from earthquakes, tsunamis, windstorms, and storm surge is the goal of a National Science Foundation center headquartered at Purdue University.
In September 2021, NSF formally renewed the Purdue-led Network Coordination Office for the Natural Hazards Engineering Research Infrastructure, NHERI. The renewed NHERI NCO, NSF Award #2129782, runs from October 1, 2021, through September 30, 2025.
Already, the NHERI NCO team has plans to update the NHERI Science Plan, incorporating research programs needed in natural hazards simulations and social sciences. The NCO's Education and Community Outreach team has kicked off the NHERI Graduate Student Council, a channel for young engineering researchers to be mentored by faculty in the natural hazards community and acquire leadership skills. The NCO also produces the DesignSafe Radio podcast, which showcases research underway at network facilities.
NHERI is a large-scale, nationally distributed network of 12 university-based facilities. The NHERI network includes eight experimental laboratories, a computational modeling and simulation hub, a RAPID reconnaissance center, social science integration, high-performance computing, and a full-featured cyberinfrastructure with data management support.
The four-year, $5M NSF award enables the NHERI Network Coordination Office based in Purdue's Discovery Park to continue providing network governance, transparent facility access, and education and outreach programming. The NHERI Science Plan, a community-driven effort, provides scientific guidance for the nation's researchers aiming to mitigate structural and societal damage from natural hazards.
"We are pleased to continue our work guiding this dynamic, multi-disciplinary research network," said NHERI NCO principal investigator Julio Ramirez, Karl H. Kettelhut Professor in Civil Engineering in Purdue's Lyles School of Engineering. "Increasingly, many parts of our nation are susceptible to hurricane winds and storm surge, as well as earthquakes and resulting tsunamis. The NHERI network provides vital resources to engineers and other researchers designing ways to keep our infrastructure resilient and our society safe."
NHERI NCO team
The Education and Community Outreach component of the NHERI network is led by NCO co-principal investigator, JoAnn Browning, Dean and David and Jennifer Spencer Distinguished Dean's Chair at the University of Texas-San Antonio. The NHERI NCO team also includes Co-PI Antonio Bobet, the Edgar B. and Hedwig M. Olson Professor of Civil Engineering at Purdue University; Co-PI Delong Zuo, professor and technical director of the National Wind Institute, Texas Tech University; and Co-PI Billy Edge, professor at North Carolina State University and head of coastal processes and engineering at the UNC Coastal Studies Institute. Other members of the NCO include Cheryl Ann Blain, Ocean Sciences Division, Naval Research Laboratory at the Stennis Space Center; David Johnson, assistant professor of industrial engineering and political science at Purdue University; and Ian Robertson, the Arthur N.L. Chiu Distinguished Professor and department chair of Civil and Environmental Engineering at the University of Hawai'i at M?noa.
NHERI network components
Along with the Purdue-based NCO, the NHERI network comprises research centers at the following universities.
Thanks to the NCO's coordination of NSF-funded natural hazards engineering resources, researchers are empowered to devise a more resilient civil infrastructure for our nation.
---
Media Contacts
Julio Ramirez, Director
NHERI Network Coordination Office
Karl H. Kettelhut Professor in Civil Engineering in
Purdue University Lyles School of Engineering
ramirez@purdue.edu
About the Natural Hazards Engineering Research Infrastructure
Funded by the National Science Foundation, the Natural Hazards Engineering Research Infrastructure, NHERI, is a network of facilities dedicated to reducing damage and loss of life due to natural hazards such as earthquakes, landslides, windstorms, tsunamis and storm surge. NHERI provides the natural hazards engineering and social science communities with the state-of-the-art resources needed to meet the research challenges of the 21st century. NHERI is supported by multiple awards from NSF, including the NHERI Network Coordination Office, Award #2129782.