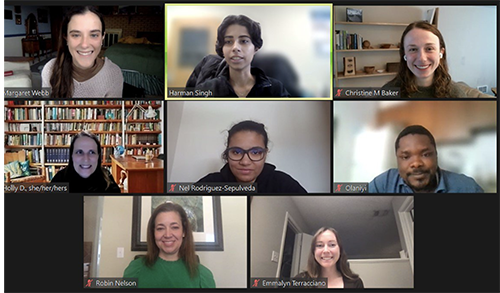 The NHERI Grdaute Student Council's Diversity, Equity, and Inclusion Working Group met on Friday, March 25 to discuss its goals.
The NHERI Graduate Student Council (GSC) is a student-led organization launched by the NHERI ECO in October 2021. The GSC supports graduate students researching natural hazards.
The GSC hit the ground running – immediately making connections with NHERI representatives from the Technology Transfer Committee (TTC), the SimCenter at UC Berkeley, the Boundary Layer Wind Tunnel at the University of Florida, as well as with faculty at CONVERGE and the Natural Hazard Center at the University of Colorado Boulder.
The GSC recently held elections, and leadership teams are now developing workshops and other activities for the 2022 spring, summer, and fall semesters. Below are just a few examples.
Communications. Niko Grisel Todorov (Chapman University) and Edwin Rajeev (University of Florida), Chair and Vice-Chair of the Technology and Communications Working Group, launched the NHERI GSC social media accounts on Twitter, Facebook, Instagram, and LinkedIn. We urge everyone in the NHERI community to follow this lively group on social media.
The Tech and Communications group also created Slack channels to support communication between the different areas of research: wind, earthquake, tsunami, coastal engineering, simulation, and social science. (The channels are private and used by GSC members only.)
Education and peer support. The Workshop & Mentoring Chair and Vice-Chair, Jasmine Bekkaye (Louisiana State University) and Olaniyi Afolayan (Auburn University), are working with NHERI faculty to host a workshop on disaster reconnaissance and post-natural hazards impact. They are working closely with the Research Working Group Chair and Vice-Chair, Taylor Heath (University of Pennsylvania) and Hamed Tohidi (The University of Memphis) to create a work-in-progress-research series for students to share and provide feedback on other members' research. In addition, the Research Working Group has launched a survey to identify how they may further support the research needs of NHERI GSC members.
Diversity and inclusion. The Workshop & Mentoring Group is also working with the Diversity, Equity, and Inclusion Working Group Chair and Vice-Chair, Margaret Webb (Virginia Tech University) and Harman Singh (Penn State University) to host a DEI workshop.
DEI leadership and volunteer members will be trained by NHERI ECO faculty Scott Brandenburg, University of California at Los Angeles, and Karina Vielma, University of Texas at San Antonio, who will present and lead the DEI workshop on unconscious bias, micro aggressions, and algorithmic bias. The GSC team is also creating a DEI resource page for the NHERI GSC website to be launched late this spring.