Opens in a new window
Opens an external site
Opens an external site in a new window
Opens an external site in a new window
MEDIA ADVISORY
Natural Hazards Network Exhibiting at 2022 AGU Fall Meeting
Representatives from NHERI, the NSF-funded Natural Hazards Engineering Research Infrastructure, will be available to answer questions about the network's experimental facilities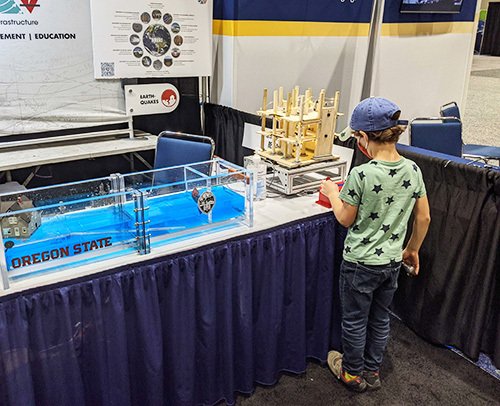 Come learn about the NHERI network and see mini-models of our test equipment in action.
West Lafayette, IN, Dec. 4, 2022 — Faculty and staff from the NSF-funded Natural Hazards Engineering Research Infrastructure, NHERI, will be exhibiting at the AGU Fall Meeting in Chicago, Dec. 12–16.
Stop by exhibit hall booth #1320 to learn about NHERI's network of experimental facilities suitable for coastal and geotechnical research. Chat with NHERI faculty and staff, including representatives from the NHERI RAPID, the NHERI User Forum, and the NHERI NCO.
NHERI booth highlights include:
A working, scale-model wave tank, complete with miniature structures to test, from the NHERI at Oregon State University facility.
Drone video of the NHERI Tallwood building, under construction at the world's largest outdoor shake table at UC San Diego.
Demonstrations of from the NHERI RAPID team, the network's specialists in post-event reconnaissance and data collection.
During the weeklong conference, NHERI reps will be interviewing natural hazards experts and demonstrating how NHERI facilities are making our natural and built environments safer and more resilient.
Are you or your team presenting at AGU? Drop us a line to let us know!
---
About the Natural Hazards Engineering Research Infrastructure, NHERI
Funded by the National Science Foundation, NHERI is a network of experimental facilities dedicated to reducing damage and loss-of-life due to natural hazards such as earthquakes, landslides, windstorms, tsunamis and storm surge. Supported by the DesignSafe Cyberinfrastructure, NHERI provides the natural hazards engineering and social science communities with the state-of-the-art resources needed to meet the research challenges of the 21st century. NHERI is supported by multiple awards from NSF, including the Network Coordination Office, Award #2129782.