Opens in a new window
Opens an external site
Opens an external site in a new window
Opens an external site in a new window
NHERI at Florida International University Takes Center Stage at the Eye of the Storm Event
The annual educational event prepares the South Florida community for hurricane season
Published on July 1, 2022
A five-second countdown and then a boom and a bang!
An air cannon just fired a 2x4 piece of wood at a metal shutter protecting a window, showing the gathered crowd the importance of protecting a home's windows from flying debris during a hurricane.
The air-cannon demonstration was just one of the exciting exhibits at the FIU-sponsored Eye of the Storm event at the Museum of Discovery and Science (MODS) in Fort Lauderdale.
 
Air-cannon demonstration at the Eye of the Storm event. Without the metal shutter, dangerous flying debris can severely damage windows. (Image: Erik Salna, FIU Wall of Wind)
Air-cannon demonstration at the Eye of the Storm event, showing how metal shutters prevent hurricane-driven flying debris from causing major window damage. (Image: Erik Salna, FIU Wall of Wind)

The annual Eye of the Storm event is a free, public-education event that brings together a number of organizations and weather experts and showcases special hands-on, interactive activities and demonstrations teaching hurricane science, mitigation, and preparedness. The concept of the event is to take hurricane preparedness information and present it in a public friendly science-museum environment. This year's event took place on May 14, 2022, just before the official start of hurricane season on June 1.
The method is informal education through fun and entertaining activities for families and kids. The goal: to inform and motivate everyone to be ready for the coming hurricane season.
"The annual Eye of the Storm FREE admission day at MODS connected close to 4,000 guests with inspiring science. Our community members learned the science behind severe weather, met an array of exciting scientists, weather experts and emergency management personnel, who have committed to preparing us for the upcoming hurricane season," said Joe Cox, president and CEO at MODS. "As the Hub for Resilience Education and solutions to help mitigate the impact of climate change, MODS is the ideal space to bring together science and community surrounding extreme weather. We thank our partners at FIU and the Florida Division of Emergency Management for continuing this conversation for the strength and future of south Florida."
After watching the outdoor air cannon demonstration, visitors were greeted inside the museum lobby by the very prominent NSF-NHERI Wall of Wind exhibit. It set the messaging for the day as the WOW exhibit illustrated the effects of wind on different roof shapes, taught the science of wind engineering, and showed the importance of mitigating wind damage to homes. After experimenting with different roof shapes in the exhibit, parents and kids moved on to the museum makers-space to build their own model homes and put them to the test with portable fans.
 
The Wall of Wind scale-model wind-tunnel exhibit at the Fort Lauderdale Museum of Discovery and Science. (Image: Erik Salna, FIU Wall of Wind)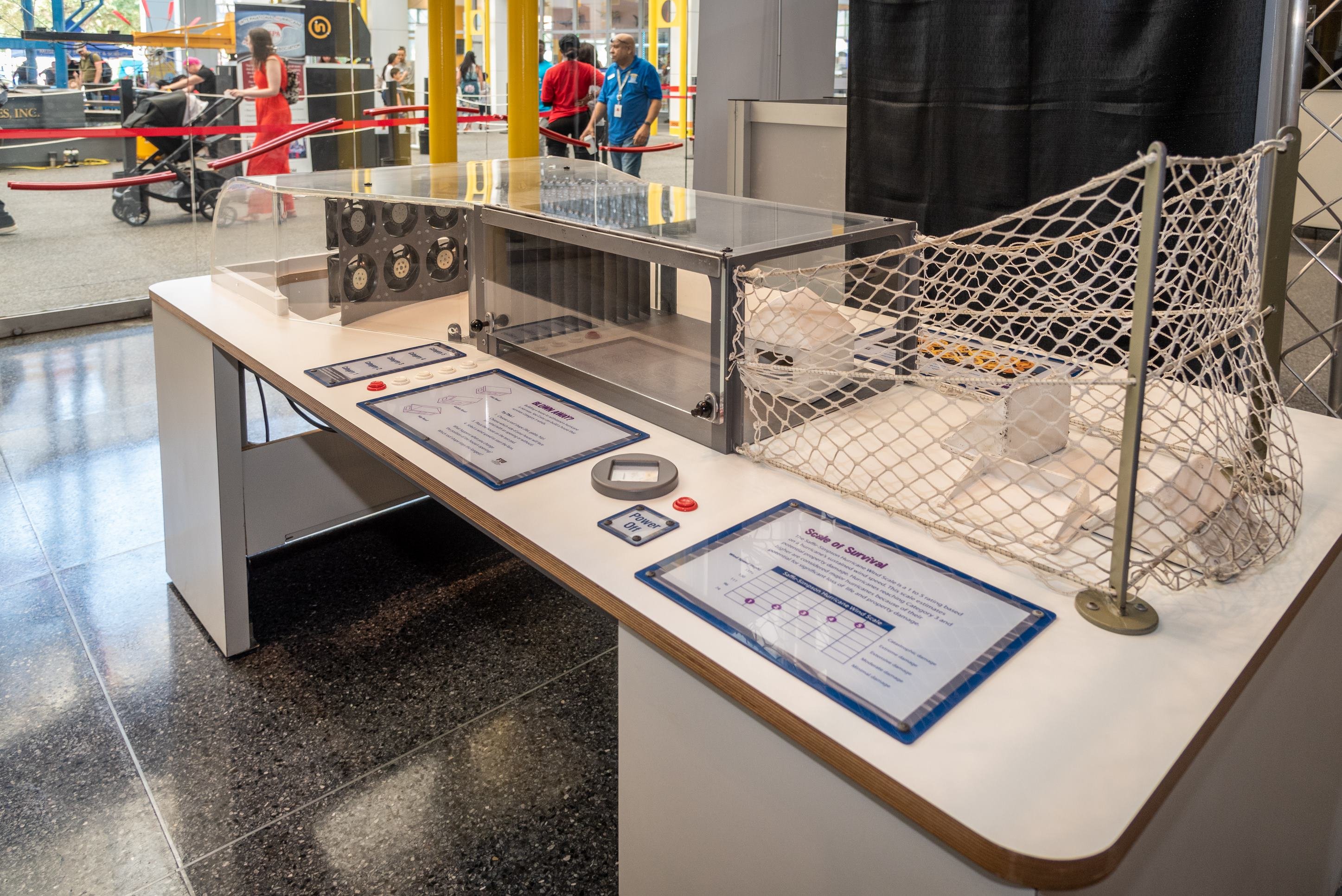 The interactive Wall of Wind wind tunnel exhibit at the Fort Lauderdale Museum of Discovery and Science. (Image: Erik Salna, FIU Wall of Wind)

"In the Wall of Wind exhibit at MODS, guests can test their engineering skills with hurricane-force winds and see how Florida International University researchers simulate Category 5 hurricane conditions to collect data on a storm's wind," said Cox.
A participant post-survey for the event showed that 86% of respondents increased their knowledge about wind engineering and mitigating hurricane damage; 77% said they are interested in learning more about wind engineering; and 90% will be taking steps to mitigate hurricane damage.
In addition to the post survey, a message board asked: Would you like to study wind engineering in school? Responses included —
"Yes, I would like to study wind engineering in school!!!"
Wind engineering sounds interesting and cool to learn"
I think wind engineering is important as all other types of engineering are. They all serve a purpose which would help to understand hurricanes better, also giving us more data"
I want to be a wind engineer!"
Yes, it sounds fun and interesting"
Another message board asked: What did you learn today about protecting your home from hurricanes? Responses included —
"I learned that hurricanes have strong winds that can blow roofs off my house!"
"I learned that the hip roof was the best roof for the hurricanes"
Make sure windows and doors are protected. Make sure you have supplies to keep everyone safe"
Taping your windows doesn't protect them from breaking. Best is having impact windows and metal shutters"
"Record attendance at this year's Eye of the Storm shows that South Florida families want to learn about the science behind hurricanes and what they can do to be more resilient, ensuring their personal safety," said Daniel Brown, senior hurricane specialist/warning coordination meteorologist at the NOAA/NWS/National Hurricane Center.
"The partnership of FIU's International Hurricane Research Center and the Extreme Events Institute has increased NHC's community engagement in South Florida through events like the Eye of the Storm. In addition, the support of FIU has helped amplify NOAA's National Hurricane Center's hurricane preparedness and safety messaging with the goal of building a Weather Ready Nation."
The event helped parents learn some important takeaways for the hurricane season:
know your risk
protect your home
know your evacuation zone
complete your hurricane plan
include loved ones with special needs
assemble your supply kit
assure generator safety
prepare your pets
get an insurance check-up
consider flood insurance
help your neighbor
Most of all, preparedness has to be a way of life in South Florida, something residents must naturally do. All residents need to take personal responsibility and accountability to be prepared and have a plan.
"The National Weather Service is proud to be a part of the Eye of the Storm, and is one of our primary events of the year. Few events in South Florida bring together all facets of the community, from the general public to local government and volunteer organizations. The turnout was fantastic and everyone was interested in learning about what we do and getting ready for hurricane season!" said Robert Molleda, warning coordination meteorologist with the National Weather Service, Miami/South Florida Forecast Office. "Thank you to the team at the International Hurricane Research Center and Extreme Events Institute for their outstanding job in making Eye of the Storm such an important annual public safety event."
The 2022 Atlantic hurricane season runs from June 1 to Nov. 30, and NOAA predicts an above-average season.

The Eye of the Storm is sponsored by FIU's Extreme Events Institute's International Hurricane Research Center (IHRC) and the State of Florida Division of Emergency Management.
And check out the Eye of the Storm 12-part video series for comprehensive hurricane information.