Opens in a new window
Opens an external site
Opens an external site in a new window
Opens an external site in a new window
FIU Wall of Wind Mitigation Challenge Inspires Next Generation of Engineers
Published on July 1, 2022
Students from South Florida high schools anxiously watched live Zoom streams to see how well their building models would stand up to Florida International University's 12-fan Wall of Wind research facility, which blows at speeds up to 157 miles per hour. The WOW facility is part of the NSF-funded Natural Hazard Engineering Research Infrastructure, NHERI.
These wind tunnel tests are the highlight of an annual competition at FIU called the Wall of Wind Mitigation Challenge, in which teams of high school students are challenged to develop innovative wind mitigation concepts and solutions within strict guidelines set by FIU's wind engineers. The objective of the 2022 Wall of Wind Mitigation Challenge, which took place in March 2022, was for students to reduce the wind-induced force on a building's foundation, by optimizing its overall shape.
The goal was to design a building-model shape that has the least tendency to be blown over by the wind when tested for the two directions at 90 degrees to each other. In the tests, the wind speed for each of the two directions was gradually increased until the model blew over. The higher the wind speed the building withstood, the higher the score for the team. The best model designs were able to withstand Category 1 hurricane wind speeds, just over 75 mph.
"This was an excellent learning experience for my students. They got to dive deep into wind engineering and practice practical applications," said Lacey Simpson, science department teacher at the G. Holmes Braddock Senior High School.
Teams were tasked with developing a mitigation solution that would improve a building's aerodynamic performance in order to reduce the reaction forces and moments on a scale model of the building. The building models were then tested by the NHERI Wall of Wind to evaluate the effectiveness of the mitigation solution. Mitigation solutions would demonstrate a sound comprehension of aerodynamic principles.
"The WOW Challenge project provided an opportunity for my students to engage in authentic, project-based, hands-on learning. The students were able to collaborate in a team effort, sharing ideas that enhanced their knowledge and understanding of basic mathematics, physics, and engineering principles that govern effective wind engineering and wind mitigation of living structures," said Dickson Bidokwu, chemistry, physics and engineering teacher at Booker T. Washington Senior High School.
The Challenge is usually an on-site competition, but this year, teams from six high schools competed virtually. The student teams prepared three components for the competition: a physical test of their building model, a recorded oral presentation, and a written technical paper. The competition requires problem solving, teamwork, and creativity — interwoven with science, technology, engineering, mathematics, architectural design and entrepreneurship.
"The WOW Challenge is a platform to educate high school students in our community with regards to hurricane engineering and community resilience. Student teams are given real-world wind engineering problems and they conceive and validate wind mitigation concepts to solve such problems," said Arindam Gan Chowdhury, professor at the Department of Civil & Environmental Engineering and director of NHERI WOW EF.
"The WOW Challenge informs students about the importance of mitigation and community resilience to prepare them as future leaders in disaster mitigation," Chowdhury added. "We see these young students become motivated toward STEM careers and possibly enrolling at FIU with the dream of performing research at our national, shared-use NHERI WOW experimental facility."
Working with high school teachers, the WOW facility team hopes to engage and inspire students to be the next generation leaders in facing natural hazards and extreme weather.
"The entire competition was an unforgettable experience. Many lessons were learned, and not just in engineering, but also in working together and developing inter-personal relationships in a work environment. I'm sure they will remember them for a long time," said Timothy Ferri, Academy of Engineering yeacher at North Miami Senior High School.
The Wall of Wind research team judged and scored each high school project on performance, durability and marketability. This year's winners were: Miami Coral Park Senior High School (first place); North Miami Senior High School (second place); and G. Holmes Braddock Senior High School (third place). The three winning teams received unique awards designed by a local artist featuring bronze Wall of Wind fans inside a framed case.
"This is a great competition to teach students about wind mitigation as well as so many other STEM lessons. One of my favorite competitions!" said Charlie Delahoz, teacher in the Engineering/Architecture Magnet program at Miami Coral Park Senior High School.
The Challenge is hosted by the International Hurricane Research Center (IHRC) and Extreme Events Institute (EEI) with support from the State of Florida Division of Emergency Management.
The NHERI Wall of Wind Experimental Facility located at FIU's College of Engineering and Computing is funded by the National Science Foundation (NSF) and part of the Natural Hazards Engineering Research Infrastructure (NHERI) network. The WOW enables researchers to better understand wind effects on civil infrastructure systems and to prevent wind hazards from becoming community disasters. The WOW is the largest and most powerful university research facility of its kind and is capable of simulating a Category 5 hurricane with winds over 157 mph.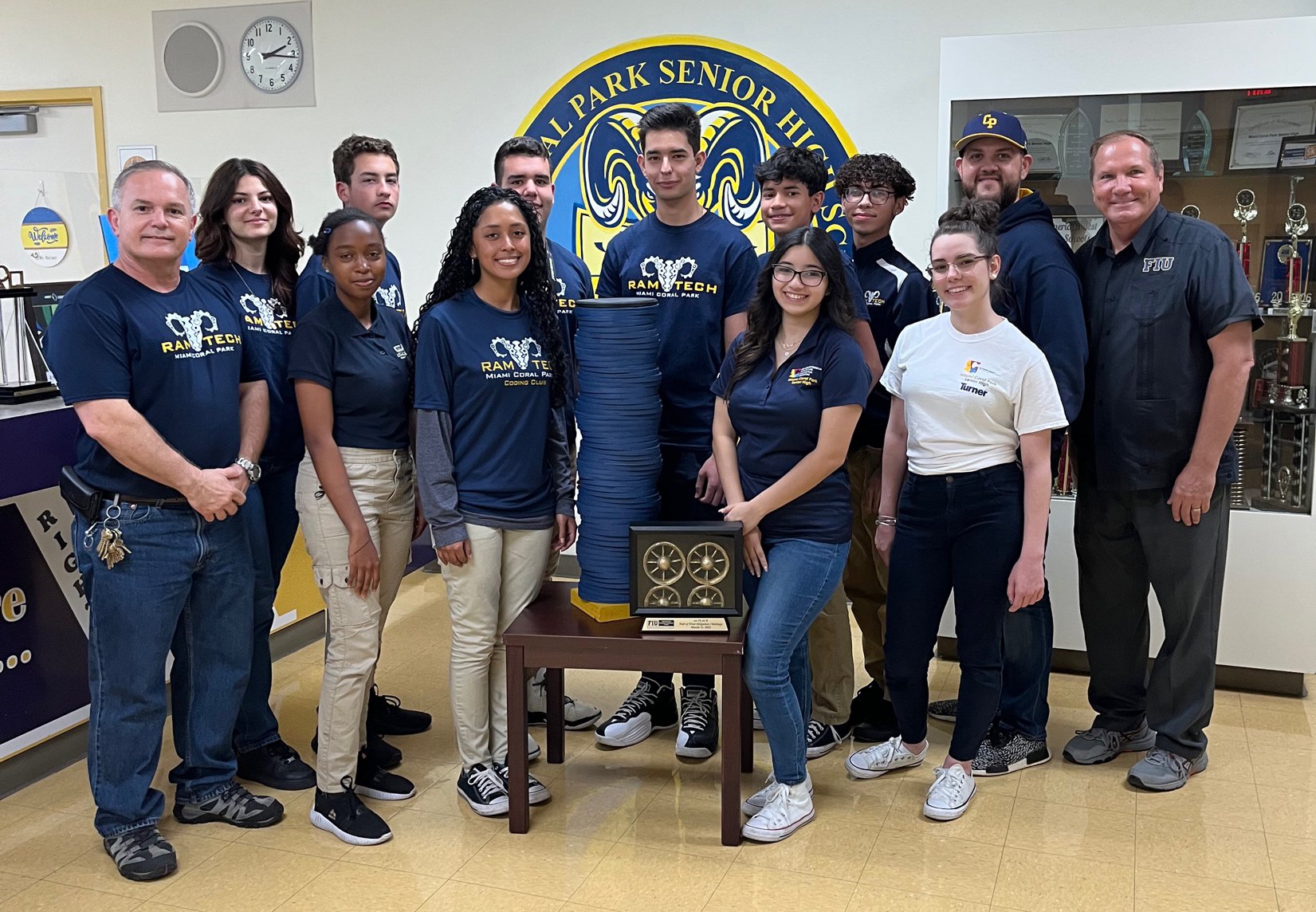 The team from Miami Coral Park Senior High School, above, won first place in the 2022 WOW Wind Mitigation Challenge. Pictured on the far left is Charlie Delahoz, teacher in the school's Engineering/Architecture Magnet program. FIU's Erik Salna is on the right. Salna is the associate director for Education and Outreach at the Extreme Events Institute.
Team from North Miami Senior High School, second place winners in the 2022 WoW Mitigation Challenge.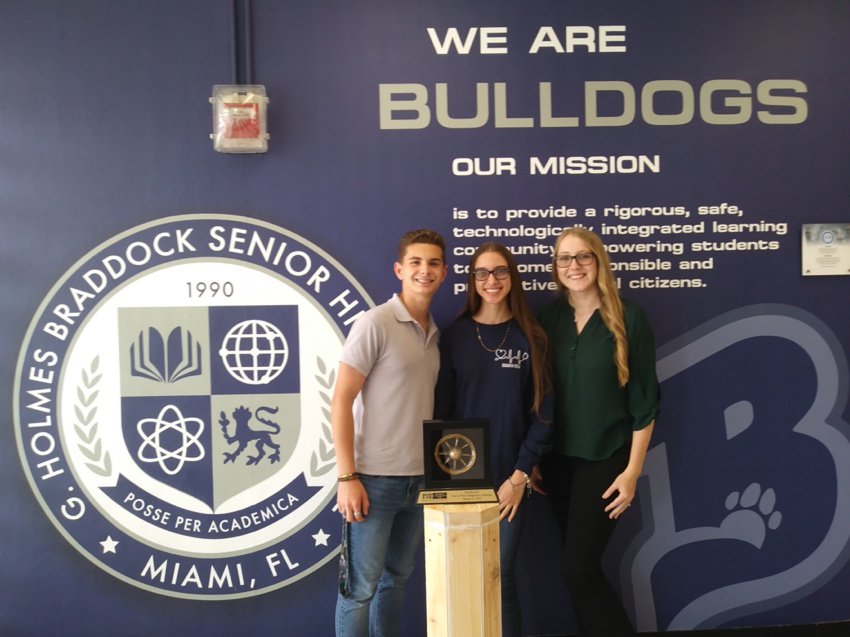 Team from the G. Holmes Braddock Senior High School, third place winners in the 2022 WOW Mitigation Challenge.
---
The design entries for the 2022 WOW challenge.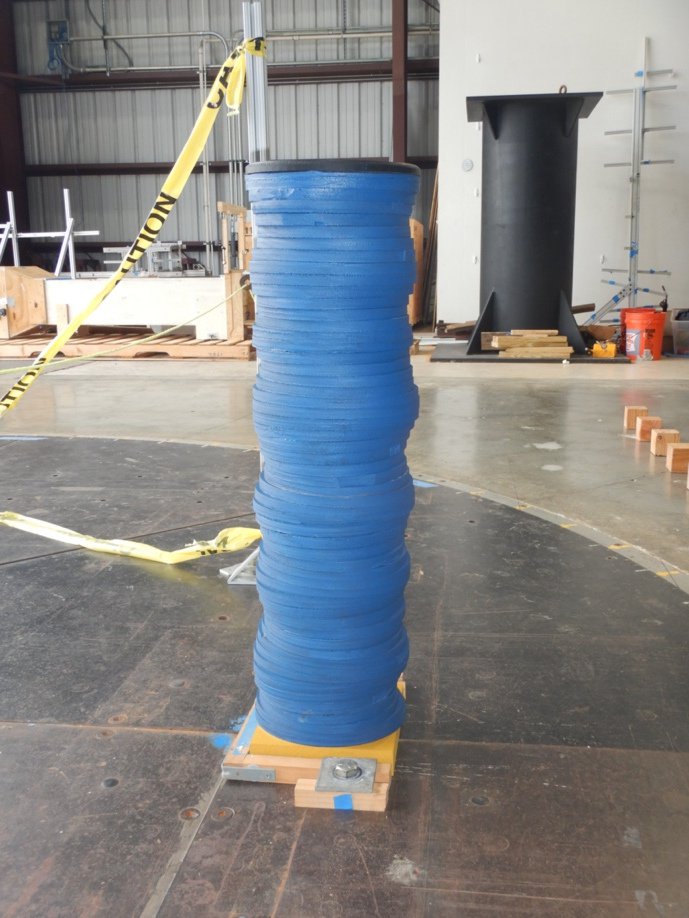 The winning design from Coral Park High School employs layered foam ellipses and a helical ellipse shape to deflect wind pressure.