Opens in a new window
Opens an external site
Opens an external site in a new window
Opens an external site in a new window
NHERI Tallwood: Advancing EQ resilience, sustainability
Published on February 21, 2023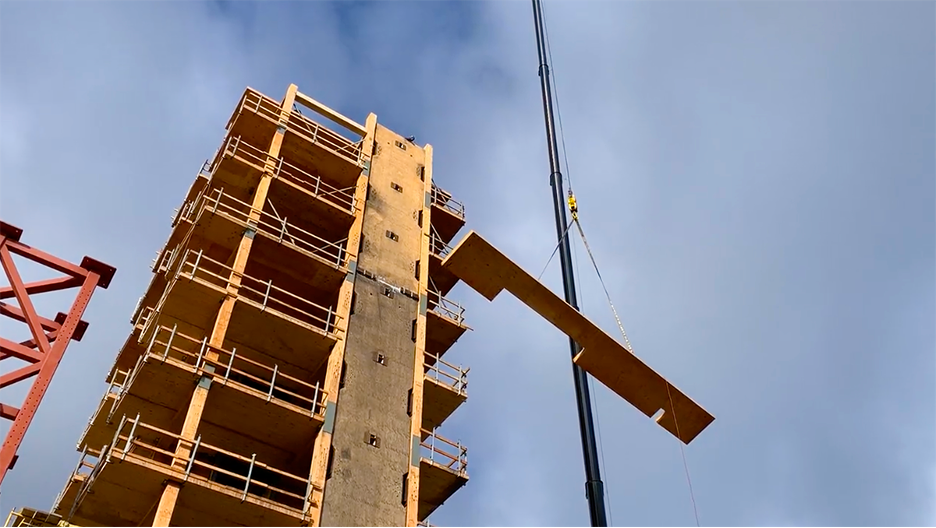 At NHERI UC San Diego, a full-scale, ten-story, mass-timber building rests on the platen of the world's largest outdoor shake table. It is the NSF-funded NHERI Tallwood project. The goal of this multi-million-dollar megaproject? To understand how tall wooden structures — with carefully designed structural and non-structural elements — perform under earthquake loading.
The structure was topped off in December 2022 (shown above). The experimental shake is slated for April 2023.
The structure represents the collective effort of researchers from multiple universities, many practicing engineers and architects, construction specialists, technicians, and engineering students. As well as funding from the National Science Foundation, NHERI Tallwood could not have been possible without the many industry partners who donated significant design expertise, building materials, and construction manpower.
The 2023 NHERI Tallwood tests at UC San Diego will record 800 channels of data that researchers, engineers and builders will use to strengthen civil infrastructure and render our world more resilient.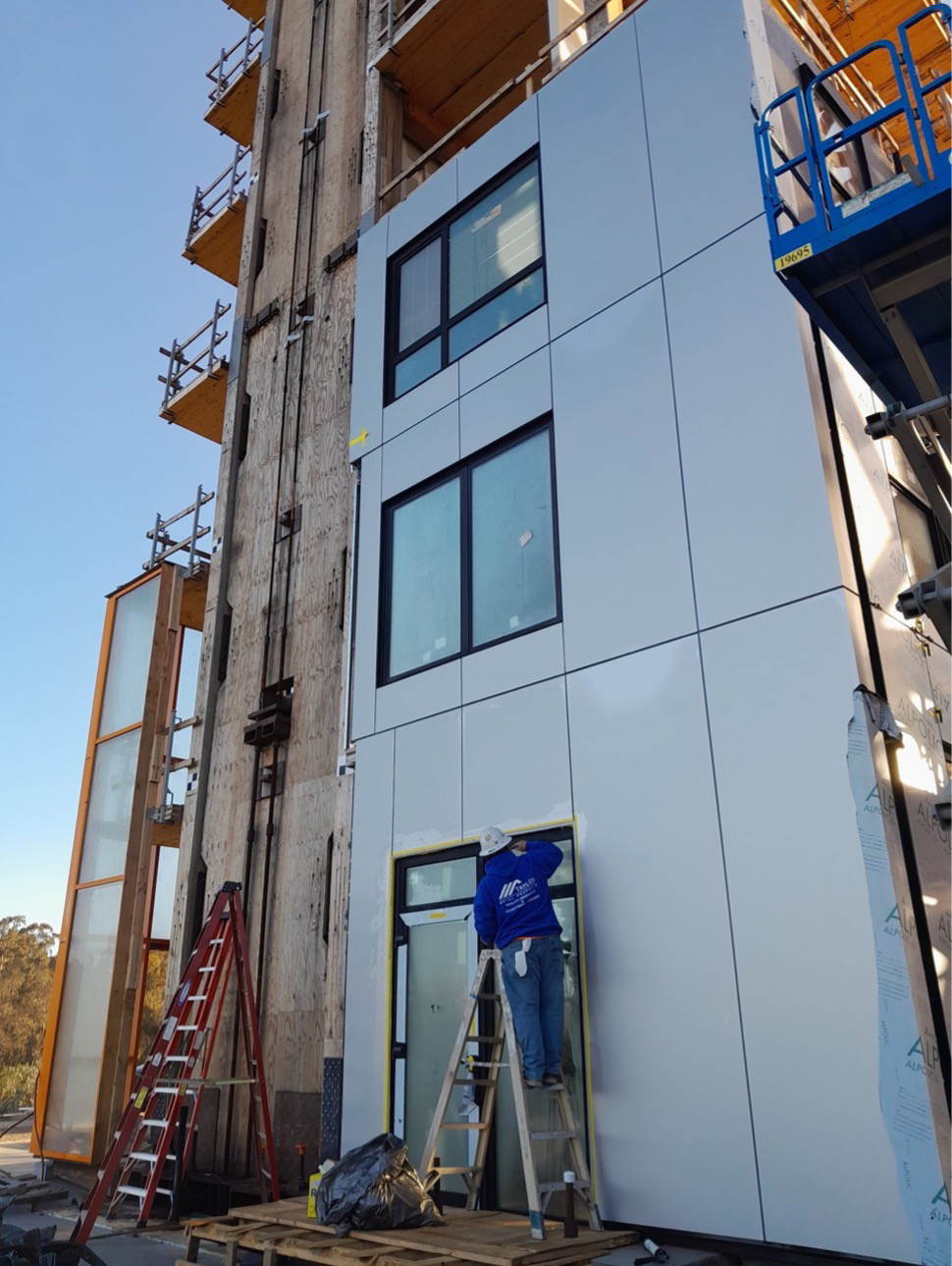 Installing the aluminum skin on the NHERI Tallwood structure, Feb 2023. The shake table experiment will reveal how it performs in earthquake loading. (Image: Shiling Pei, NHERI Tallwood PI)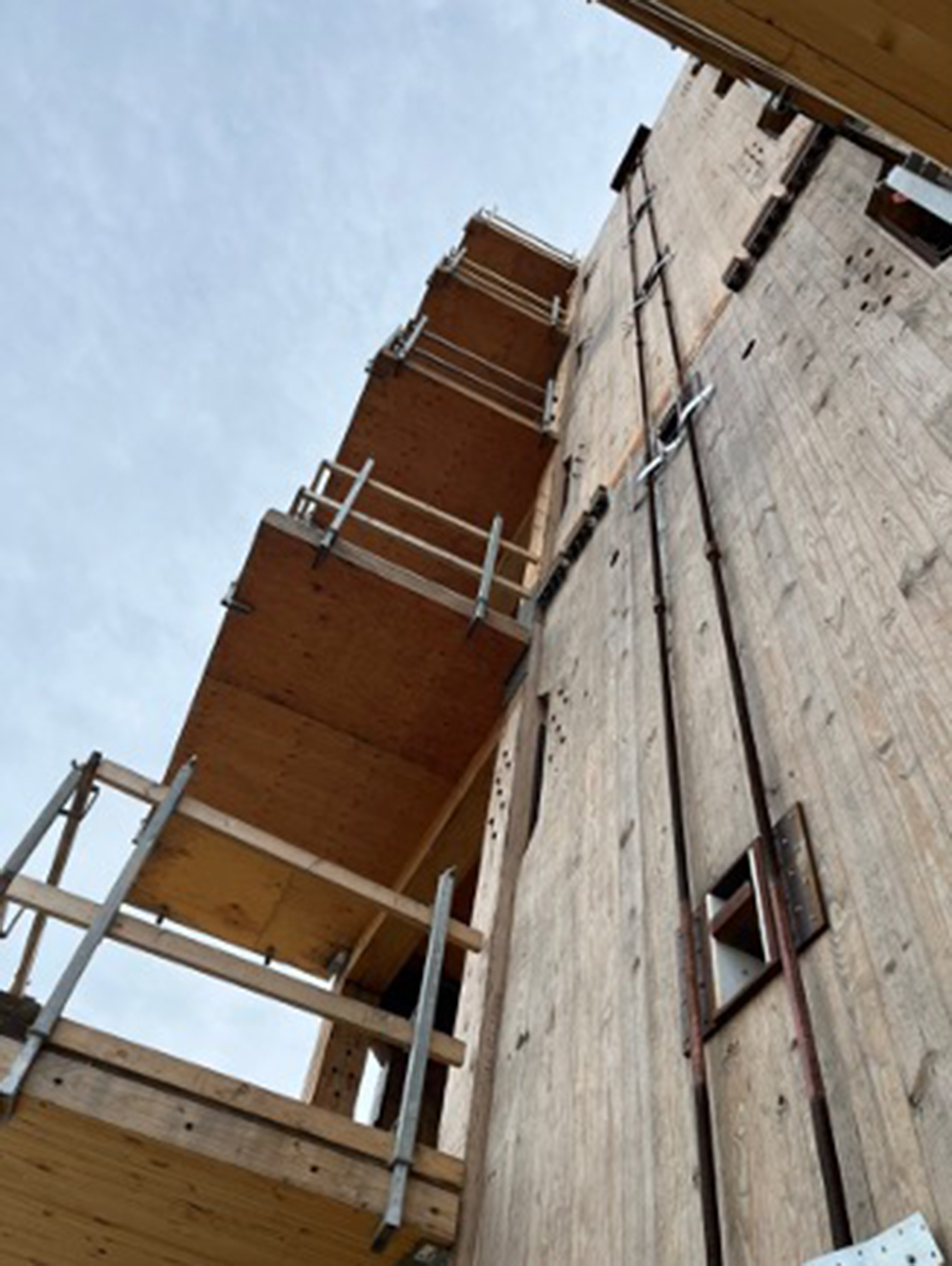 Glue-lam beams and rocker wall designs. (Image: Crystal Wulff @Crystal77Wulff)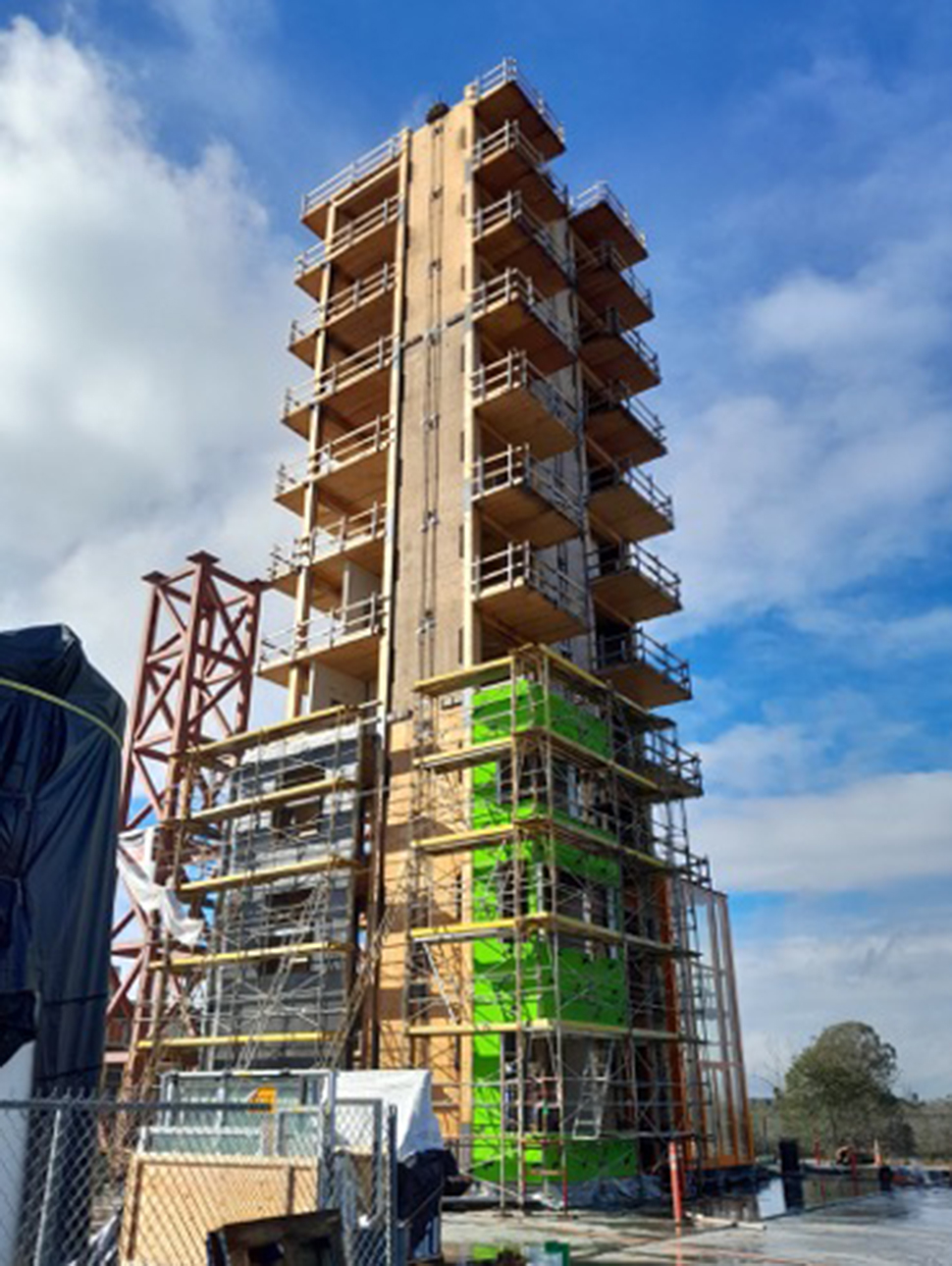 Tallwood structural construction complete, Dec 2022, ready for installation of non-structural elements and sensor instrumentation. (Image: Shiling Pei, NHERI Tallwood PI)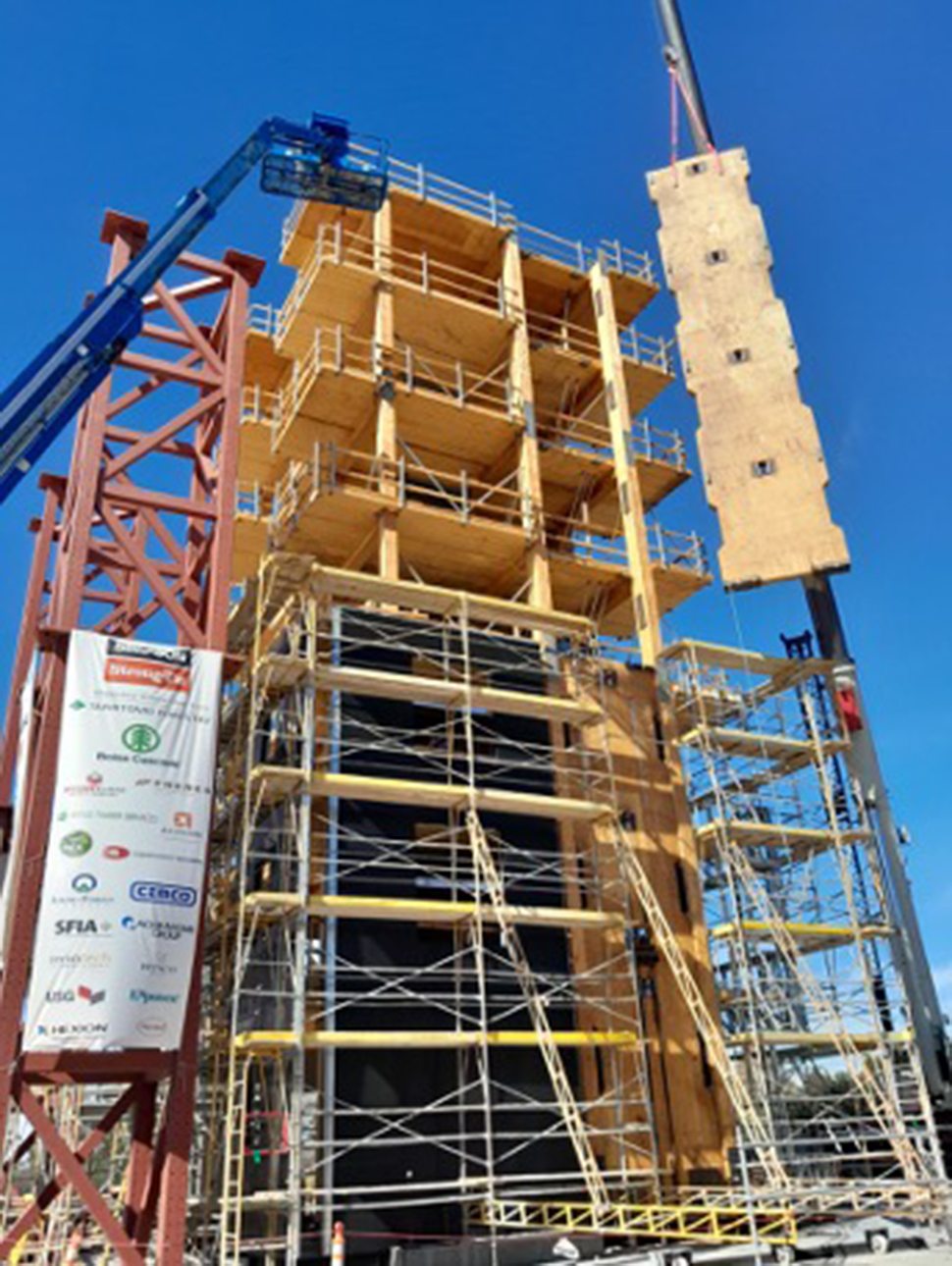 Installation of a rocking wall. (Image: Shiling Pei, NHERI Tallwood PI)
NHERI Tallwood structure is instrumented with miles of cabling — as well as many wireless sensors. (Image: Shiling Pei, NHERI Tallwood PI)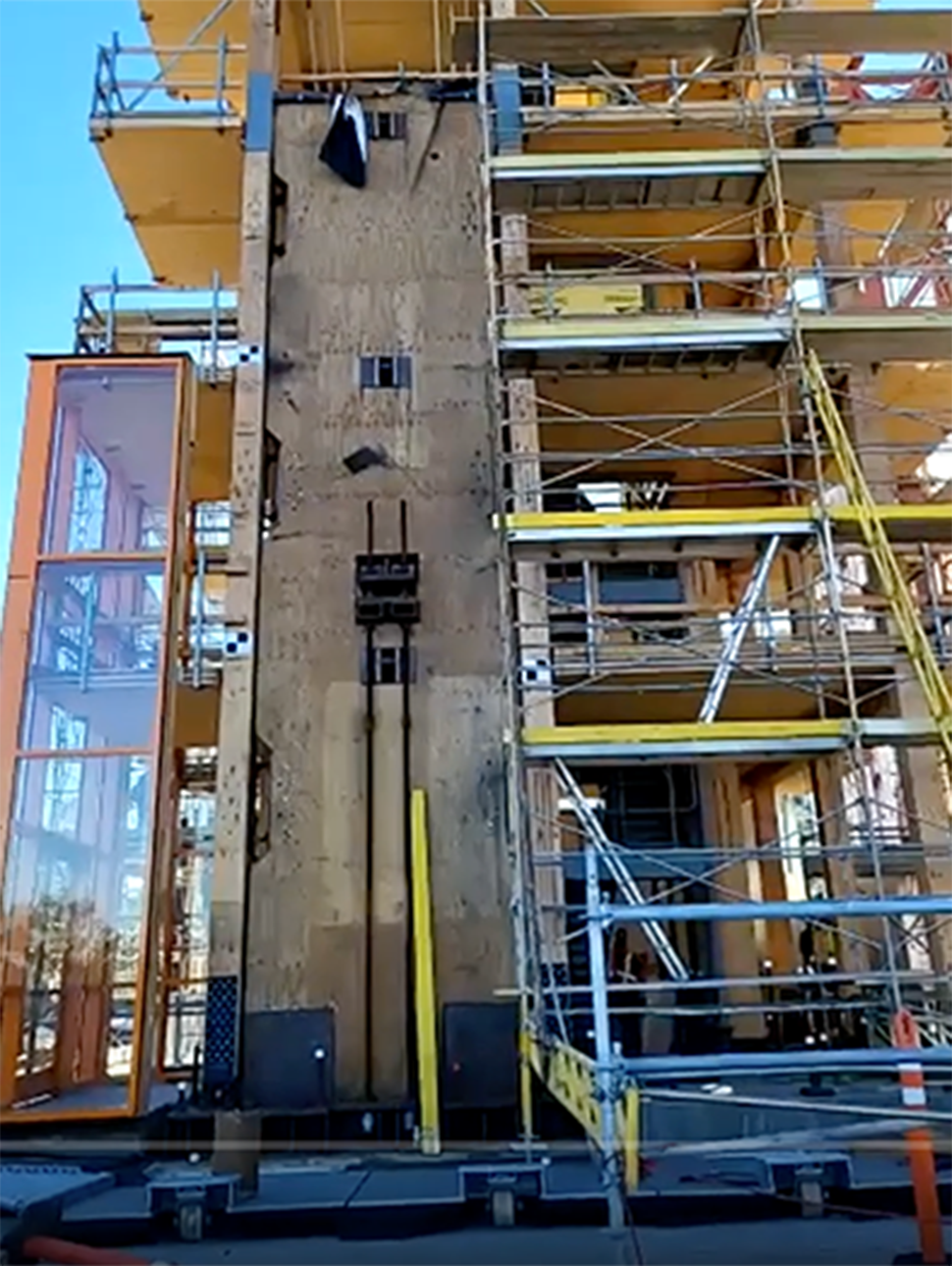 Another view of a rocking wall in place, as well as a glass curtain wall, one of the many non-structural elements that will be performance tested in this experiment (Image: Keri Ryan, Tallwood co-PI)
Realtime Project Updates
Shiling Pei, NHERI Tallwood PI, Colorado School of Mines
Twitter: @slpei
John van de Lindt, NHERI Tallwood co-PI, Colorado State University
Twitter: @commresilience
NHERI Network
Twitter: @NHERIDesignSafe
NHERI Tallwood project home page
Background and documentation of project progress, Colorado School of Mines
UC San Diego live video streams
UC San Diego Jacobs School of Engineering
DesignSafe Radio podcast on YouTube
Interviews with Tallwood researchers, partners