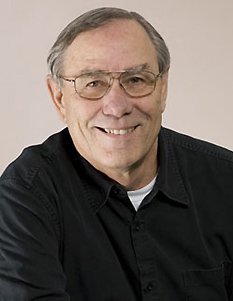 WASHINGTON, DC, March 24, 2021 – The leadership team of the Natural Hazards Engineering Research Infrastructure (NHERI) commends William Holmes as a 2021 recipient of the NIBS Building Seismic Safety Council Leadership Award.
For the NSF-funded NHERI grant, Holmes serves on the NHERI Strategic Council, and he heads the Technical Transfer Committee. Holmes, a senior consultant at Rutherford + Chekene, has more than 50 years of structural engineering experience and is a national authority on seismic code and design issues. Among his many professional honors, he is a member of the prestigious National Academy of Engineering.
"The Network Coordination Office (NCO) and the NHERI community richly benefit from Bill's experience and earthquake knowledge. As chair of our Tech Transfer Committee, he leads the effort to review NHERI research and identify opportunities to accelerate its impact on the resilience of civil infrastructure," said Julio Ramirez, director of the NHERI NCO. "We value his expertise in our efforts to mitigate damage to the built environment from natural hazards, a key component in NHERI's mission."
The NIBS Building Seismic Safety Council celebrates its 40th anniversary this year. On March 4, built environment leaders virtually gathered to participate in the BSSC Meeting and Symposium to celebrate the 2020 National Earthquake Hazards Reduction Program Recommended Seismic Provisions (FEMA P-2082)-10th edition.
The council has coordinated the efforts of federal agencies, the building industry, and thousands of subject matter experts to develop 10 editions of the NEHRP Recommended Seismic Provisions, which have served as the foundation of the nation's seismic standards and model building codes.
Lakisha A. Woods, CAE, President and CEO of NIBS, offered sincere thanks to award recipients for their dedication to NIBS and their hard work to keep the nation's residents safe.
"This award is bestowed upon those who have distinguished themselves in technical positions, in leadership, and as leaders in government and private engineering organizations," Woods said. "These efforts have improved building performance, minimized the damage from earthquakes and saved lives." The roster of 2021 award recipients are:
Senator Dianne Feinstein (D-Calif.)
Federal Emergency Management Agency (FEMA) Federal Insurance and Mitigation Administration-NEHRP Program: Edward M. Laatsch, Director, Safety, Planning & Building Science Division; Michael Mahoney, Senior Geophysicist; Mai (Mike) Tong, Senior Physical Scientist
James R. Harris, President, J.R. Harris & Company
Loring A. Wyllie, Jr., Senior Principal, Degenkolb Engineers
William Holmes, Senior Consultant, Rutherford + Chekene
Ronald O. Hamburger, Senior Principal, Simpson Gumpertz & Heger
David R. Bonneville, Senior Principal, Degenkolb Engineers
The Building Seismic Safety Council was established in 1979, as one of the most important initiatives under the National Earthquake Hazards Reduction Program. The council's mission is to enhance public safety by providing a national forum that fosters improved seismic planning, design, construction and regulation in the building community. For more information, visit https://www.nibs.org/bssc.
---
About NIBS
National Institute of Building Sciences brings together labor and consumer interests, government representatives, regulatory agencies, and members of the building industry to identify and resolve problems and potential problems around the construction of housing and commercial buildings. NIBS is a nonprofit, non-governmental organization. It was established by Congress in 1974. For more information, visit nibs.org or follow @bldgsciences on Twitter and Facebook.
About NHERI
Funded by the National Science Foundation, the Natural Hazards Engineering Research Infrastructure, NHERI, is a network of experimental facilities dedicated to reducing damage and loss-of-life due to natural hazards such as earthquakes, landslides, windstorms, and tsunamis and storm surge. It is supported by the DesignSafe Cyberinfrastructure. NHERI provides the natural hazards engineering and social science communities with the state-of-the-art resources needed to meet the research challenges of the 21st century. NHERI is supported by multiple awards from NSF, including the NHERI Network Coordination Office, Award #1612144.