This year, 18 early-career researchers and four K-12 teachers attended the NHERI Summer Institute in San Antonio, Texas – which took place in person on June 20-22. The NHERI Education and Community Outreach team organizes this annual event to introduce new faculty to the NHERI network and NHERI facilities and to provide these researchers with a hands-on session in NSF grant proposal writing.
JoAnn Browning, leader of the NHERI ECO, says, "The NHERI Summer Institute is a tremendous opportunity for early-career faculty to learn more about NHERI resources and the NSF proposal-writing process. It is a time we use to build community across the network and introduce NHERI to the Institute participants as true partners in science and engineering." Browning serves as dean of the Klesse College of Engineering and Integrated Design for the University of Texas San Antonio.
Integral to the Summer Institute are talks from NHERI faculty introducing their facility's equipment and resources. Participants also learned about the NHERI Science Plan and as well as the connections between NHERI research and technology transfer. Another important aspect of the event is a panel with NSF CAREER awardees who provide real-world examples of successful research paths.
Perhaps the highlight of the Summer Institute is the proposal-writing session. Grouped in teams, participants brainstormed on natural hazards topics and prepared sample grant proposals. NHERI NSF Program Director Joy Pauschke joined the session virtually and provided tips for successful proposals. This year, SI participants were joined by K-12 teachers who provided useful insights on ways to include broader impacts in proposals through educational activities — which are often implemented through NSF grant activities. The participants presented their proposals, and NHERI research faculty served as proposal reviewers.
Also this year, the ECO provided a thoughtful presentation on diversity, equity and inclusion. Engineering education specialist Dr. Alex Mejia, assistant professor of engineering education from UT San Antonio, conducted an interactive activity to help participants get practical knowledge on DEI concepts and practices.
Robin Nelson, NHERI ECO education specialist, says, "The Summer Institute is truly an effort of the entire NHERI network coming together to support early-career faculty. The ECO Committee leads the development of the Institute with feedback from each site and the NCO Committee. It is wonderful to see members from every site and governance group at the Institute." Nelson is a research fellow at the University of Texas at San Antonio.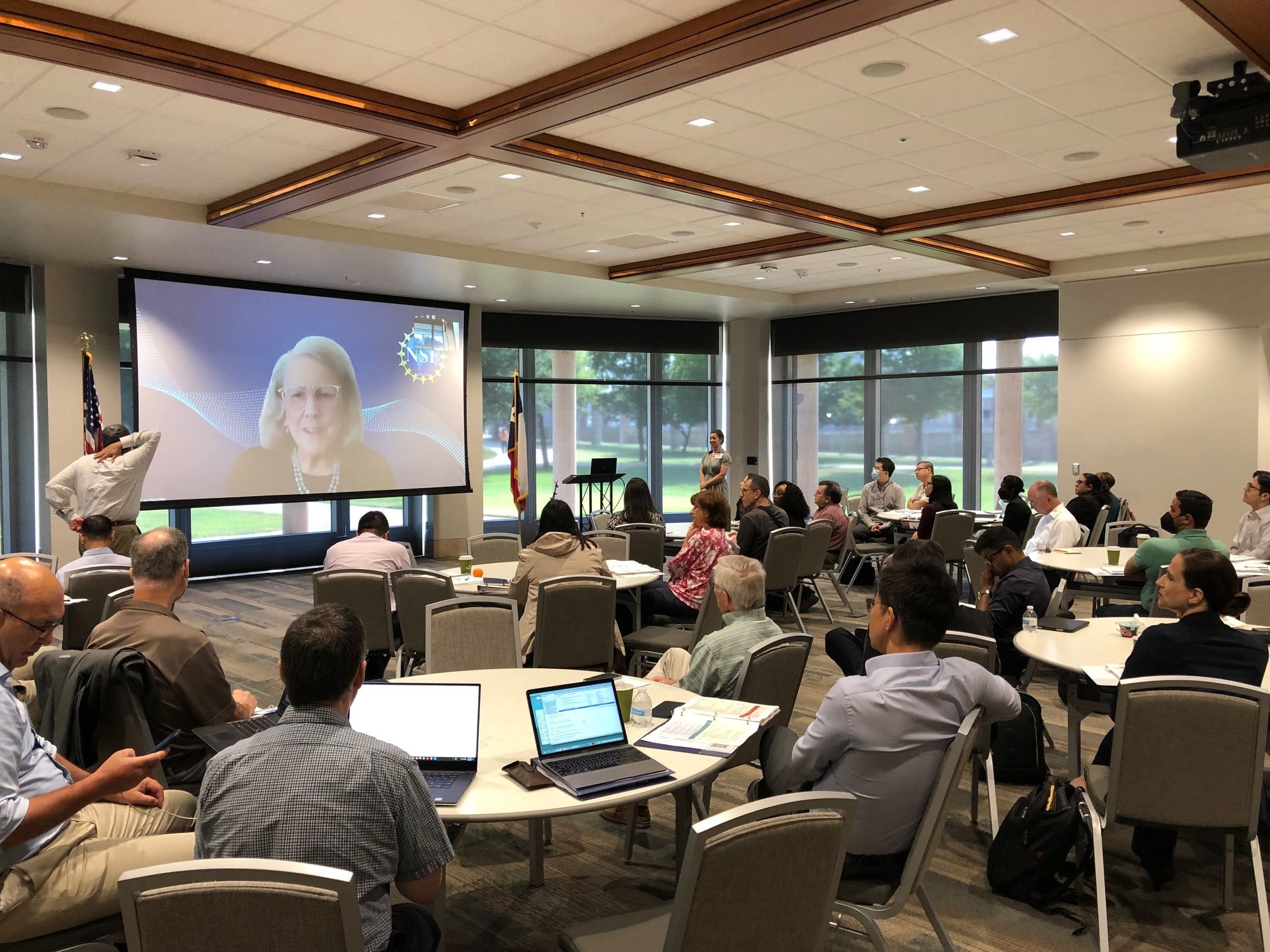 Attending remotely, NSF Program Director Joy Pauschke described key elements of successful research proposals.
2022 NHERI Summer Institute participants.
Small group activities foster teamwork – and participants have a chance to network.
Summer Institute teams prepared sample NSF proposals. JoAnn Browning (center) stands with the winning team.