Opens in a new window
Opens an external site
Opens an external site in a new window
Opens an external site in a new window
Planning Underway for New, National Extreme Winds Simulation Facility
NSF-NHERI experimental facility at Iowa State would help engineers design buildings to withstand tornadoes, downbursts and gusts
AMES, Iowa, October 2023 — An Iowa State University-led research team recently secured a four-year, $14 million grant from the U.S. National Science Foundation (NSF) to design and plan a National Testing Facility for Enhancing Wind Resiliency of Infrastructure in Tornado-Downburst-Gust Front Events, or NEWRITE.
The NEWRITE award is a component of the NSF-funded Natural Hazards Engineering Research Infrastructure, or NHERI, a national network of experimental facilities dedicated to reducing damage from natural hazards. Data produced during this design project will be archived and made publicly available in the NHERI Data Depot.
Leading the NEWRITE effort is Partha Sarkar, professor and interim chair of aerospace engineering at Iowa State University. "Being able to test structures at much larger scales, in extreme winds produced in these windstorms, will bring us closer to understanding reality and help engineers to improve the wind resilience of structures," Sarkar said.
If it's built, the facility would allow testing at large scales, for example a full-scale house or 1:10 scale models of buildings with large footprints such as retail buildings, shopping malls or hospitals.
The facility will be designed for high wind speeds in simulated windstorms: 86-225 mph for EF1 to EF5 tornadoes, 100-125 mph for downbursts, 80-100 mph for gust fronts.
The NEWRITE Team
In addition to Iowa State's Partha Sarkar, principal investigator for the proposed facility, the NEWRITE project team includes:
Alice Alipour, Bill Gallus, Paul Kremer, Anupam Sharma and Sri Sritharan – Iowa State University
Nigel Kaye – Clemson University
Guirong (Grace) Yan – Missouri University of Science and Technology
Luca Caracoglia – Northeastern University
Delong Zuo – Texas Tech University
R. Panneer Selvam – University of Arkansas
David Prevatt – University of Florida
Dorothy Reed – University of Washington
Leigh Orf – University of Wisconsin
The grant will also support replacing Iowa State's Tornado/Microburst Simulator that was completed in 2005. The existing simulator, housed in Howe Hall, is capable of 80 mph winds and a tornado-like vortex that's 3.7 feet in diameter. The new simulator will be about a 1/20th-scale model of the full-scale NEWRITE and about the same size as the existing facility (18 feet in diameter) but will have the capacity to generate 225 mph tornado-like winds.
Researchers will also model and produce a "digital twin" of the full-scale and 1/20th-scale NEWRITE simulators to help them design the proposed facility.
Sarkar said the project is all about simulating tornadoes and other types of localized, non-synoptic windstorms, measuring the wind loads they exert on homes and other structures and engineering improvements that reduce structural damage.
"NEWRITE will be designed to be a state-of-the-art research and testing platform to mitigate the impacts of (localized windstorm) hazards on the built environment and significantly reduce fatalities and economic losses," the researchers wrote.
Project co-leaders include Alice Alipour, an associate professor of civil, construction and environmental engineering at Iowa State; Anupam Sharma, an associate professor of aerospace engineering at Iowa State; Guirong (Grace) Yan, an associate professor of structural engineering at Missouri University of Science and Technology in Rolla; and Delong Zuo, a professor of civil, environmental and construction engineering at Texas Tech University in Lubbock.
Other senior researchers (see sidebar) are from Iowa State, Clemson University in South Carolina; Northeastern University in Boston; the University of Arkansas in Fayetteville; the University of Florida in Gainesville; the University of Washington in Seattle; and the University of Wisconsin in Madison.
This design grant does not commit the NSF to supporting construction of the full-scale NEWRITE facility. If there is future support, Sarkar said it is likely to be built at Iowa State. He estimates the national testing facility would require a five-story building that could cover the square footage of four football fields. The facility would also require 5 to 10 megawatts of electricity.
In addition to NEWRITE, the NSF also awarded grants to three other research infrastructure projects: design of a laser laboratory at the University of Rochester in New York; an ocean observatory for earthquake activity at the University of Washington; and a cybersecurity institute at the University of Southern California in Los Angeles.
The four projects "exemplify the most novel, innovative infrastructure being designed and built in our country to advance the best ideas and train the highly skilled talent in science and engineering for our future," said Sethuraman Panchanathan, director of the NSF. "By investing in the most innovative infrastructure, NSF aims to strengthen opportunities for all Americans and advance the frontiers of science and technology."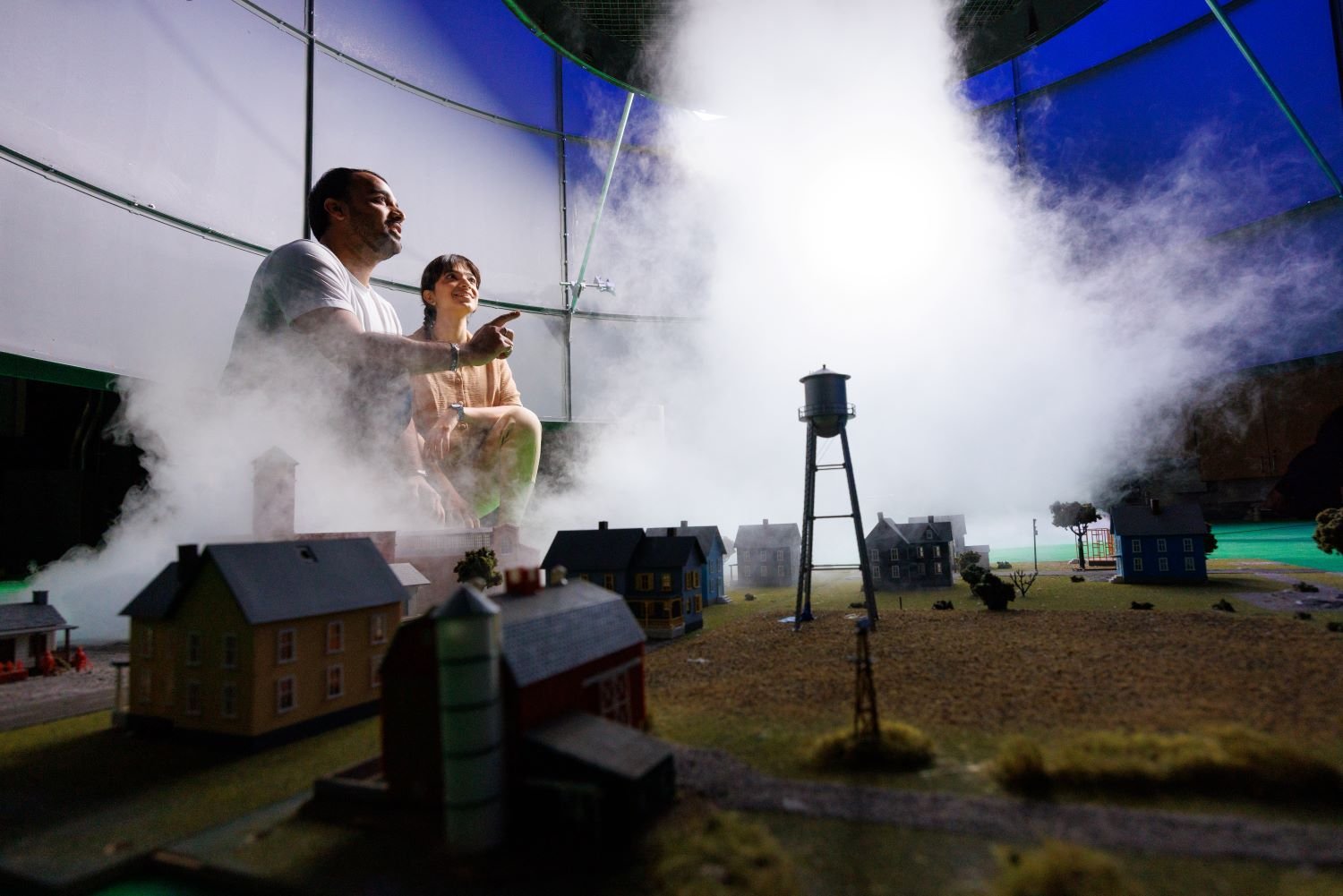 Iowa State's Tornado/Microburst Simulator has been in operation since 2005. It has helped Partha Sarkar and other researchers learn more about the wind loads created by tornadoes so engineers can design buildings that can stand up to windstorms. Pictured with the simulator are doctoral students, left to right, Nayan Deep Tiwari and Mahtab Goudarzi. (Photo: Ryan Riley/ISU College of Engineering)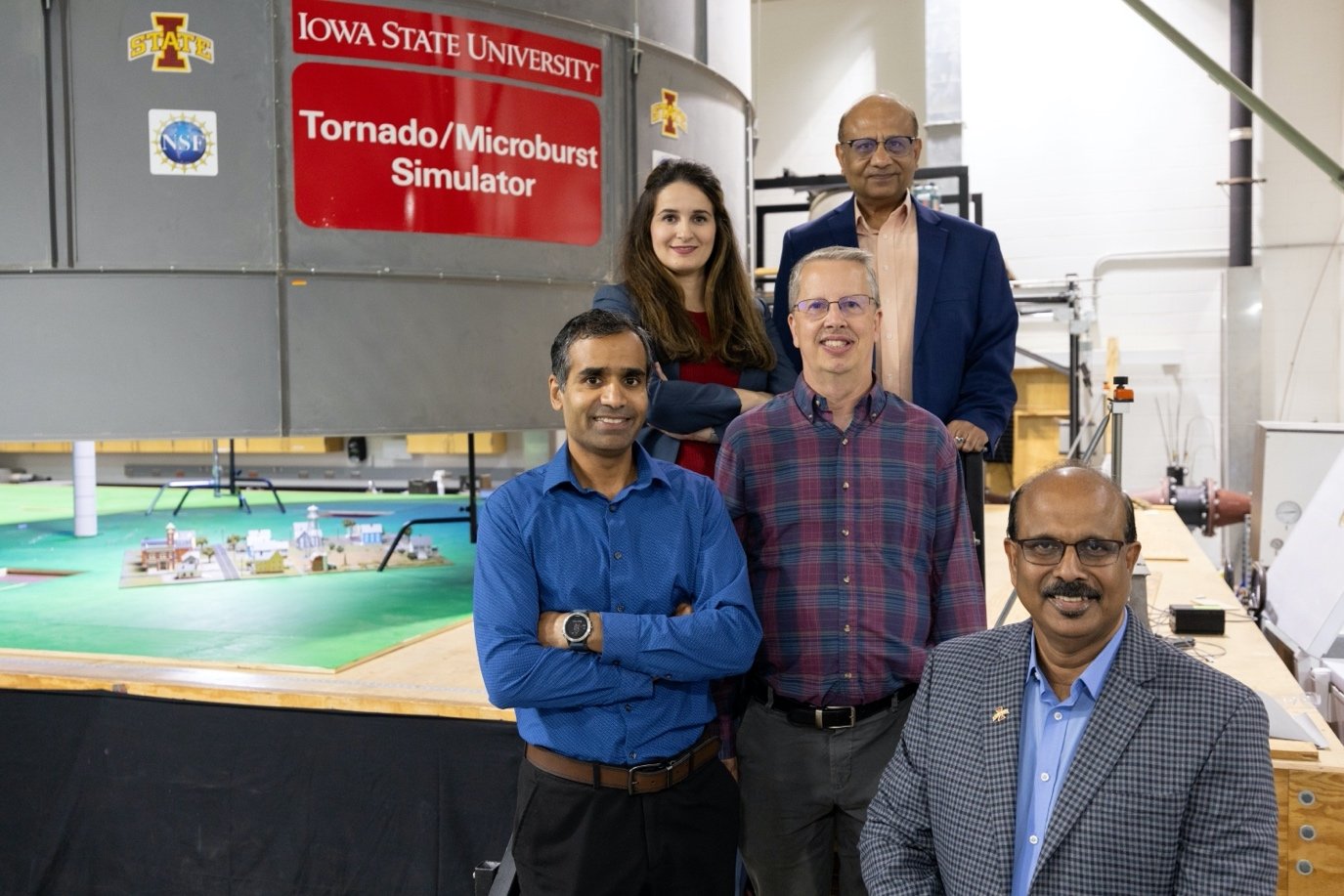 Iowa State's tornado simulation study team includes, top to bottom: Partha Sarkar, the leader of the proposed national testing facility; Alice Alipour; Bill Gallus; Anupam Sharma; and Sri Sritharan. See sidebar for the full NEWRITE team. (Image: Iowa State University.)