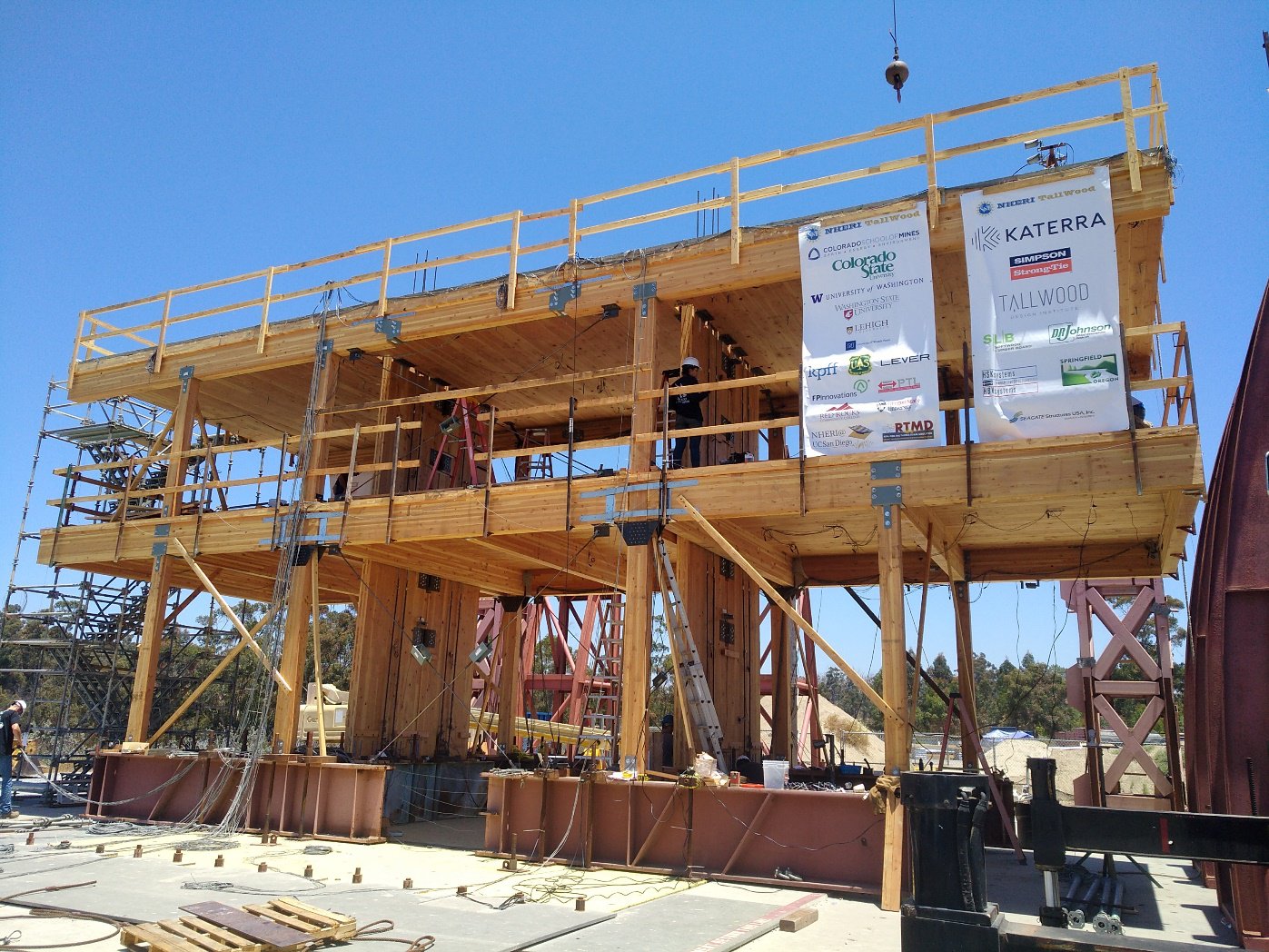 Building under construction at UCSD. (Photo: UC San Diego Jacobs School of Engineering)
The NHERI Tall Wood project aims to change the way American cities build up.
In an effort to enable the construction of seismically resilient tall buildings using sustainable wood material, structural engineers are exploring ways to construct buildings as tall as 20 stories using mass timber systems.
This six-university collaborative project is led by Shiling Pei, associate professor of civil and environmental engineering at the Colorado School of Mines.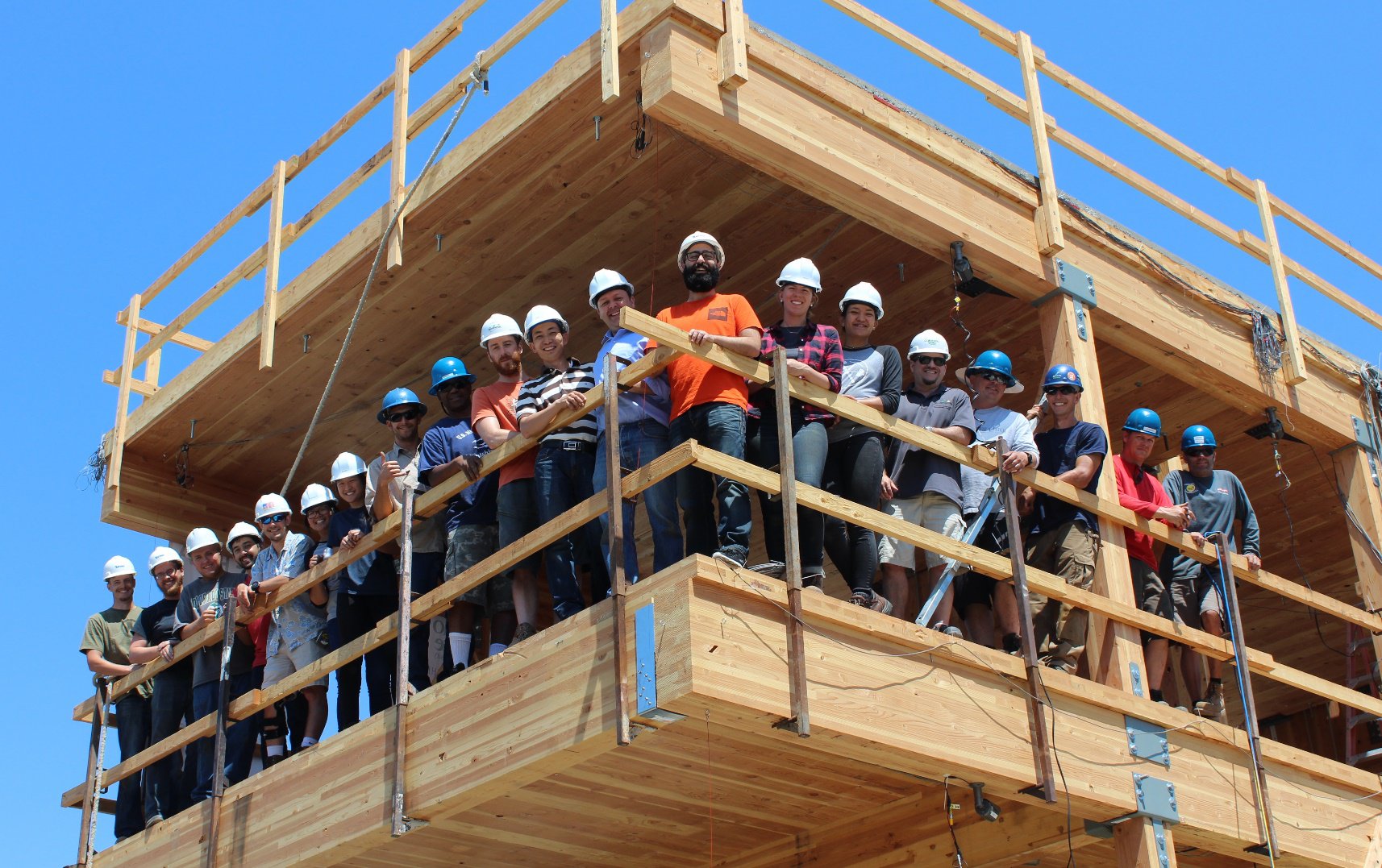 Developing a New Seismic Design
The project features the use of cross-laminated timber (CLT) panels in tall building design. CLT is essentially glue-laminated wood panels made by gluing layers of solid-sawn lumbers in an orthogonal pattern. CLT and mass timber products are gaining traction to serve as a sustainable alternative for steel and concrete material in large commercial building design. But currently there is no seismic design method in the U.S. for such systems.
The goal is to develop a seismic design methodology that will enable wood buildings to perform significantly better than existing building structures in large earthquakes. The research group is eyeing a building height range up to 20 stories.
The research work involves both analytical and experimental investigations. At the beginning of the project, Pei and his team conducted a fullscale shake table test of a two-story building with post-tensioned CLT rocking wall system in order to obtain system level dynamic response data of the proposed wood building system. The specimen was subjected to a series of 14 earthquake tests, including 5 powerful MCE level earthquakes.
Novel Shake Tests
Ultimately, the building was essentially damage-free for most of the tests, only experiencing repairable damage in MCE level events. It was the first time a full-scale timber building with post-tensioned rocking walls was tested on a shake table.
The experiments took place July 2017 on the UC San Diego LH POST shake table, one of the NSF-funded Natural Hazard Engineering Research Infrastructure (NHERI) experimental facilities.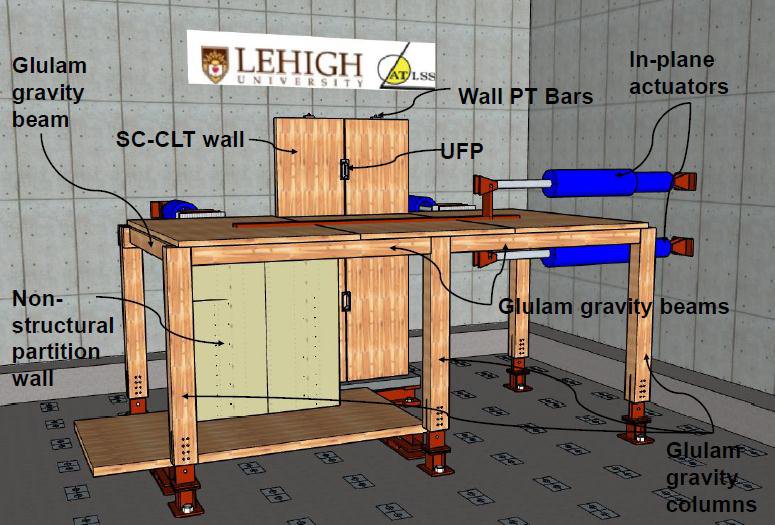 Plan for the 2018 Lehigh test.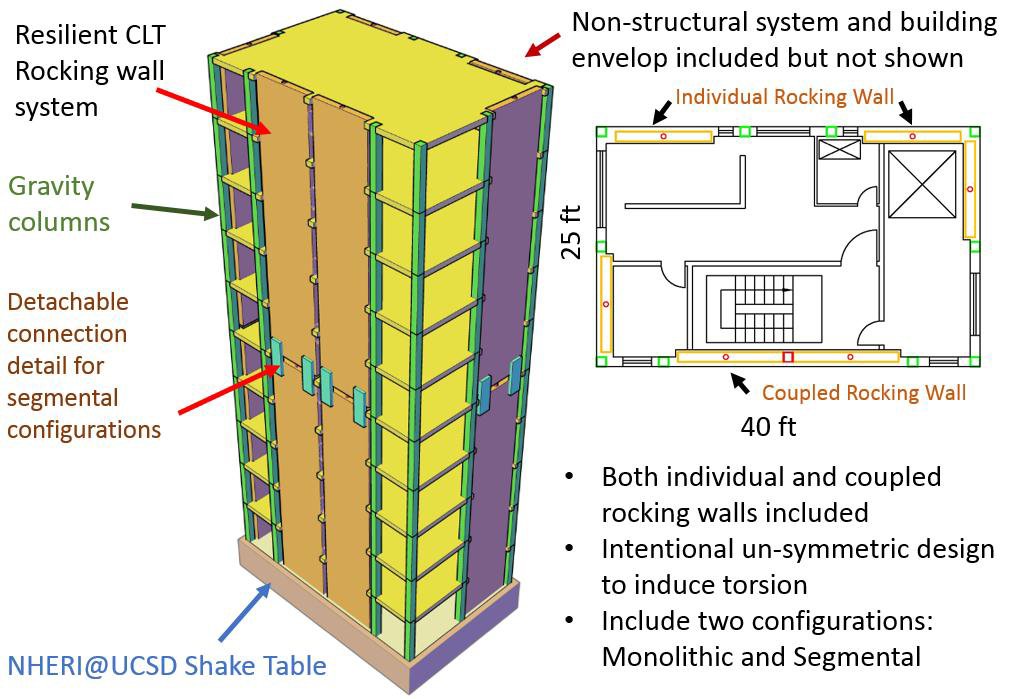 Concept of the 10-story building test planned in 2020.
Understanding Mass Timber Performance
The next step of the project is to conduct a series of bi-axial loading tests of a mass-timber rocking wall and floor system assembly at NHERI's Lehigh experimental facility starting by the end of 2018. The objective of this test is to understand the kinematics and load-resistance characteristics of the proposed mass timber system under biaxial load configurations. Data from the Lehigh test will help the team in the numerical modeling phase of the project and help in the development of a novel design methodology for tall wood buildings.
Tall Wood 2020
In 2020, the research team will return to NHERI's UC San Diego shake table to construct a full-scale 10-story mass timber building. The building will be furnished and tested to validate the resilience objective of the design methods proposed. It will be the world's largest wood building to be tested at full scale.
Even as the project is still on-going, significant of tangible outcomes and new knowledge has been generated. The experimental data obtained from the 2-story test is scheduled to be made available through the NHERI DesignSafe-ci.org Data Depot by the end of 2018.
The Tall Wood project is currently open to solicit industry and academic collaborators (as well as payload testing ideas) for the 10-story test in 2020. For details and updates about this project, visit the project website: http://nheritallwood.mines.edu/ or contact PI Shiling Pei: spei@mines.edu.
Collaborative Research: A Resilience-based Seismic Design Methodology for Tall Wood Buildings. Award #1636164.
This research project is supported by the National Science Foundation through a number of collaborative awards including: CMMI 1636164, CMMI 1634204, CMMI 1635363, CMMI 1635227, CMMI 1635156, CMMI 1634628.
This three-minute video from the Jacobs School of Engineering provides an excellent overview of the project and of the July 2017 shake at UC San Diego.