Opens in a new window
Opens an external site
Opens an external site in a new window
Opens an external site in a new window
Hurricane Season 2017: A Coordinated Reconnaissance Effort
NHERI-led researchers collect data for assessing structures in vulnerable coastal zones
Published on March 19, 2018
Post-disaster reconnaissance is one of the most powerful means to understand the effects of natural hazards on our built environment. The natural hazards engineering community's ability to advance design and construction standards is greatly informed by systematically documenting the performance of homes, businesses and other civil infrastructure under such real-world conditions.
Tracy Kijewski-Correa was the principal investigator on two NSF awards funding reconnaissance missions for Hurricanes Harvey and Irma; with Hurricane Maria's arrival, Kijewski-Correa and her teams ended up covering 3 storms — of various intensity, all over U.S. territory. The reconnaissance efforts started September 8 in Texas and concluded November 20 in Puerto Rico. The teams' investigations included unmanned aerial surveys (UAS), coastal surveys, door-to-door structural assessments to classify buildings and evaluate exterior component damage levels, portable LiDAR/imaging laser scanning of individual structures, and mobile LiDAR scanning of larger inventories and coastlines.
The University of Notre Dame served as a coordinating node for this widespread structural wind and coastal engineering reconnaissance effort, assembling teams from across the research community and establishing a network of regional nodes organizing local teams in areas affected by Irma and Maria.
"Reconnaissance is a powerful experience for our teams — a chance to witness first-hand the forces of nature we hope to model and ultimately mitigate," recalls Kijewski-Correa. "It reconnects us with the reason we became engineers, and at times sends a sobering reminder that there is still much work to do."
Leveraging Fulcrum
The large, geographically distributed effort required the development of unified data standards and digital workflows to enable the swift collection and curation of perishable data in DesignSafe. Auburn's David Roueche, the team's Data Standards Lead, was especially enthusiastic about the team's customized Fulcrum mobile smartphone applications to support standardized assessments of continental U.S. and Caribbean construction typologies, as well as observations of hazard intensity and geotechnical impacts.
It worked so well that the team transitioned their efforts into a pro-bono Fulcrum Community site that supports crowdsourced damage assessments from the public at large with web-based geospatial visualization in real time. This feature enabled coordination with teams from NIST, FEMA, and ASCE/SEI. Dedicated data librarians at each regional node executed a rigorous QA/QC process on the backside of the Fulcrum database, led by Roueche.
Fulcrum Community cluster map showing the number of assessments in each region of Florida relative to Irma's track.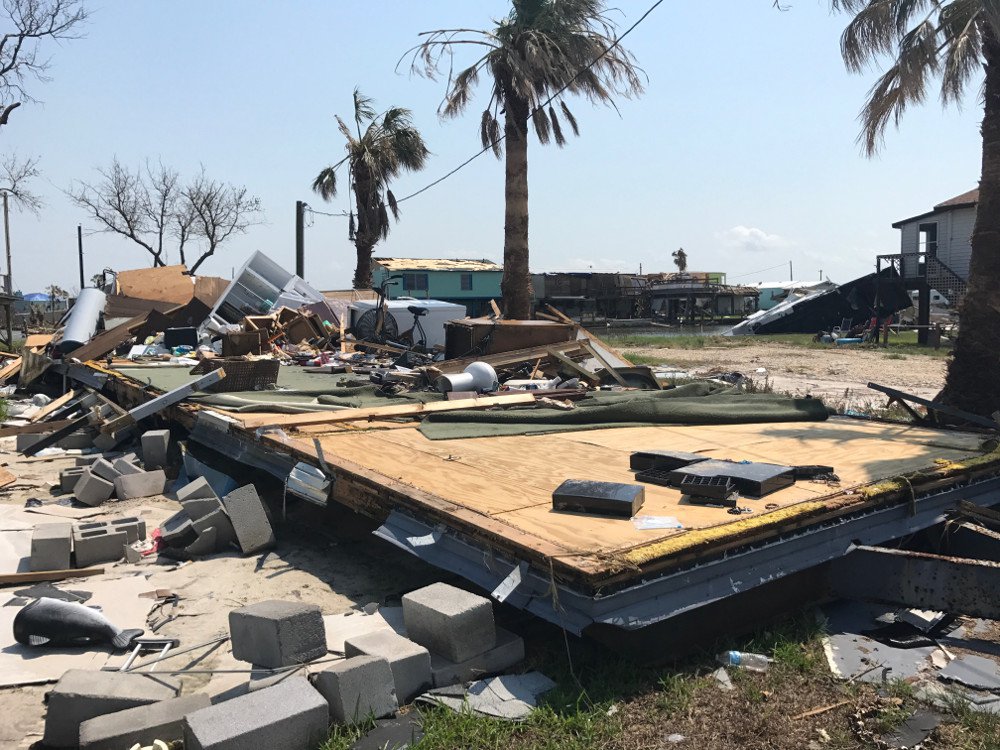 A collapsed and destroyed mobile home in Rattlesnake Point, Rockport, Texas. (Image: Kara Peterman)
Damage assessment in Texas after Hurricane Harvey
Hurricane Harvey made landfall August 25, 2017 as a Category 4 near Rockport, Texas. With maximum winds of 130 mph, Harvey was the first Category 4 hurricane to make landfall in the U.S. in over a decade. A team was assembled to (i) execute coastal surveys to establish high water marks and inundation extent, (ii) conduct door-to-door damage assessments using the Fulcrum App, and (iii) capture 3D point clouds of individual structures obtained through portable LiDAR/imaging laser scanners, (iv) collect 3D point clouds of entire blocks using a mobile LiDAR van, and (v) coordinate UASs of select residential areas.
The reconnaissance effort was led by four sub-teams deploying in three coordinated waves from September 8-17. A pair of teams worked sequentially to conduct door-to-door damage assessments in Rockport, Port Aransas, Aransas Pass, and Bayside, supplemented by UAS and portable scanners. These teams were flanked by a coastal scout team measuring high water marks as far east as Palacios. This was followed by block-level scans of these same neighborhoods using the mobile LiDAR van.
The Harvey field teams were led by Tracy Kijewski-Correa (Notre Dame), Jie Gong (Rutgers), Andrew Kennedy (Notre Dame) and J. Arn Womble (West Texas A&M).
Recon efforts in Florida, post-Hurricane Irma
Hurricane Irma left a path of considerable destruction across the Caribbean, eventually making its first landfall in the continental U.S. at Cudjoe Key in southern Florida on September 10, with Category 4 winds, followed by its second landfall later that afternoon as a Category 3.
In response to this event, the regional reconnaissance nodes at three local universities deployed teams to Florida's Gulf Coast, Atlantic Coast and the Keys/Miami in the first wave of rapid reconnaissance from September 15-20. A second, more exhaustive campaign was then conducted in the Florida Keys on September 22-25. These investigations employed primarily door-to-door damage assessments using the Fulcrum App. At select locations, UAS generated additional aerial imagery, 3D point clouds and 3D textured meshes.
The Irma field teams were led by Jean-Paul Pinelli (Florida Tech), Ioannis Zisis (FIU), and Kurt Gurley (UF).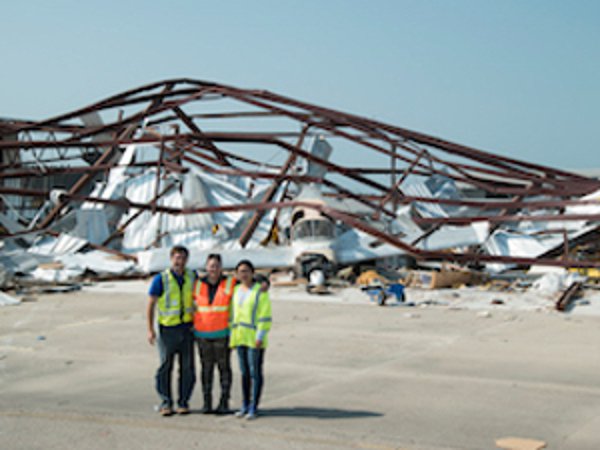 Hurricane Harvey Team 1 members (from left) Richard Wood, Kara Peterman and graduate student Yijun Liao in front of damaged hangar at Aransas County Airport (Image: Chao Sun)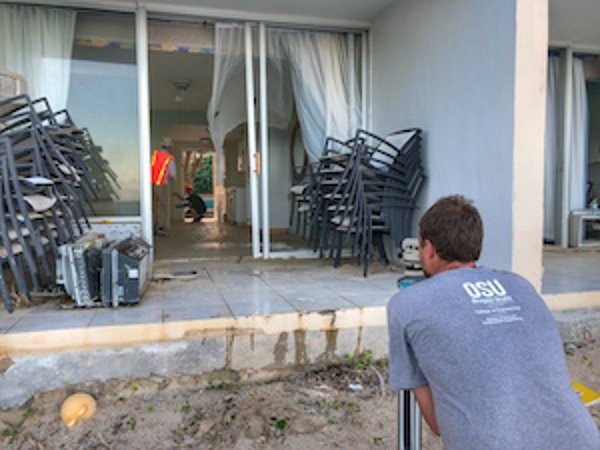 Work for the U.S. Virgin Islands team included an extensive coastal survey of Hurricane Maria's damage to local infrastructure. (Image: Richie Slocum)
Observations from Puerto Rico and the Virgin Islands after Hurricane Maria
Hurricane Maria has been termed the worst natural disaster on record in Dominica and Puerto Rico, as the third consecutive major hurricane to threaten the Leeward Islands in a two-week period. The storm caused catastrophic damage and numerous fatalities across the northeastern Caribbean, before making its landfall on September 20 near Yabucoa, Puerto Rico, as a strong Category 4 hurricane. A regional node was established in Puerto Rico to organize local reconnaissance efforts between October 6 and November 18, with a separate reconnaissance campaign for the U.S. Virgin Islands on November 9-14, connecting briefly with the team in Puerto Rico.
Investigations on all four islands employed primarily door-to-door damage assessments using the Fulcrum App. At select locations, additional UAS aerial imagery and 3D point clouds were acquired. The U.S. Virgin Islands campaign also included an extensive coastal survey to document surge and wave levels, impacts to coastal infrastructure and sediment transport in Irma and Maria in St. Thomas and St. Croix, working collaboratively with a team from the Japanese Society of Civil Engineers.
The Maria field teams were led by Daniel Cox (OSU), David Prevatt (UF) and Luis D. Aponte-Bermudez (UPRM).
Turning data into knowledge
The datasets from all three missions are currently undergoing QA/QC and curation within DesignSafe, while members of the team continue their data analysis to characterize the hazards in these hurricanes, explore the geospatial distribution of observed damages, and assemble case studies that highlight common failure modes.
RAPID: Coordinated Structural Engineering Reconnaissance for 2017 Hurricane Irma. Award Abstract #1761461.
Collaborative Research: Geotechnical Extreme Events Reconnaissance (GEER) Association: Turning Disaster Into Knowledge. Award Abstract #1266418.
Damage to an 11-story reinforced masonry building on Mustang Island, a barrier island on the Texas coast. (Image: Kara Peterman)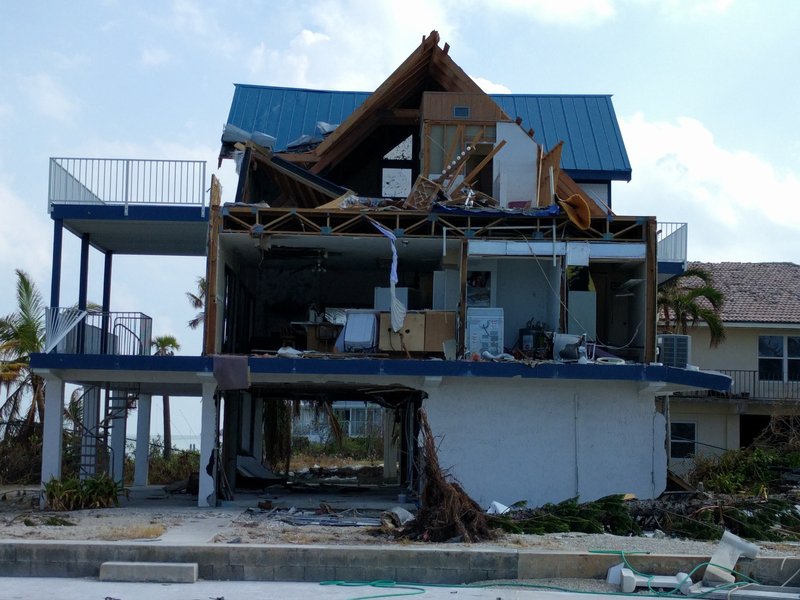 House damage in Cudjoe Key. (Image: Ioannis Zisis)