Opens in a new window
Opens an external site
Opens an external site in a new window
Opens an external site in a new window
FIU and the Wall of Wind
Cutting Edge Research for Safer Structures in Extreme Winds
Published on October 1, 2016
Jordan Moss, UTSA College of Engineering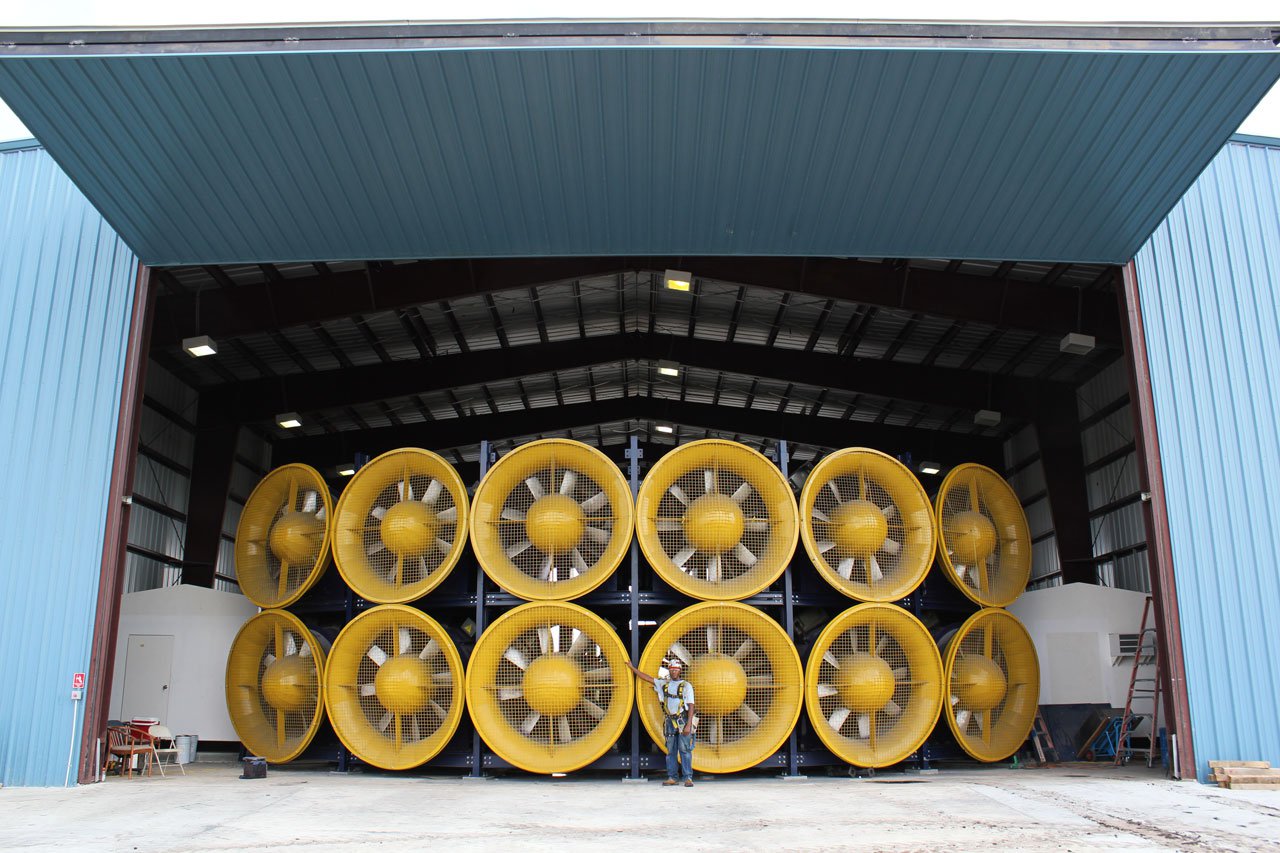 At Florida International University, cutting edge research is being performed to advance wind engineering and structural research that will save lives, homes, and infrastructure threatened by extreme winds. FIU's revolutionary Wall of Wind (WOW) Experimental Facility (EF), supported by a Natural Hazards Engineering Research Infrastructure (NHERI) grant from the National Science Foundation, is playing a major part in achieving the needed R&D breakthroughs.
A 2-fan WOW was assembled in 2005 by FIU's wind engineering team. The RenaissanceRe 6-fan WOW, generating winds up to 120 mph, was subsequently built for specialized wind engineering studies. The latest version of WOW features 12 fans and is capable of replicating Category 5 (Hurricane Andrew strength) winds. It was inaugurated on the 20th anniversary of Andrew's landfall.
The WOW has been used over the years to study how structures such as homes and critical infrastructure systems hold up in extreme wind and rain conditions. This research is leading to advances that will help to prevent the collapse of homes, hospitals, traffic signals, transportation systems, and other infrastructure.
The WOW facility has been used effectively since its inception. Past research topics studied at the WOW includes hurricane wind load assessment on roof top equipment, mitigation of roof uplift through vortex suppression techniques, the performance of roof-to-wall connections and roof coverings (e.g., pavers, tiles, shingles), and the mitigation of extreme wind pressure by scientifically designed architectural elements.
For Chowdhury, being able to work at the WOW facility is a source of deep personal satisfaction. His personal experience in the aftermath of a Florida hurricane added much to the exhilarating experience of working with his research team.
Chowdhury muses: "It's gratifying to see the advances in hurricane engineering made possible by WOW research." He remembers witnessing the destruction that even a CAT 2 hurricane can wreak, as he arrived in Miami during a major power outage in the aftermath of Hurricane Wilma. He adds: "Our team developed the facility we now use in research that can mitigate hurricane impacts in the future. This means a lot to me."
Dr. Chowdhury says that working at a one-of-a-kind facility like the WOW has been engrossing. "I think wind engineering as a discipline is undergoing a paradigm shift. Facilities such as the WOW can be used to perform large scale testing at high speeds. Our research will help to understand the weaknesses exhibited by buildings, power and traffic systems, and infrastructure in hurricanes. This will enable us to develop better designs and to provide engineers, builders and designers with the knowledge they need to achieve a more resilient built environment."
On August 1, 2016, a research team led by principal investigator Dr.  Abdollah Shafieezadeh of the Ohio State University and co-principal investigator Dr. Arindam Chowdhury started using the NHERI 12-fan WOW EF to investigate how to help electric power infrastructure perform better in hurricanes.
According to Shafieezadeh and Chowdhury, the electric power transmission infrastructure in the United States, especially in coastal areas, faces substantial risks from hurricanes and other windstorms. Considering the significant size of the transmission grid, the cost of upgrading the entire infrastructure to achieve acceptable performance levels against hurricanes would be extremely high.
Given that fact, this research will aim to investigate a framework to reliably identify vulnerable transmission line systems and provide cost-effective retrofit solutions to reduce their likelihood of damage and loss of functionality during hurricanes and their recovery time following the event.
The findings of the research will be integrated into courses at both FIU and Ohio State University. In addition undergraduate students as well as 8th-12th graders will be trained in research on infrastructure systems to help prepare the next generation of engineers to tackle hurricane resilience issues.  
Chowdhury looks forward to the WOW facility being put to good use for many years to come. "We are working on getting more projects in the future that will benefit from large-scale testing under CAT 5 wind and rain conditions."
For more information on the WOW and the work being done at FIU please visit https://fiu.designsafe-ci.org/ and https://wow.fiu.edu/.