Opens in a new window
Opens an external site
Opens an external site in a new window
Opens an external site in a new window
NHERI Rapid Facility Deploys
Published on February 12, 2019
University of Washington-based team supports disaster reconnaissance missions around the globe

After two years of gathering community input, acquiring and commissioning equipment, and developing protocols for natural hazards reconnaissance data collection, the Natural Hazards Reconnaissance Facility, headquartered at the University of Washington, was officially launched in September 2018. It's known simply as the RAPID facility.
The first of its kind in the world, the RAPID enables researchers to conduct next-generation rapid response investigations to collect, assess and archive high-resolution perishable data to characterize civil infrastructure performance and community response to natural hazards. It is funded by a five-year, $4.9 million Natural Hazards Engineering Research Infrastructure (NHERI) grant from the National Science Foundation.
THE RAPID TEAM
Principal Investigator Joe Wartman, Professor of Civil and Environmental Engineering (CEE) at the University of Washington (UW), directs the facility; Jeff Berman, Professor of CEE at UW, serves as Operations Director; Michael Olsen, Associate Professor of Civil and Construction Engineering at Oregon State University, is Technical Director; and Troy Tanner, Principal Software Engineer at the UW's Applied Physics Laboratory, leads the software development and information technology for the facility.
The team also includes a number of natural hazards disciplinary experts including Kurt Gurley, Professor of Civil and Coastal Engineering at the University of Florida (Wind Hazards); Jennifer Irish, Professor of Coastal Engineering at Virginia Tech (Coastal Hazards); Scott Miles, Senior Principal Research Scientist in the Department of Human Centered Design and Engineering at UW (Social Sciences); Ann Bostrom, Professor at the Evans School of Public Policy and Governance at UW (Social Sciences); and Laura Lowes, Professor and Chair of CEE at UW (Structural and Earthquake Engineering).
Facility staff includes Jake Dafni, Site Operations Manager, who frequently travels with the equipment to support reconnaissance team's data collection; J. Sean Yeung, technical assistant; Caitlin Bourassa, Program Coordinator; and Daniel Stromecki and Alex Dioso, IT specialists.
"Our facility is going to transform natural hazards reconnaissance research by making state-of the-art data collection equipment available to a wide community of researchers across the country," Berman says.
The RAPID comes online when natural disaster-related losses continue to escalate. In the past 30 years, more than 2.5 million people and $4 trillion has been lost in natural disasters, according to the World Bank.
TRANSFORMING DATA COLLECTION
Working with existing organizations, including the NSF-funded Geotechnical Extreme Events Reconnaissance Association (GEER) and Structural Engineering Extreme Events Reconnaissance Association (StEER), the facility's staff equips researchers with tools and equipment for gathering data, state-of-the-art workflows and data collection protocols that help ensure consistency and quality in the collected data, and software that promotes team collaboration, metadata collections, and integration of data across disciplines.
Additionally, the RAPID's expert field staff can accompany researchers who are not familiar with the equipment to assist in data collection and provide in-field training.
SHARING DAMAGE DATA
"One of the driving reasons to collect damage data is to validate models and design methods," Berman says. "The better, higher resolution the data, the better the modeling methods will be."
To enable systematic data collection, the RAPID facility developed a custom mobile application called the "RApp," which guides researchers through standardized data collection methods. RApp manages multiple data types, from handwritten notes to photographs to 3D point clouds, automatically uploading everything to DesignSafe, NHERI's publicly accessible data repository.
THE TOOLS
To date, the NHERI RAPID center has procured more than 300 pieces of equipment worth over $1.2 million. In addition to survey tools and seismic instruments for monitoring aftershocks, the equipment portfolio includes tools for collecting high-resolution 3D data on the state of structures, slopes and coastlines — items such as lidar scanners and a fleet of drones outfitted with high-resolution cameras.
More specialized and experimental equipment includes the Z-Boat 1800, which uses sound waves to capture underwater topography information about the depth of lake or ocean floors for damage assessment; social science equipment such as EEG headsets to measure electrical brainwave activity and assess stress levels related to disasters; and an Applied StreetView camera to capture 360-degree imagery from a moving vehicle, enabling large-scale damage surveys.
Getting the equipment in the hands of researchers across the country has proven to be the biggest logistical hurdle. In addition to deployment destinations throughout the world, the equipment comes in various shapes and sizes. The small boat, for example, must currently be shipped in a crate.
"We've gone through several scenarios," Berman says. "Sometimes the equipment will go to the researcher's university and they will fly or drive with it to the field work site. Other times, we will ship it directly to the field site."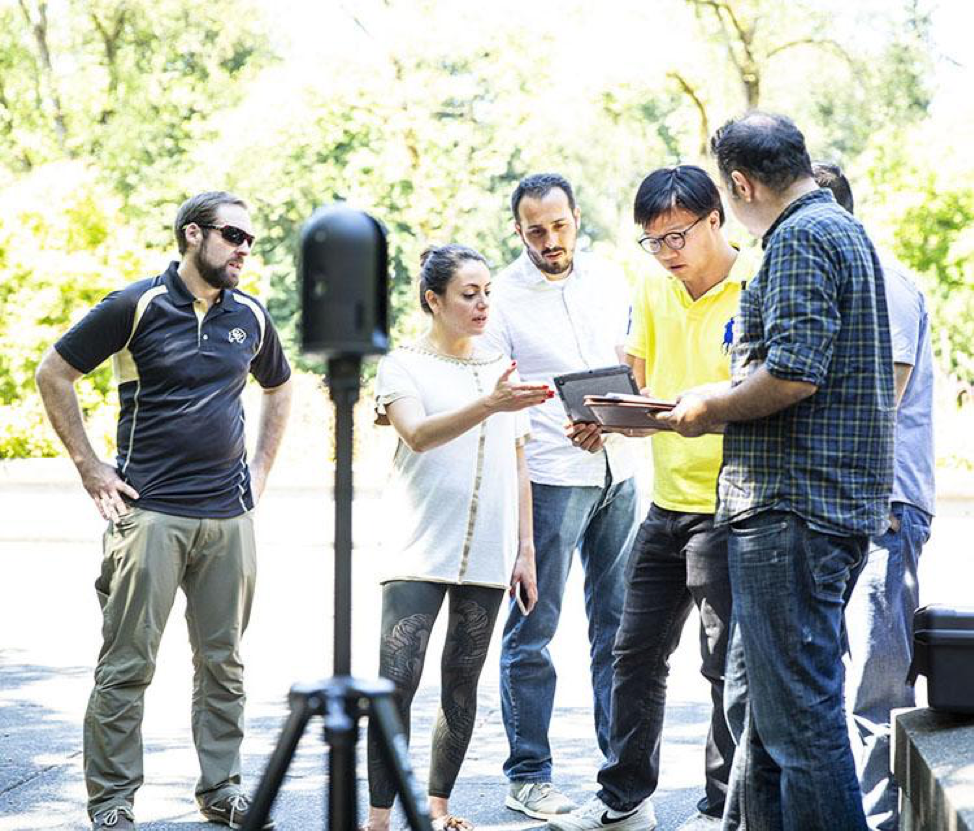 Visiting researchers learn how to operate the BLK360, a lightweight, highly accurate close-range lidar scanner used to capture 3D point-cloud and imagery data.
RAPID's Jake Dafni, PhD, in OR validating data for the Spangler landslide. Supported by Chase Simpson, MSCE student at OSU, they flew the Phoenix miniRanger drone lidar system.
2018 DEPLOYMENTS
Captured by a RAPID drone, an aerial photograph shows wind damage on a large-scale industrial building following Hurricane Michael.
Alex Grant, Research Civil Engineer with the U.S. Geological Survey, in Hokkaido, Japan, pictured here with RAPID's Maptek XR3 laser scanner.
Since the center became operational in September 2018, data gathering equipment has been deployed to disaster sites around the world. That data is now publicly available on the DesignSafe website, in the Recon Portal.
HURRICANE FLORENCE
NORTH CAROLINA, U.S.
Following catastrophic freshwater flooding in September 2018, two reconnaissance teams were deployed to North Carolina to assess wind and water damage. Site Operations Manager, Jake Dafni, and Site Operations Engineer, Sean Yeung, joined members of StEER using RAPID's Applied Streetview to capture continuous 360-degree imagery, as well as close range lidar scanners, drones (DJI Mavic Air and Matrice 210) and GPS units to build 3D models.
HOKKAIDO, JAPAN
SEPTEMBER 2018
Following the magnitude 6.7 Eastern Uburi earthquake on September 6, GEER sent a reconnaissance team to Hokkaido, Japan to compile an inventory of landslides, liquefaction and lateral spreads. The team included Alex Grant of the United States Geological Survey, who had participated in RAPID's hand-on summer user training workshop. With his training, Alex was able to collect high-quality point-cloud data using RAPID's Leica BLK360 Scanner and its Maptek XR3 laser scanner.
HURRICANE MICHAEL
NOVEMBER 2018
Researchers from Auburn University and the University of Washington traveled to the Florida panhandle in early November following Hurricane Michael, which made landfall in Mexico Beach, Florida, on October 10. An NSF-funded RAPID grant was awarded to assess the high failure rate of large-scale industrial buildings. The team utilized RAPID's extensive equipment portfolio, bringing along numerous cameras (DJI Osmo, Insta360, Canon DSLR, and Flir), DJI Phantom and Matrice 210 drones, the Leica TS16 and Maptek XR3 long-range scanner.
SULAWESI EARTHQUAKEINDONESIA
NOVEMBER 2018
GEER supported a post-earthquake and tsunami reconnaissance mission to Palu, Indonesia in November 2018. The team spent time in Palu, Sulawesi, mapping and characterizing large ground failures using RAPID UAVs and GPS equipment.
USER TRAINING
RAPID will be hosting its second annual equipment training workshop this summer (July 23-26) at its University of Washington headquarters. The intensive, four-day training will equip researchers with the knowledge and skills to operate reconnaissance equipment and use it to collect high-quality data in the field.
For more information, contact the RAPID Facility at (206) 616-3318 or uwrapid@uw.edu.