2021 NHERI REU Summer Program:
Student Projects
The 2021 Research Experience for Undergraduates (REU) program featured twenty-eight students throughout the network of NHERI facilities.
Near the conclusion of the ten-week summer program, each student traveled to the Unversity of Texas at San Antonio to present a research poster and give a presentation on their experience.  The posters and details of each project can be found below.  Students were encouraged to publish their research presentations and papers to the DesignSafe Depot.
---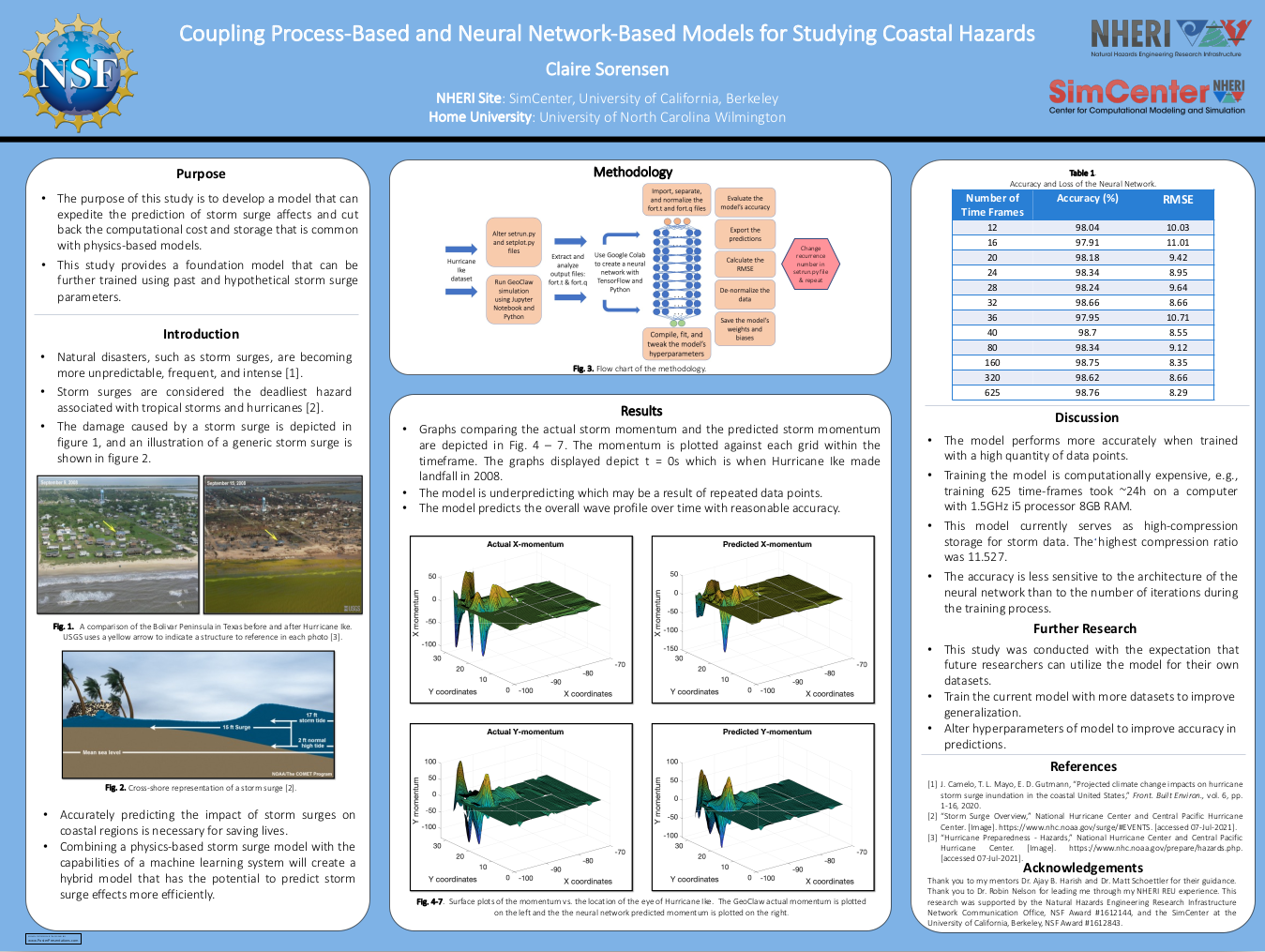 Claire Sorensen
Home University:University of North Carolina, Wilmington
NHERI EF Site:University of California—Berkeley, SimCenter
Research team:Ajay Bangalore Harish, Matt Schoettler
Research project title:Coupling Processed-Based and Neural Network-Based Models for Studying Coastal Hazards
Research presentation: DesignSafe Data Depot publication #3235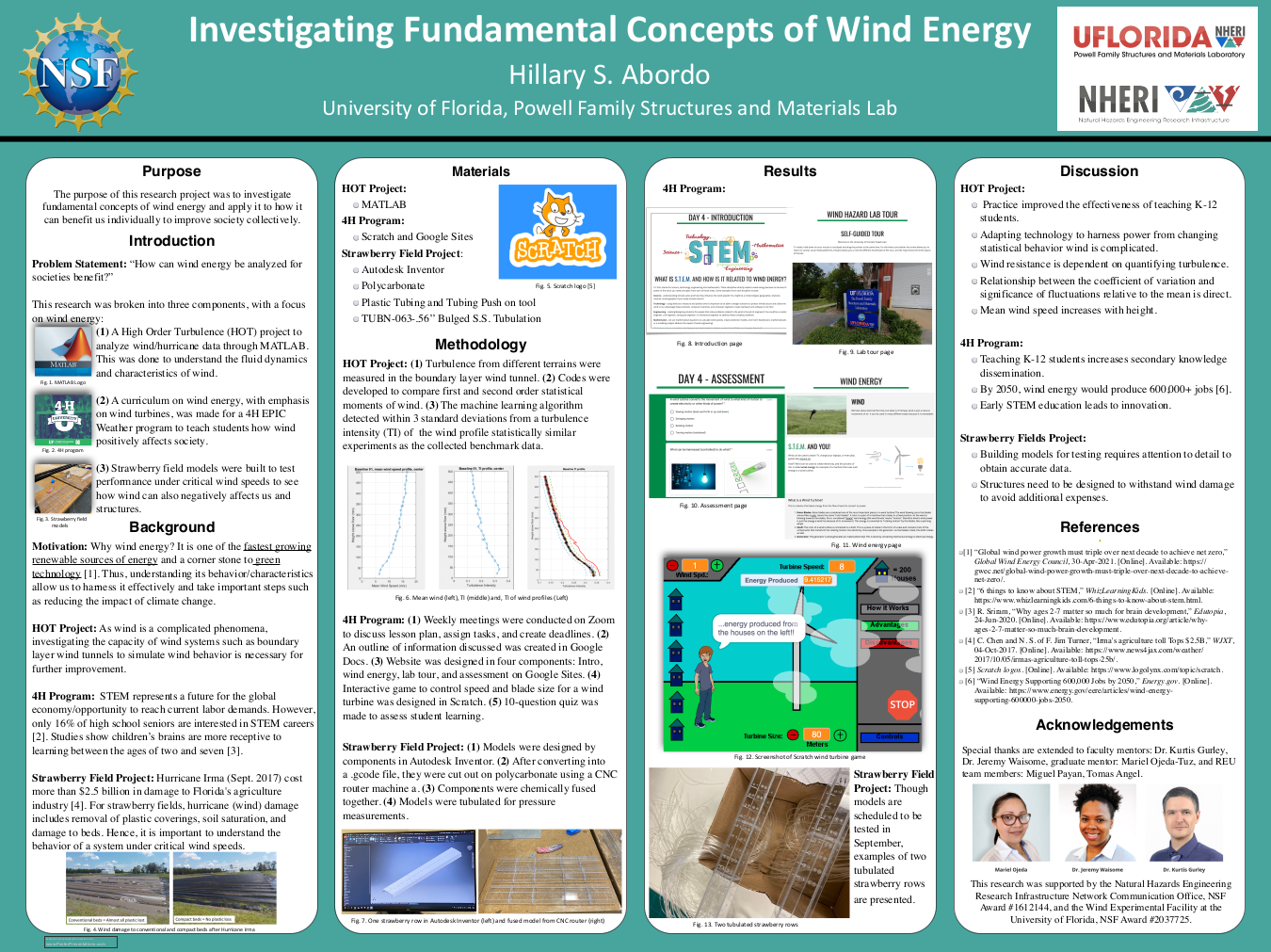 Hillary Abordo
Home University:New York University
NHERI EF Site:University of Florida, Powell Family Structure & Material Lab
Research team:Mariela Ojeda Tuz, Kurt Gurley
Research project title:Investigating Fundamental Concepts of Wind Energy: Mitigating Climate Change for the Future
Research presentation: DesignSafe Data Depot publication #3284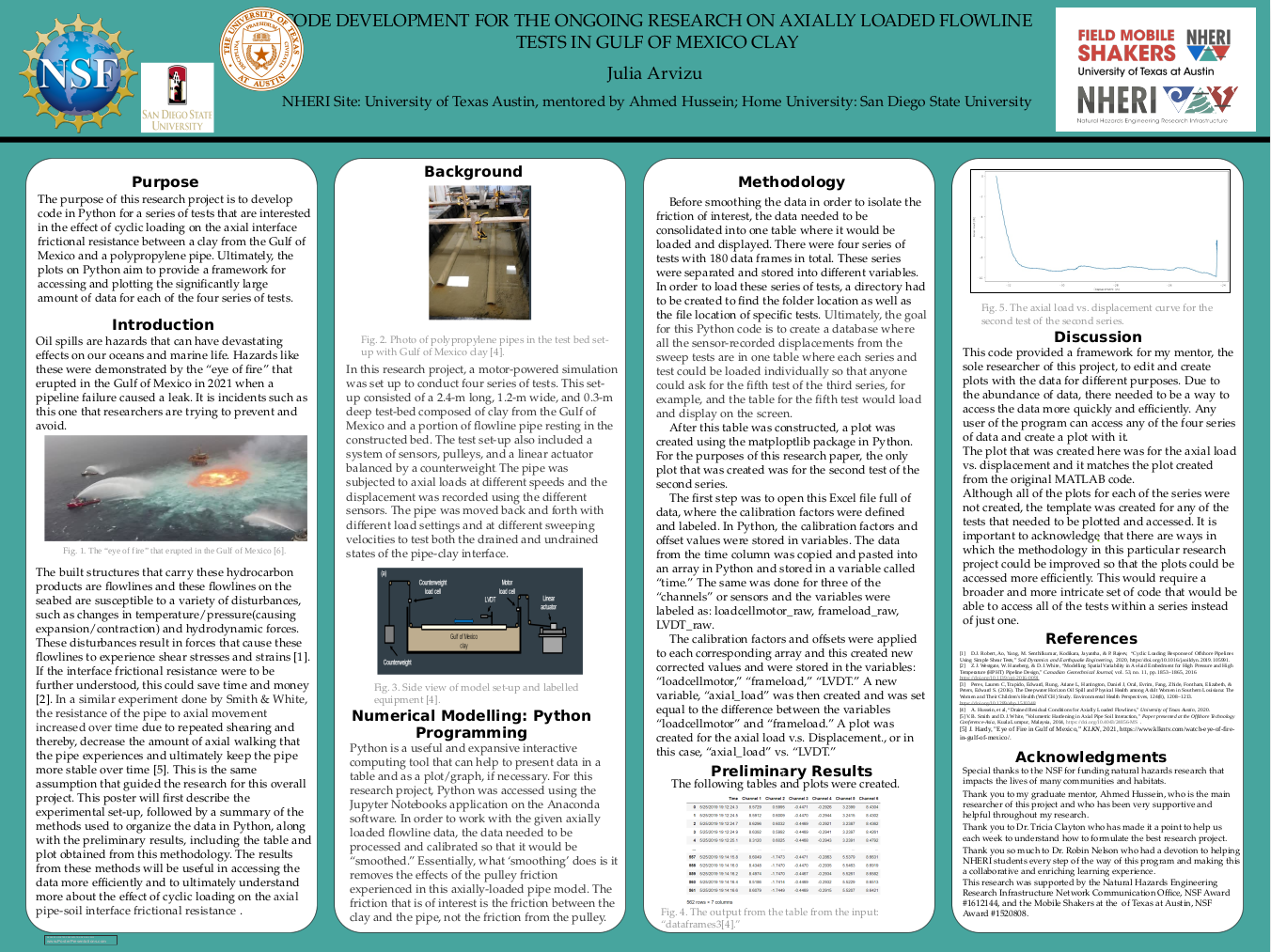 Julia Arvizu
Home University:San Diego State University
NHERI EF Site:University of Texas at Austin, Large Mobile Shakers
Research team:Ahmed Mustafa Hussien, Tricia Clayton
Research project title:Code Development for the Ongoing Research of Axially Loaded Flowline Tests in the Gulf of Mexico Clay
Research presentation: DesignSafe Data Depot publication #3238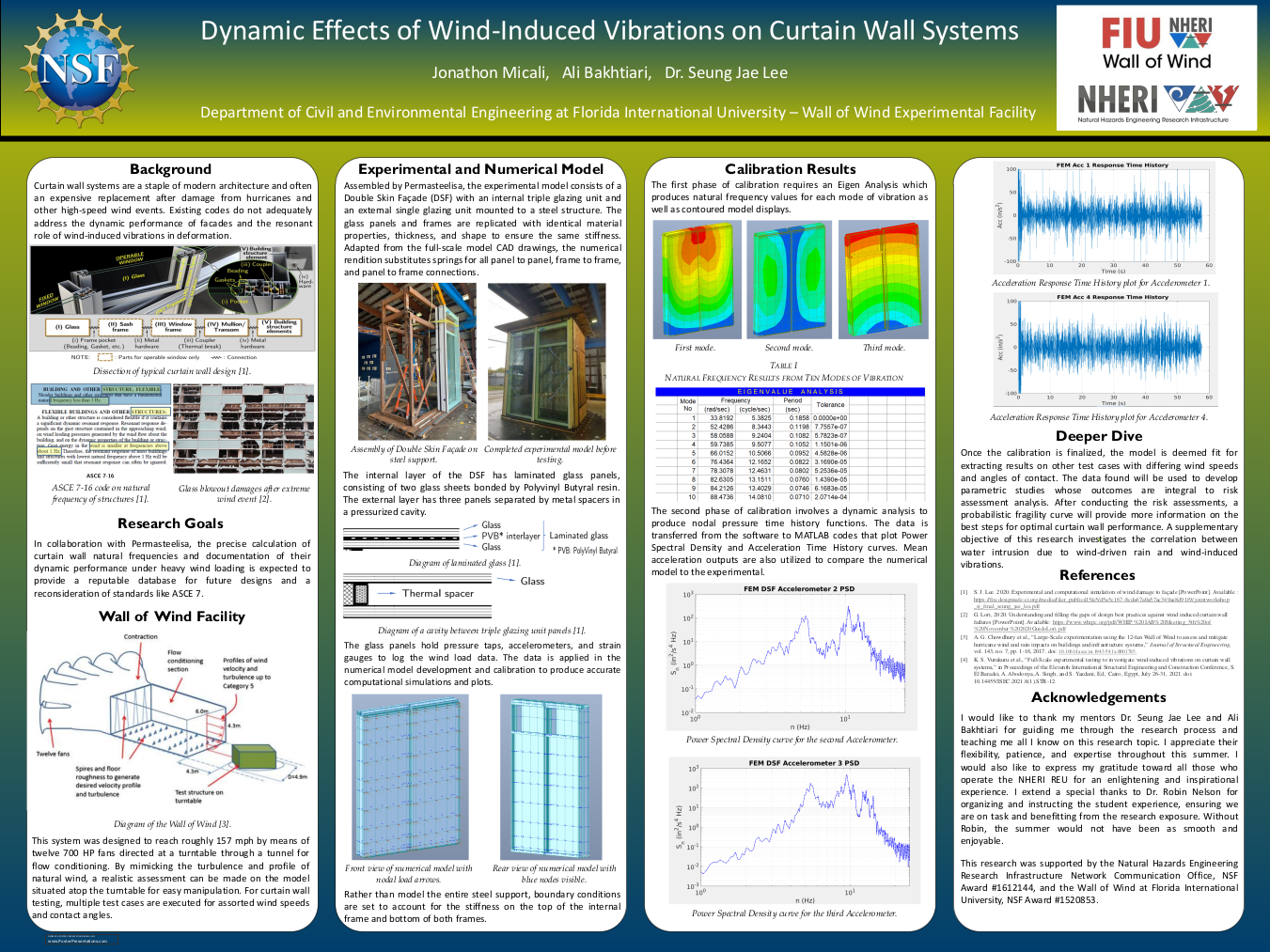 Jonathon Micali
Home University:University of Florida
NHERI EF Site:Florida International University
Research team:Ali Bakhtiari, Seung Jae Lee
Research project title:Dynamic Effect of Wind-Induced Vibrations on Curtain Wall Systems
Research presentation: DesignSafe Data Depot publication #3270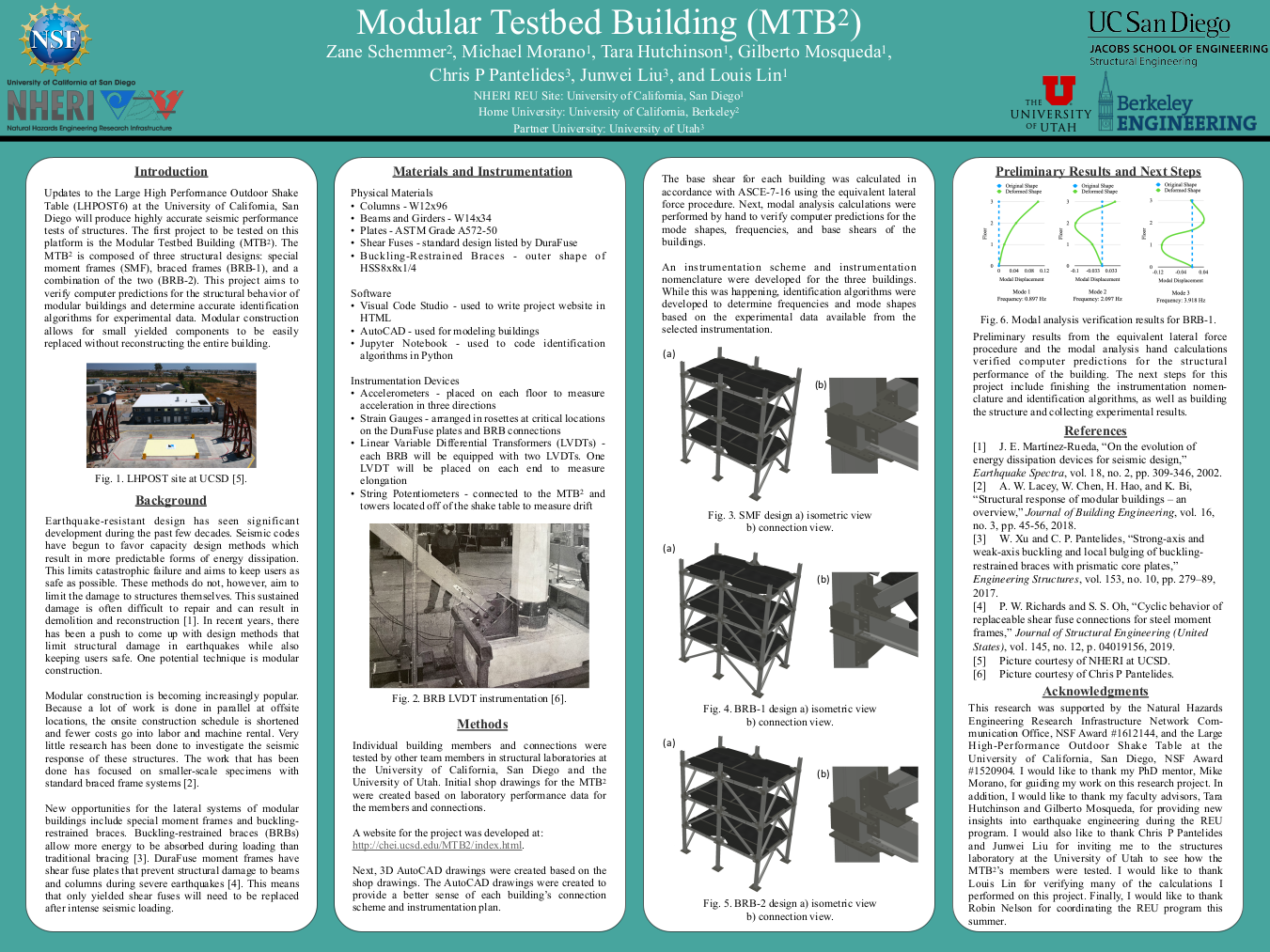 Zane Schemmer
Home University:University of California, Berkeley
NHERI EF Site:University of California—San Diego, LHPOST
Research team:Michael Morano, Tara Hutchinson, Gilbert Mosqueda, Chris Pantelides, Junwei Liu
Research project title:Modular Testbed Building (MTB2): A Shared-Use, Reconfigurable Earthquake-Resistant Design
Research presentation: DesignSafe Data Depot publication #3244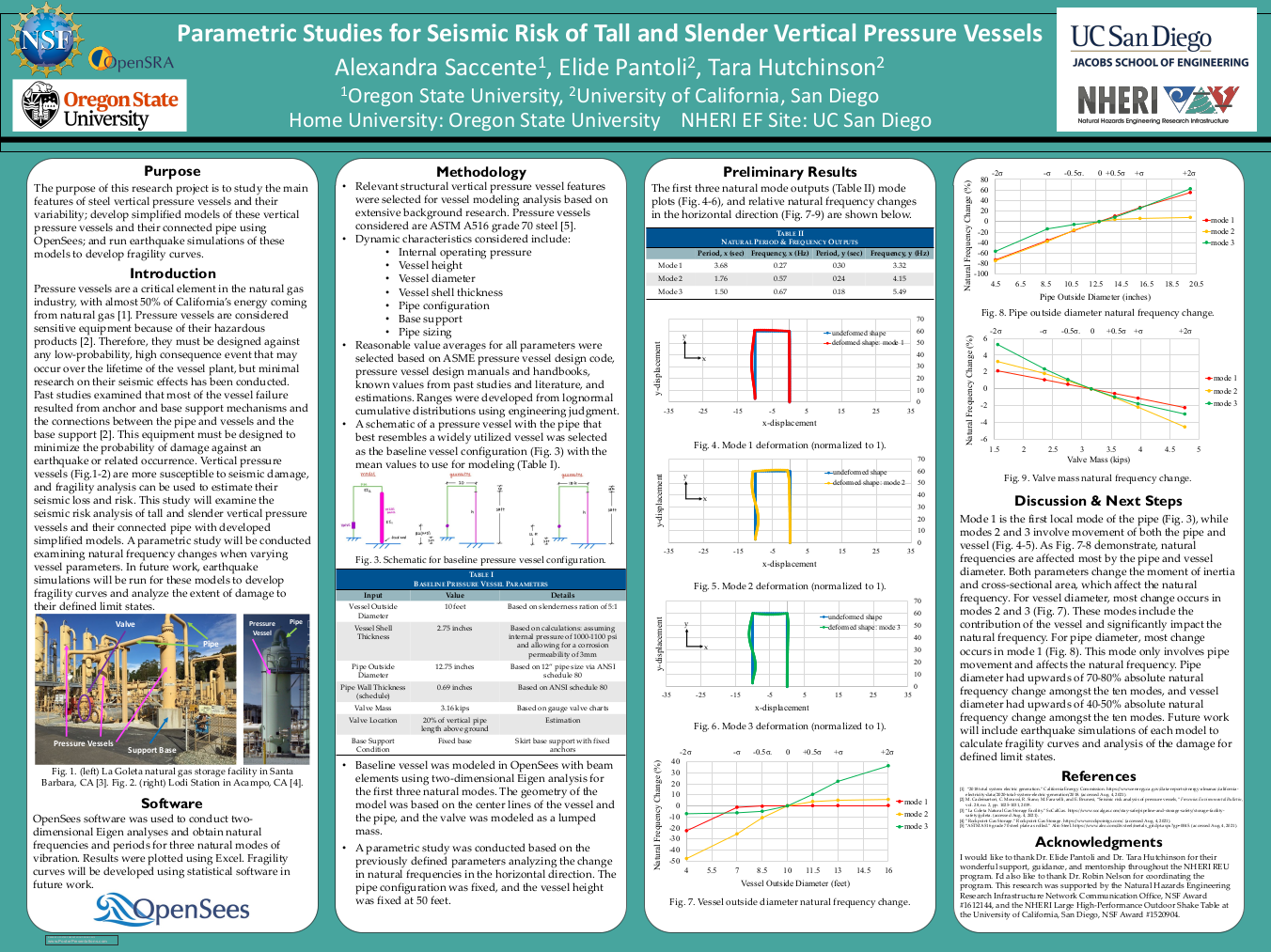 Alexandra Saccente
Home University:Oregon State University
NHERI EF Site:University of California—San Diego, LHPOST
Research team:Elide Pantoli, Tara Hutchinson
Research project title:Parametric Studies for Seismic Risk of Tall and Slender Vertical Pressure Vessels
Research presentation: DesignSafe Data Depot publication #3253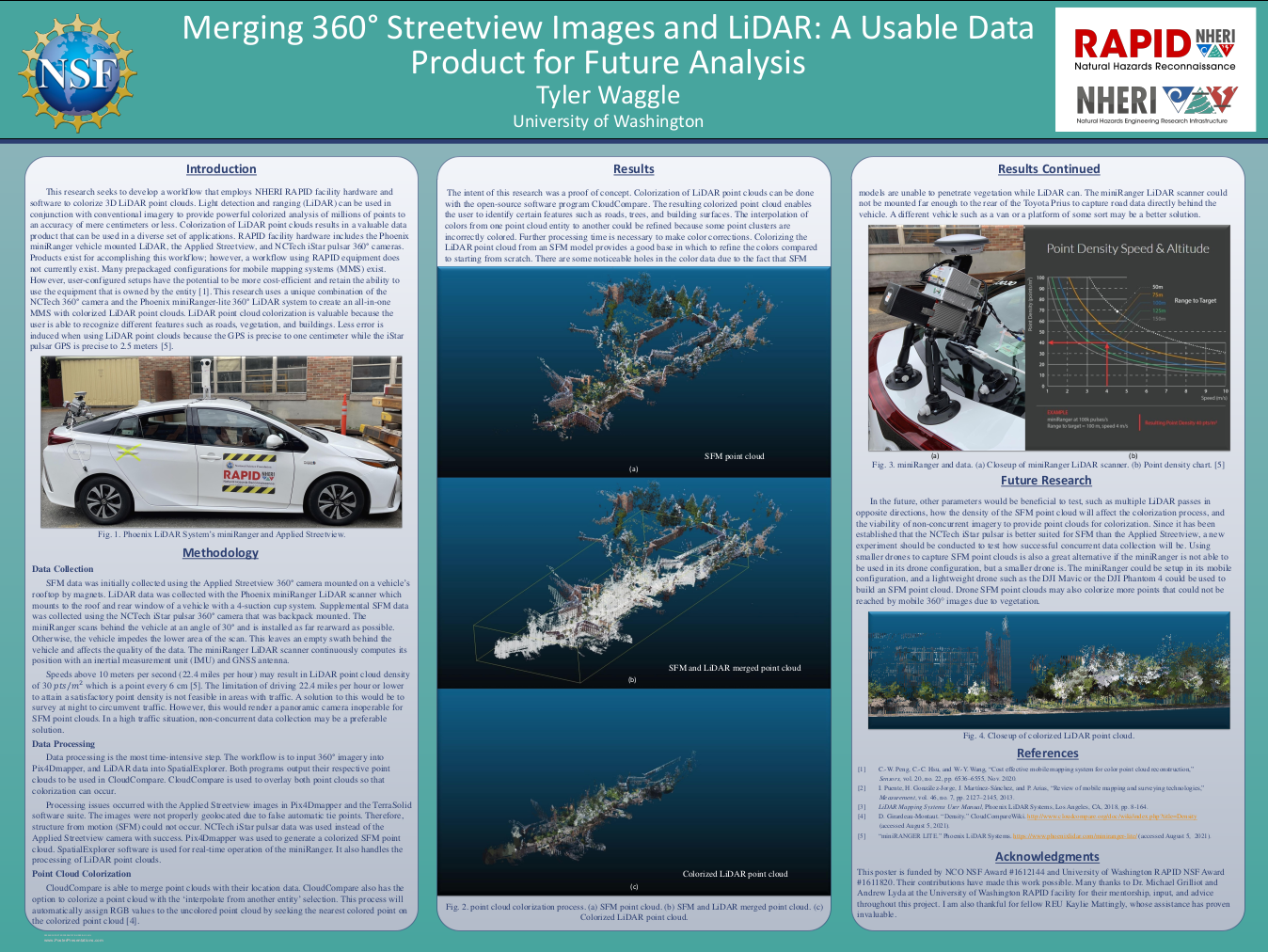 Tyler Waggle
Home University:Seattle Pacific University
NHERI EF Site:University of Washington, The RAPID Facility
Research team:Michael Grilliot, Andrew Lyda
Research project title:Merging 360° Streetview Images and LiDAR: A Usable Data Product for Future Analysis
Research presentation: DesignSafe Data Depot publication #3250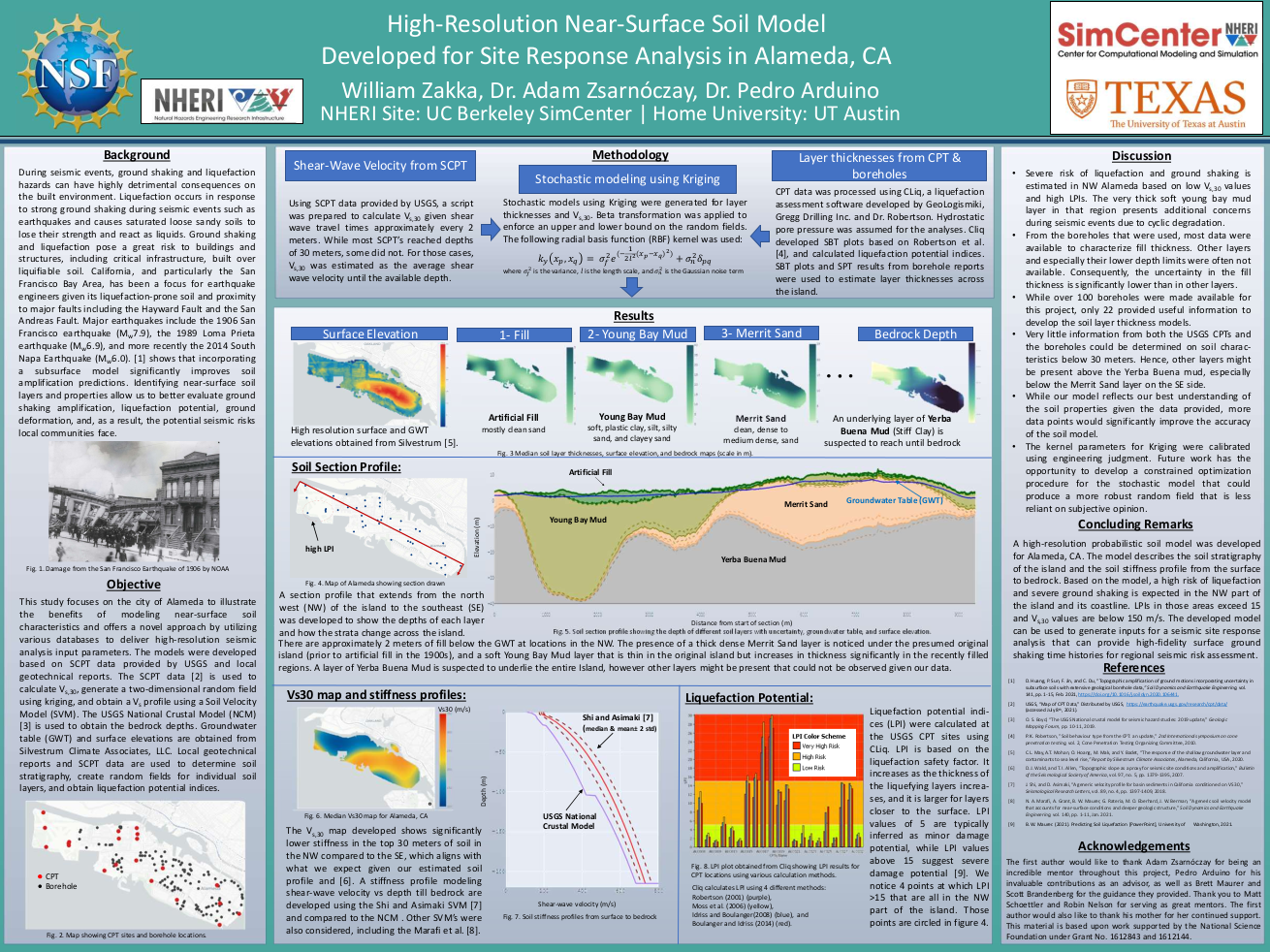 William Zakka
Home University:University of Texas at Austin
NHERI EF Site:University of California—Berkeley, SimCenter
Research team:Adam Zsarnoczay, Pedro Arduino
Research project title:High-Resolution Near-Surface Soil Model Developed for Site Response Analysis in Alameda, CA
Research presentation: DesignSafe Data Depot publication #3282
Gustavo Aguilar
Home University:University of Florida
NHERI EF Site:Lehigh University, RTMD
Research team:Liang Cao, James Ricles
Research project title:Development of a Next Generation Base Isolation System for Seismic Hazard Mitigation of Buildings
Research presentation: DesignSafe Data Depot publication #3236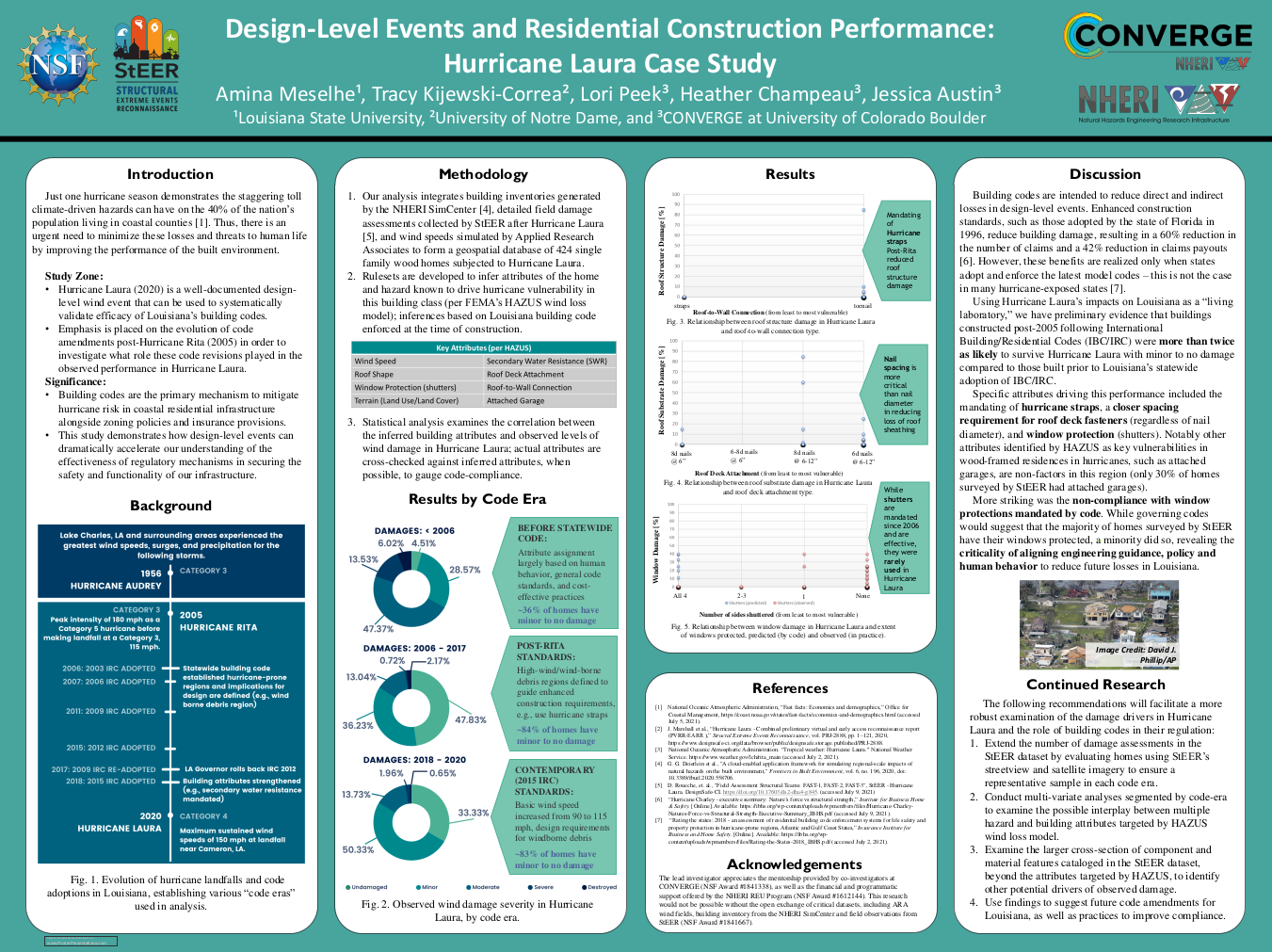 Amina Meselhe
Home University:Louisiana State University
NHERI EF Site:University of Colorado—Boulder, CONVERGE
Research team:Tracy Kijewski-Correa, Lori Peek, Heather Champeau, Jessica Austin
Research project title:Design-Level Events and Residential Construction Performance: Hurricane Laura Case Study
Research presentation: DesignSafe Data Depot publication #3234
Tyler Rodrigues
Home University:University of California, Berkeley
NHERI EF Site:Lehigh University, RTMD
Research team:Liang Cao, James Ricles
Research project title:Investigation of Semi-Active Controlled Friction Dampers for Seismic Hazard Mitigation
Research presentation: DesignSafe Data Depot publication #3246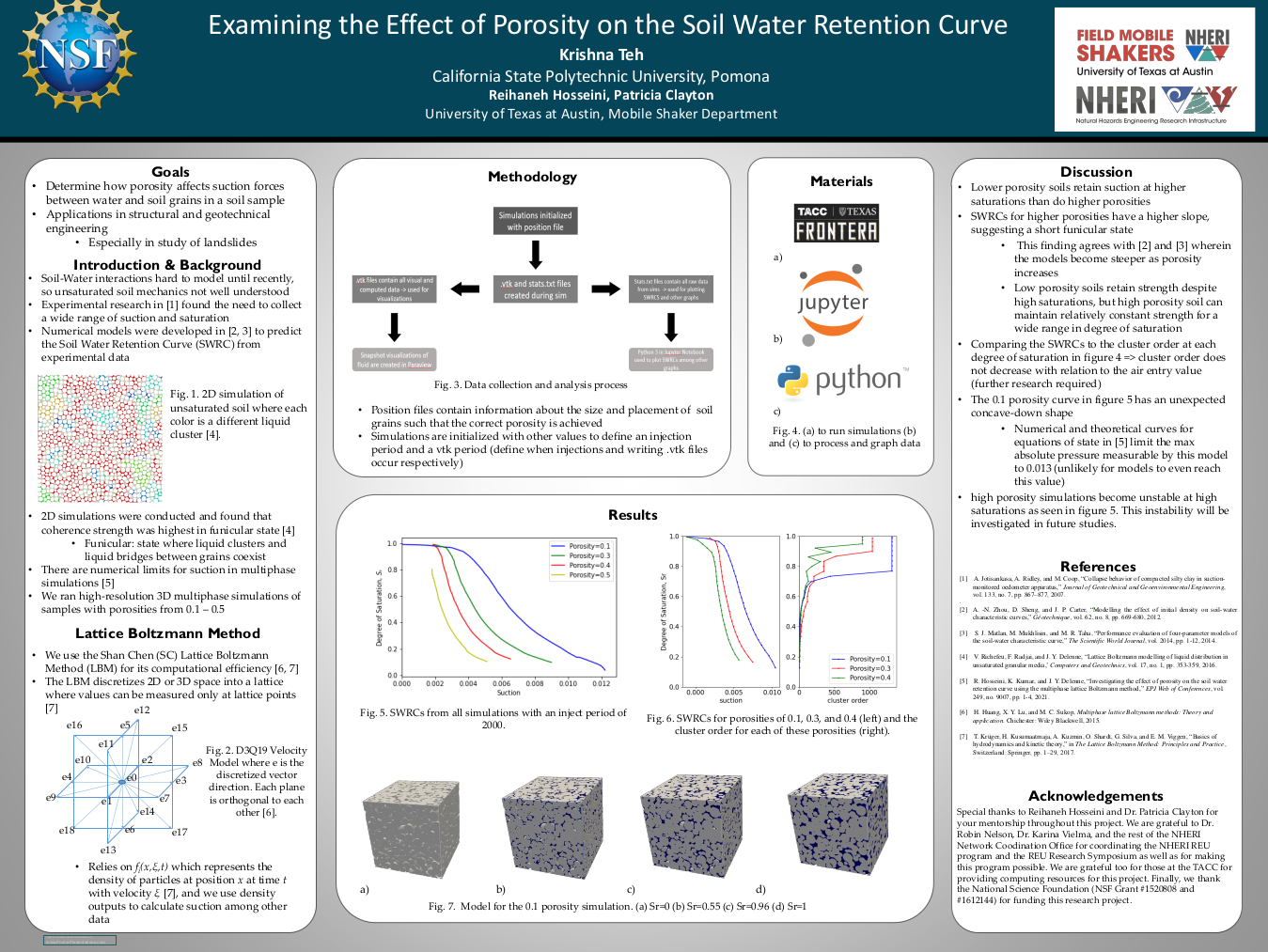 Krishna Teh
Home University:California State Polytechnic University, Paloma
NHERI EF Site:University of Texas at Austin, Large Mobile Shakers
Research team:Reihaneh Hosseini, Patricia Clayton
Research project title:Examining the Effect of Porosity on the Soil Water Retention Curve
Research presentation: DesignSafe Data Depot publication #3232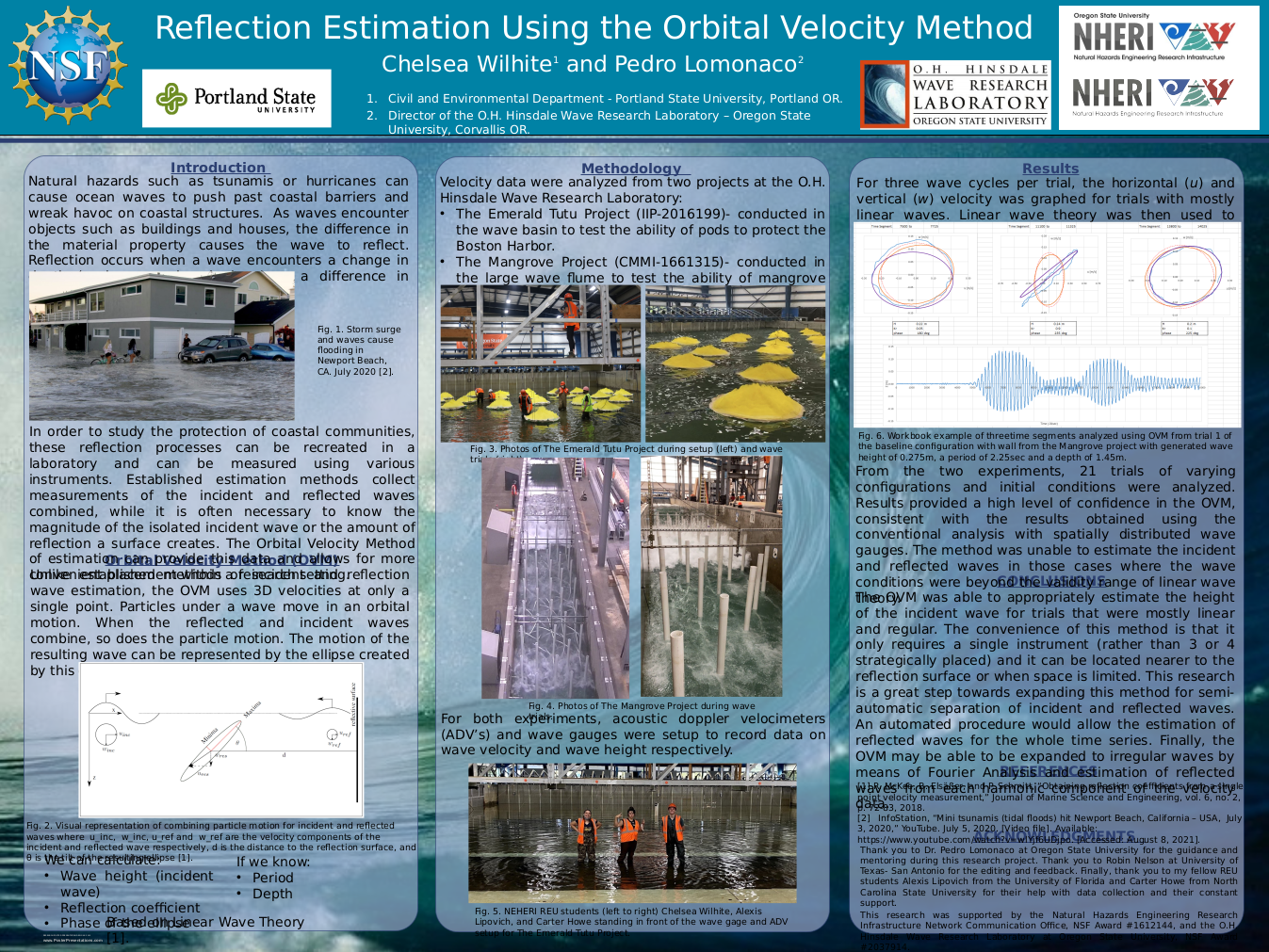 Chelsea Wilhite
Home University:Portland State University
NHERI EF Site:Oregon State University, HWRL
Research team:Pedro Lomonaco
Research project title:Reflection Estimation Using the Orbital Velocity Method
Research presentation: DesignSafe Data Depot publication #3280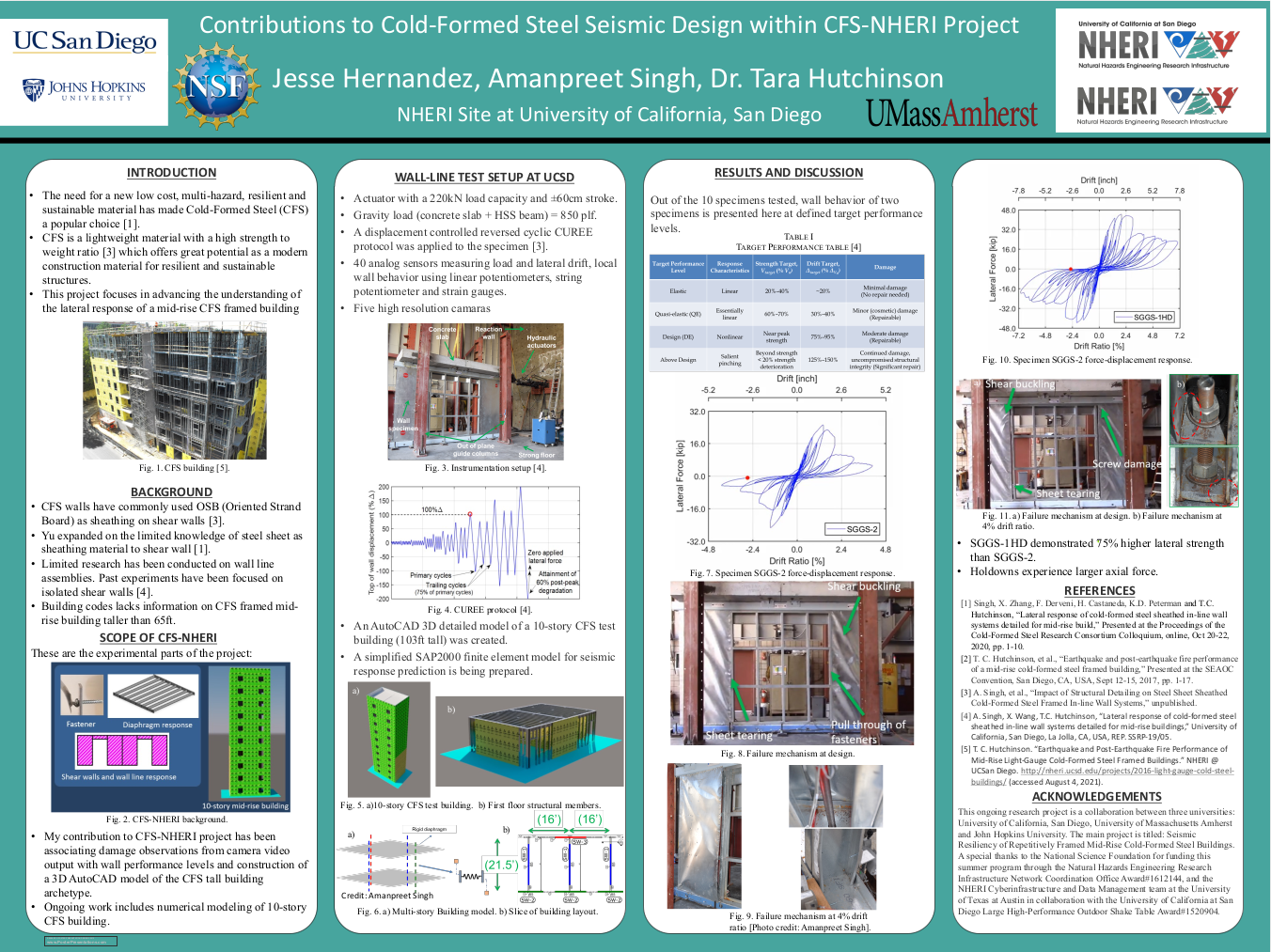 Jesse Hernandez-Gonzalez
Home University:University of Puerto Rico - Mayaguez
NHERI EF Site:University of California—San Diego, LHPOST
Research team:Amanpreet Singh, Tara Hutchinson
Research project title:Contribution to Cold-Formed Steel Seismic Design within CFS-NHERI Project
Research presentation: DesignSafe Data Depot publication #3285
Kaylie Mattingly
Home University:University of Washington
NHERI EF Site:University of Washington, The RAPID Facility
Research team:Andrew Lyda, Jeffrey Burman, Michael Grilliot, Joe Wartman, Jacqueline Peltier
Research project title:Suitability of Panoramic Photographs for Developing Structure-from-Motion Models
Research presentation: DesignSafe Data Depot publication #3254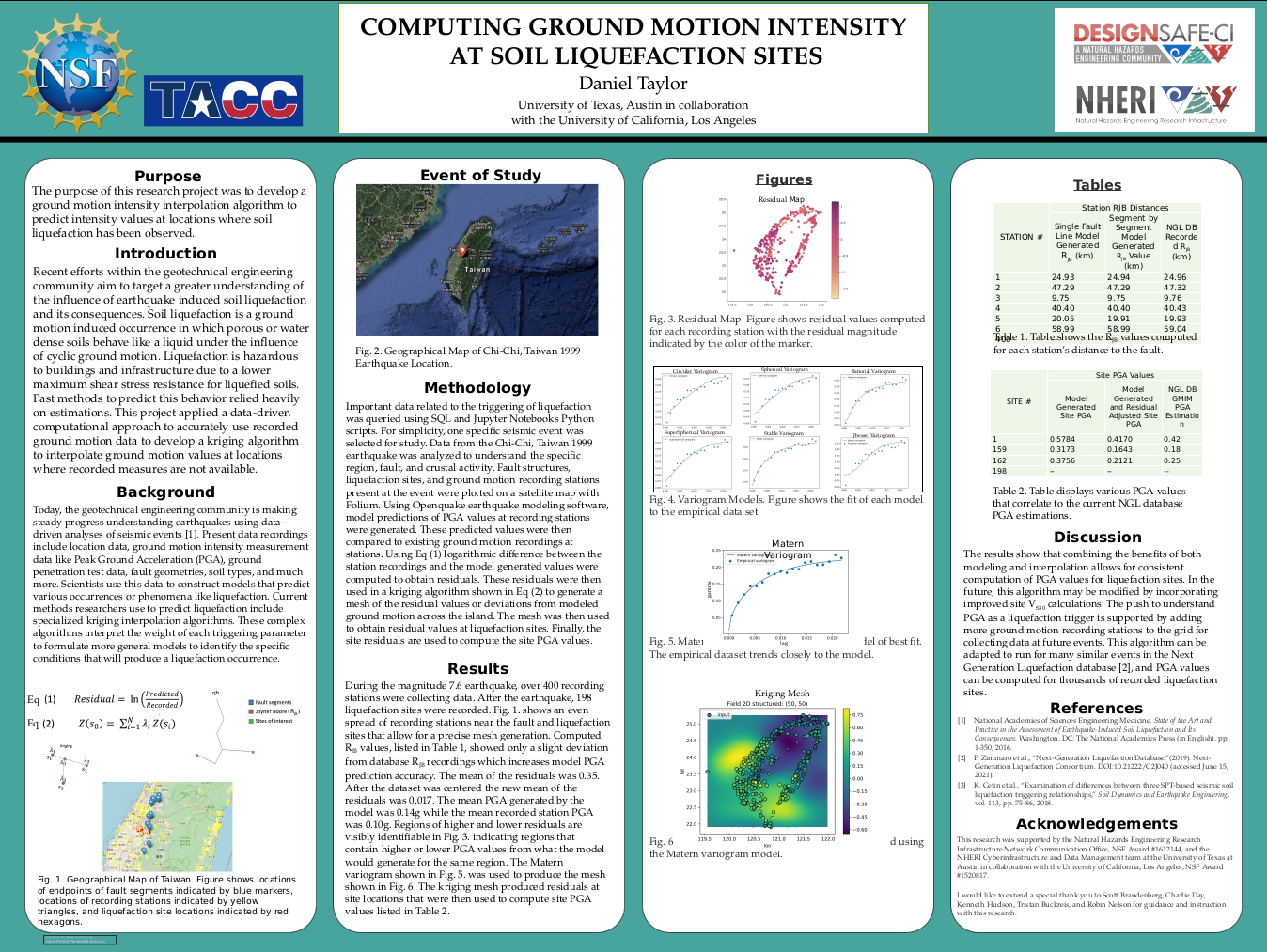 Daniel Taylor
Home University:The Catholic University of America
NHERI EF Site:University of Texas at Austin, DesignSafe in collaboration with UCLA
Research team:Scott Brandenburg, Tristian Buckreis, Kenneth Hudson
Research project title:Ground Motion Intensity Estimation Algorithm for Earthquake-Induced Soil Liquefaction Sites
Research presentation: DesignSafe Data Depot publication #3237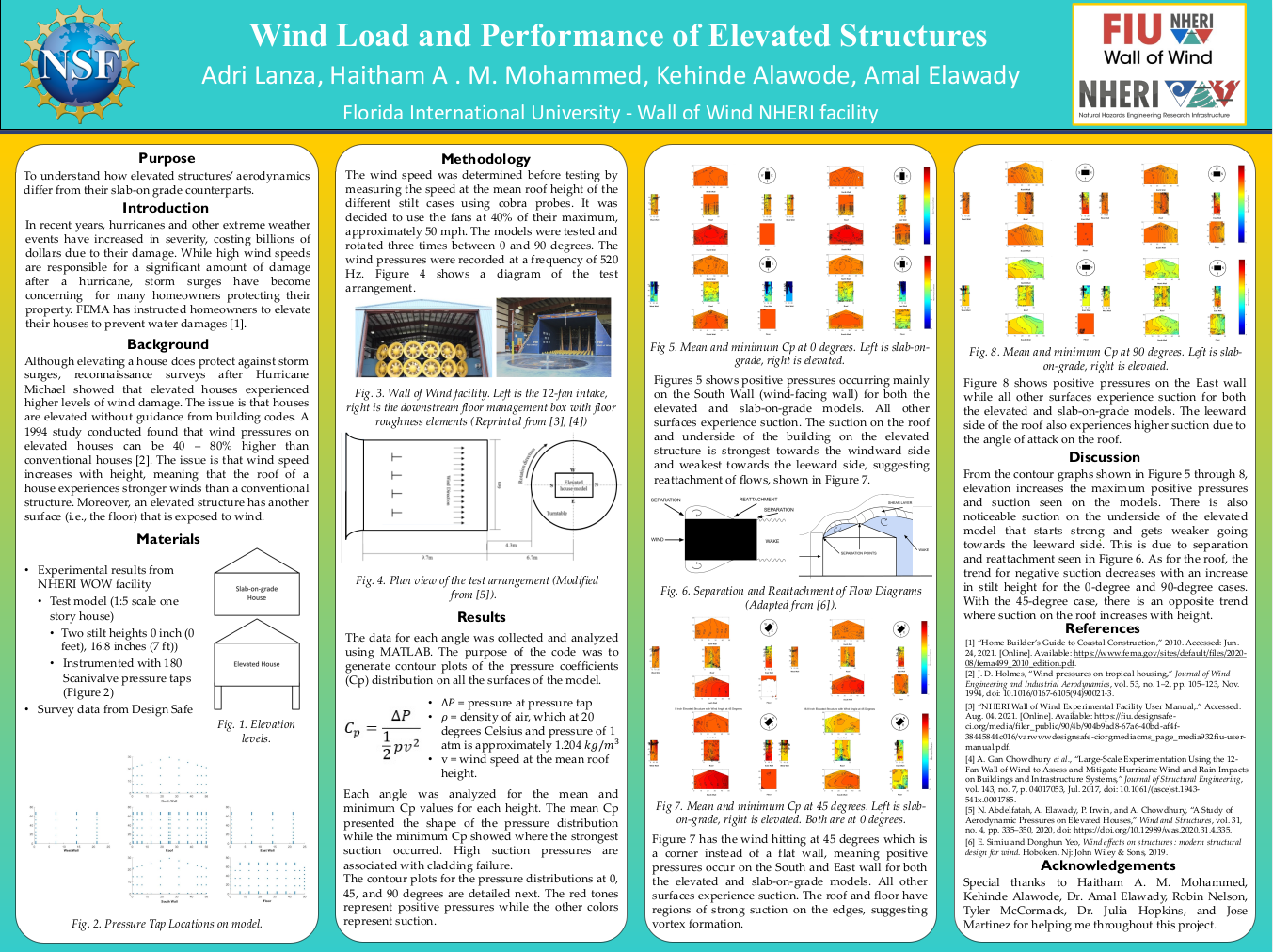 Adriana Lanza
Home University:Northeastern University
NHERI EF Site:Florida International University
Research team:Haithan Mohamed, Kenny, Amal Elawady
Research project title:Wind Load and Performance Elevated Structures
Research presentation: DesignSafe Data Depot publication #3231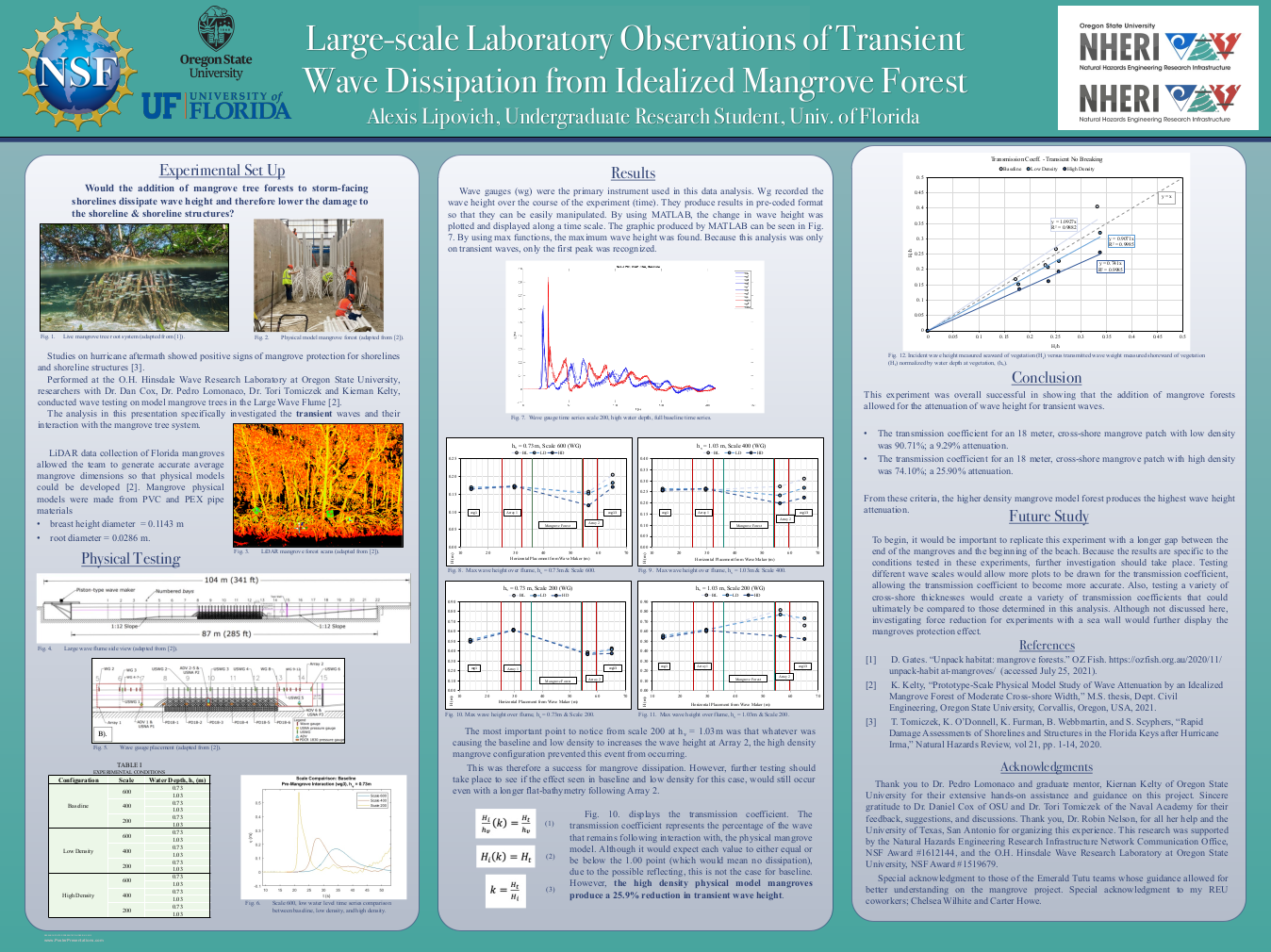 Alexis Lipovich
Home University:University of Florida
NHERI EF Site:Oregon State University, HWRL
Research team:Kelty Kiernan, Pedro Lomonaco, Cox, Daniel
Research project title:Large-Scale Laboratory Observations of Transient Wave Dissipation from Idealized Mangrove Forest
Research presentation: DesignSafe Data Depot publication #3260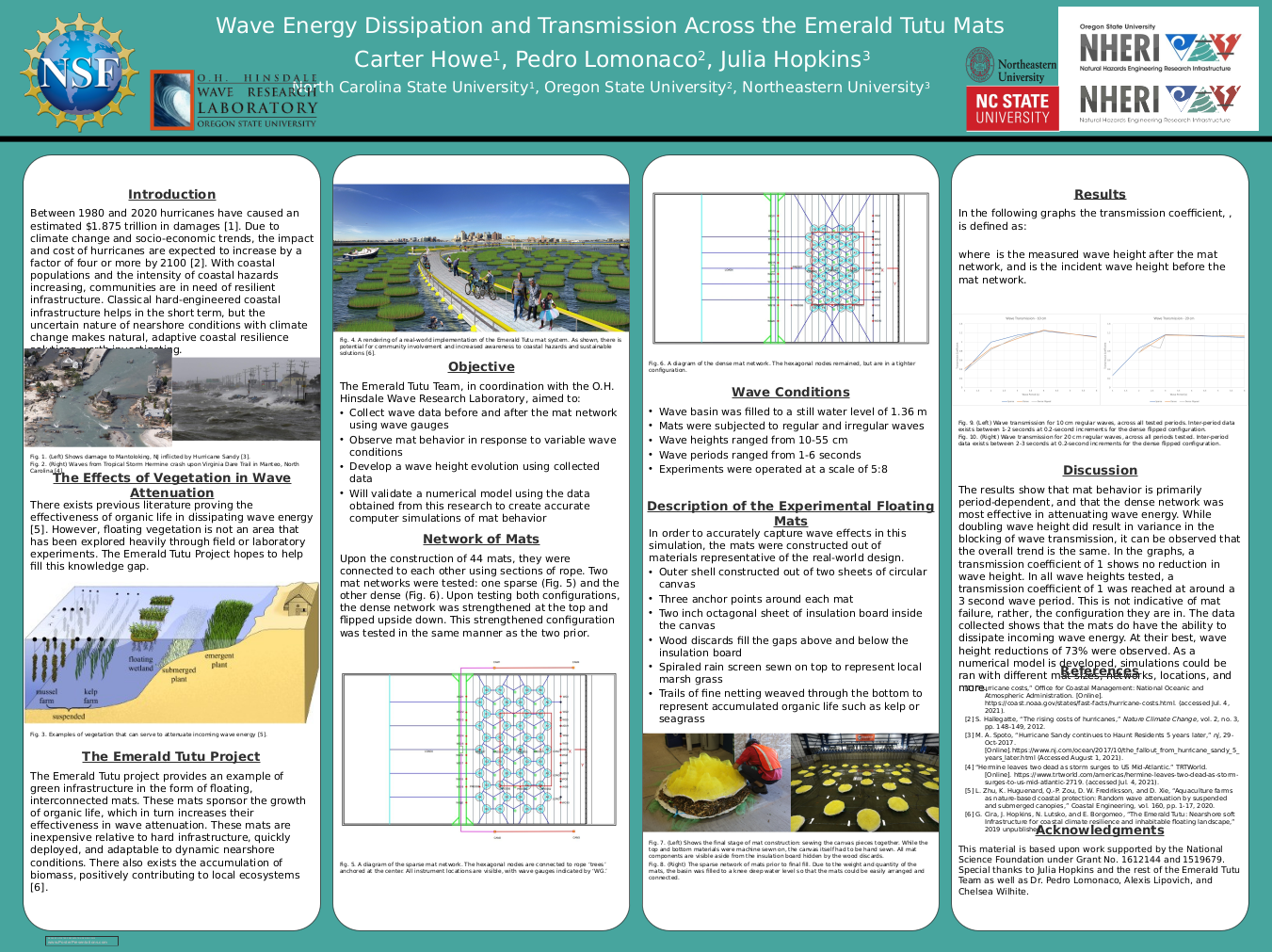 Carter Howe
Home University:North Carolina State University
NHERI EF Site:Oregon State University, HWRL
Research team:Julia Hopkins, Pedro Lomonaco
Research project title:Wave Energy Dissipation and Transmission across the Emerald TuTu Mats
Research presentation: DesignSafe Data Depot publication #3283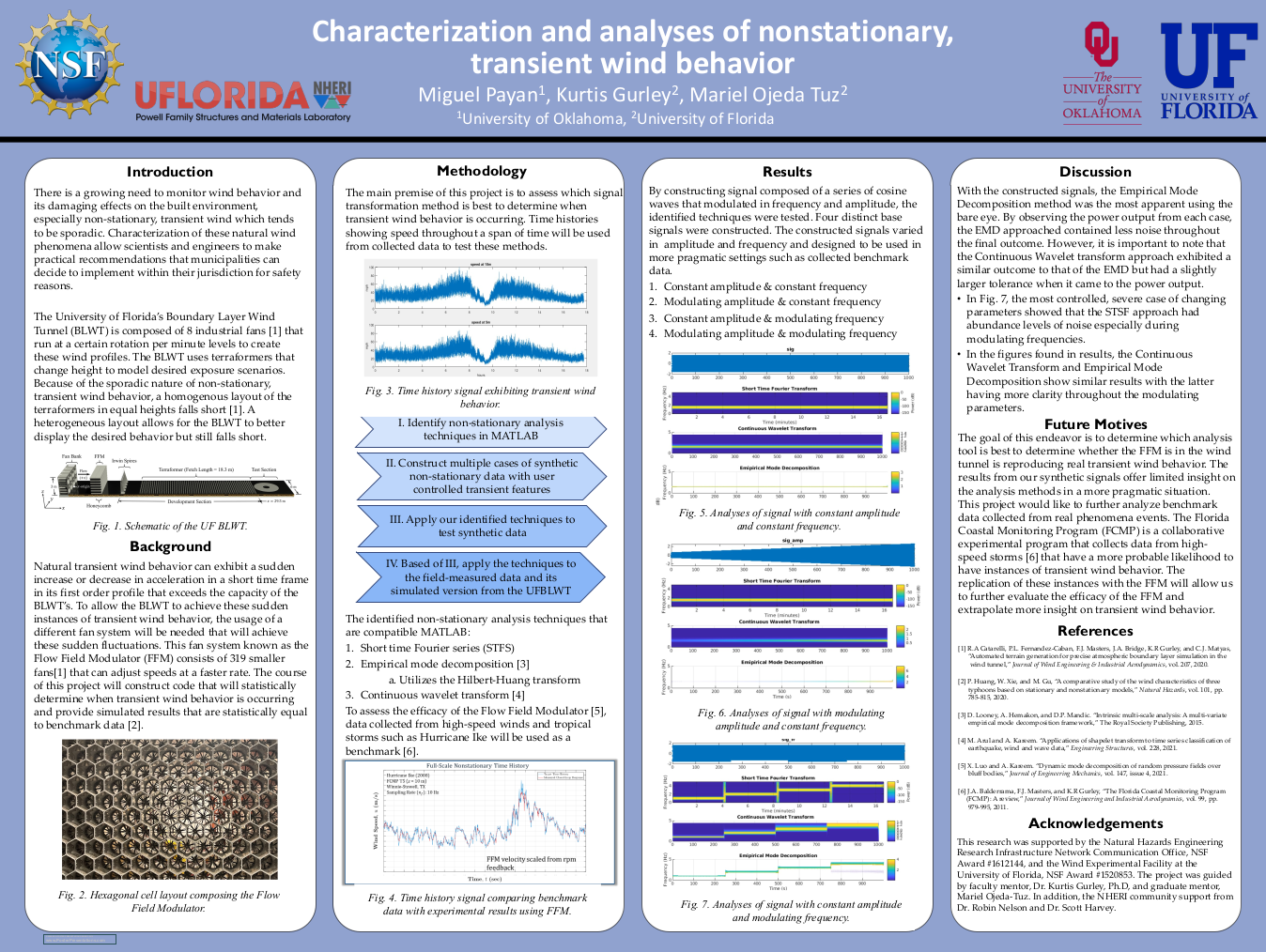 Miguel Payan
Home University:University of Oklahoma
NHERI EF Site:University of Florida, Powell Family Structure & Material Lab
Research team:Mariela Ojeda Tuz, Kurt Gurley
Research project title:Characterization and Analysis of Nonstationary Transient Wind Behavior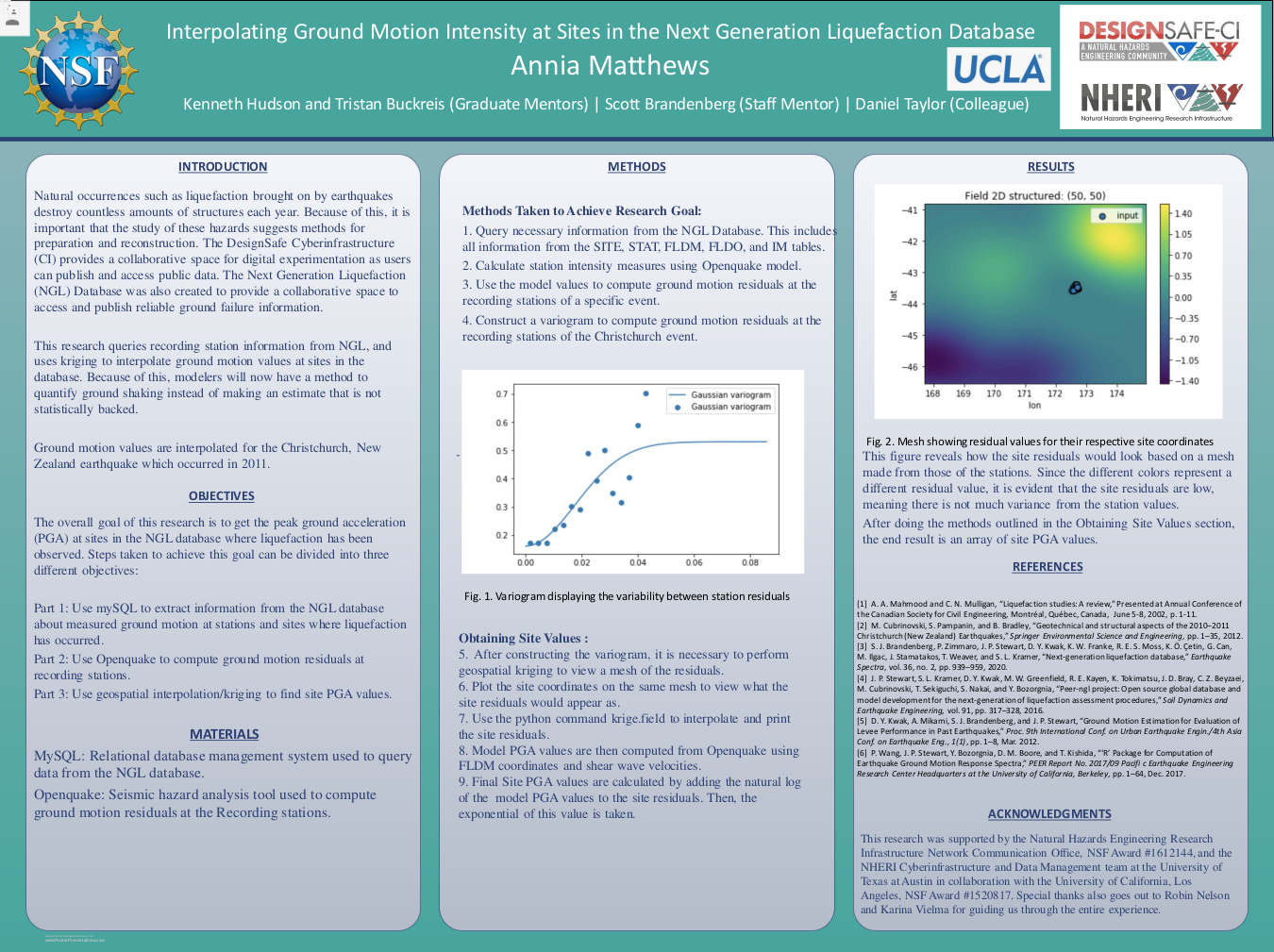 Annia Matthews
Home University:Howard University
NHERI EF Site:University of Texas at Austin, DesignSafe in collaboration with UCLA
Research team:Scott Brandenburg, Tristian Buckreis, Kenneth Hudson
Research project title:Interpolating Ground Motion Intensity at Sites in the Next Generation Liquefaction Database
Research presentation: DesignSafe Data Depot publication #3239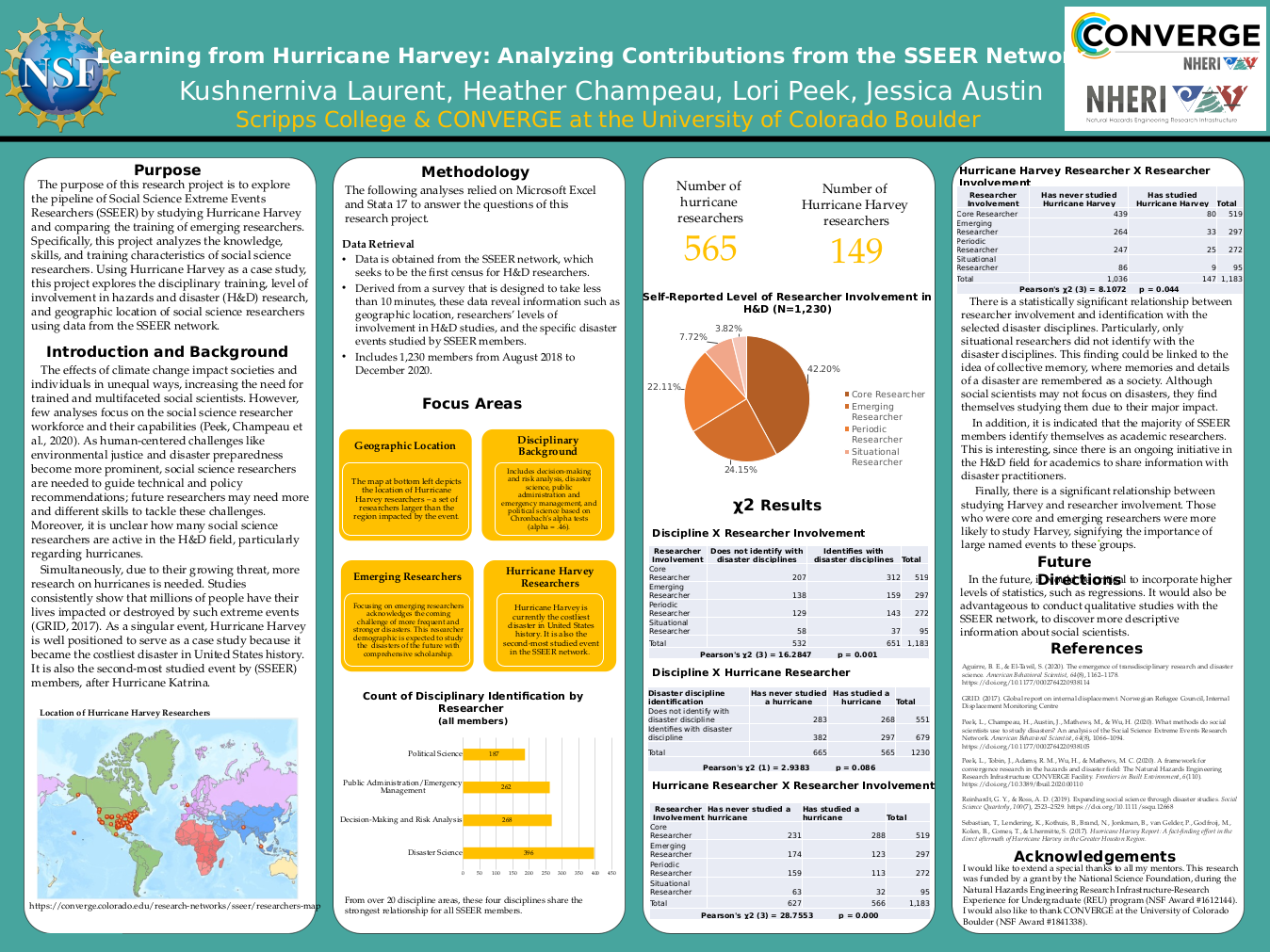 Kushnerniva Laurent
Home University:Scripps College
NHERI EF Site:University of Colorado—Boulder, CONVERGE
Research team:Lori Peek, Heather Champeau, Jessica Austin
Research project title:Learning from Hurricane Harvey: Analyzing Contributions from the Social Science Extreme Events Research (SSEER) Network
Research presentation: DesignSafe Data Depot publication #3228
Chidi Onyekwelu
Home University:Howard University
NHERI EF Site:University of Washington, The RAPID Facility
Research team:Laura Lowes, Jeffrey Burman, Andrew Lyda, Michael Grilliot
Research project title:Understanding the Utility of the iPad Pro LiDAR Sensor
Research presentation: DesignSafe Data Depot publication #3256
Daleen Torres Burgos
Home University:University of Puerto Rico - Mayaguez
NHERI EF Site:Lehigh University, RTMD
Research team:Phillip, Harvey, Liang Cao, Esteban Vega Villalobos, James Ricles
Research project title:Mitigation of Seismic Risk to Critical Building Contents via Rolling Pendulum Isolation Systems: Multi-Directional Hybrid Shake Table Tests
Research presentation: DesignSafe Data Depot publication #3227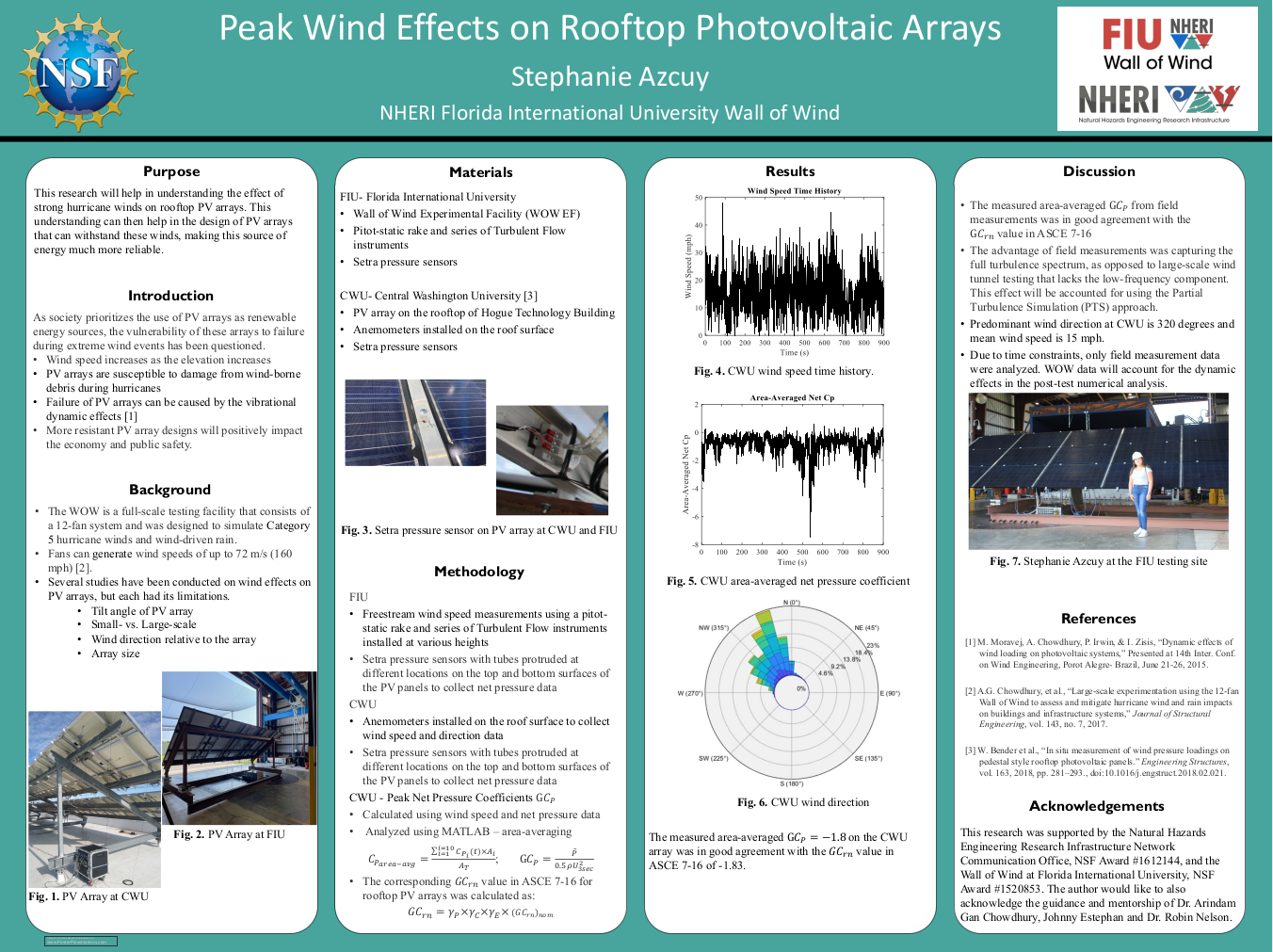 Stephanie Azcuy
Home University:University of Florida
NHERI EF Site:Florida International University, The Wall of Wind
Research team:Johnny Estephan, Arindam Gan Chowdhury
Research project title:Peak Wind Effects on Rooftop Photovoltaic Arrays
Research presentation: DesignSafe Data Depot publication #3262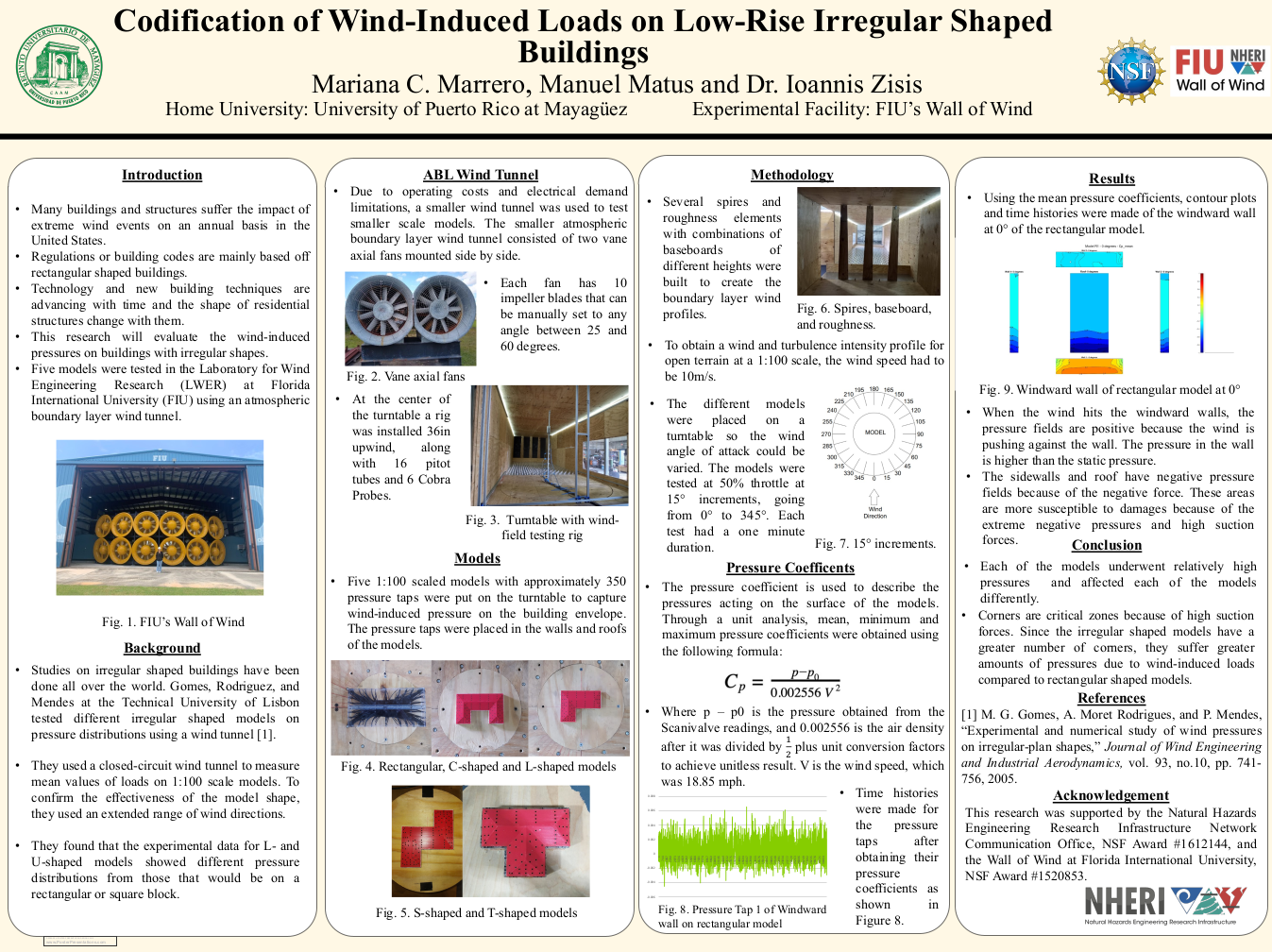 Mariana Marrero
Home University:University of Puerto Rico- Recinto de Mayagüe
NHERI EF Site:Florida International University, The Wall of Wind
Research team:Manuel Matus, Ioannis Zisis
Research project title:Codification of Wind-Induced Loads on Low-Rise Irregular Shaped Buildings
Research presentation: DesignSafe Data Depot publication #3265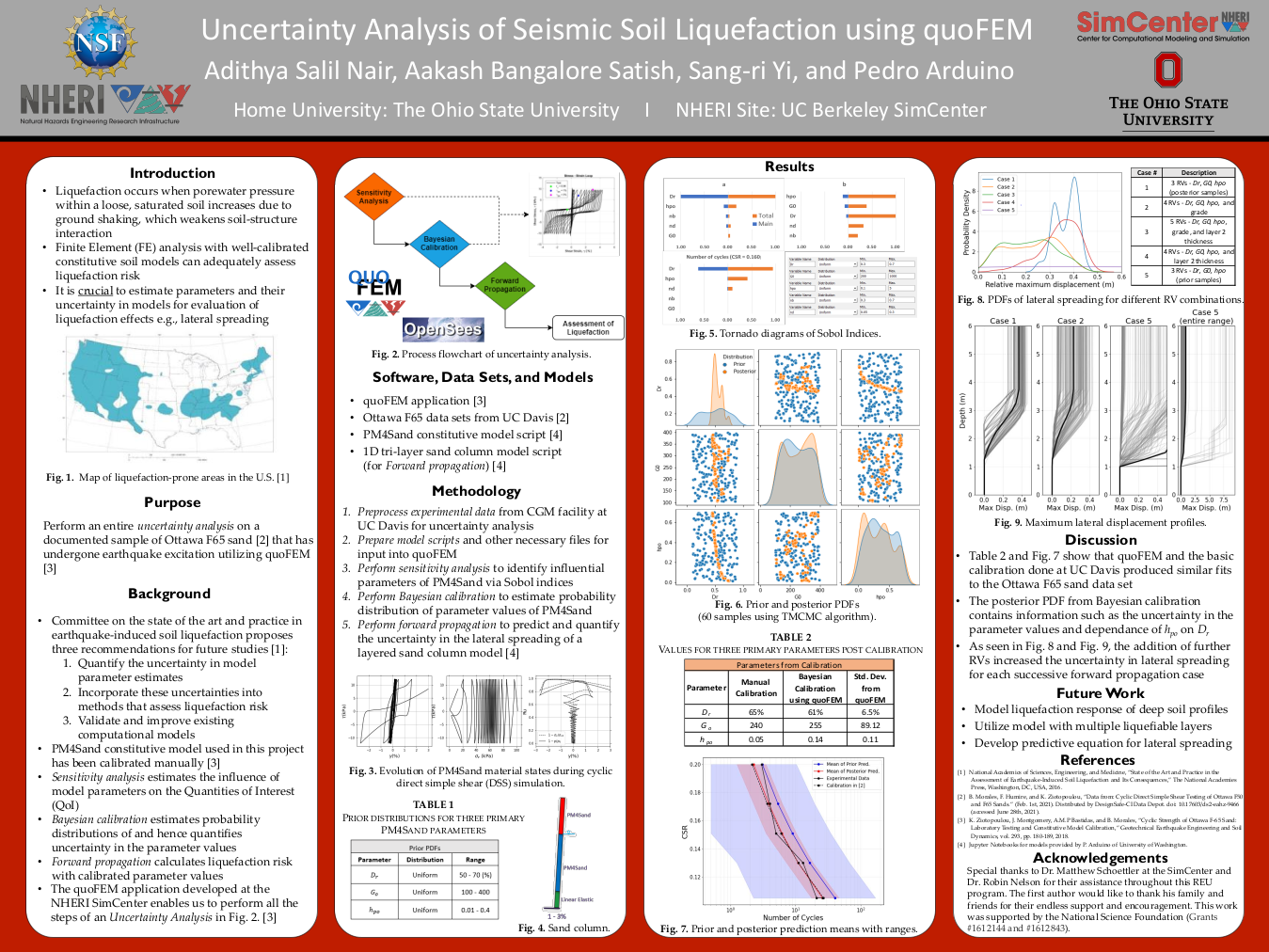 Adithya Salil Nair
Home University:The Ohio State University
NHERI EF Site:University of California—Berkeley, SimCenter
Research team:Aakash Bangalore Satish, Sang-ri Yi, Pedro Arduino, Gregory Deierlein
Research project title:Uncertainty Analysis of Seismic Soil Liquefaction using quoFEM
Research presentation: DesignSafe Data Depot publication #3233