Opens in a new window
Opens an external site
Opens an external site in a new window
Opens an external site in a new window
Coastal Reconnaissance, September 2017
Published on December 5, 2017
In the wake of hurricanes Harvey and Irma, retinues of hazard researchers arrived on the scene to gather valuable, perishable data.
Among them were Nina Stark, assistant professor of civil and environmental engineering at Virginia Tech, and Stephanie Smallegan, assistant professor of civil, coastal and environmental engineering at Southern Alabama University. They sought to document the storms' geotechnical impacts in coastal zones and riverine environments, in particular those related to scour and erosion. Both participated in reconnaissance efforts of the Geotechnical Extreme Events Reconnaissance (GEER) association.
GEER is an NSF-funded volunteer organization comprised of geotechnical engineers, engineering geologists, and earth scientists from academia, industry, government organizations, and non-profit organizations. Volunteers respond to geotechnical extreme events, conduct detailed reconnaissance, and document their observations.
Erosion at a beach house at Sombrero Beach, FL. GEER team members Inthuorn Sasanakul (University of South Carolina) and Luis Arboleda Monsalve (University of Central Florida) on the right. (Photo: Nina Stark)
HURRICANE SEASON 2017
Stark led GEER reconnaissance teams in Texas and in Florida. "My research focuses on the geotechnical aspects of coastal and subaqueous erosion and sediment remobilization processes, as well as the geotechnical site characterization of coastal areas. So these reconnaissance missions were very much in line with my research interests," she says.
The teams were equipped with cameras, measuring tools, high resolution GPS devices, field penetrometers, a field vane shear, and an acoustic scour monitor.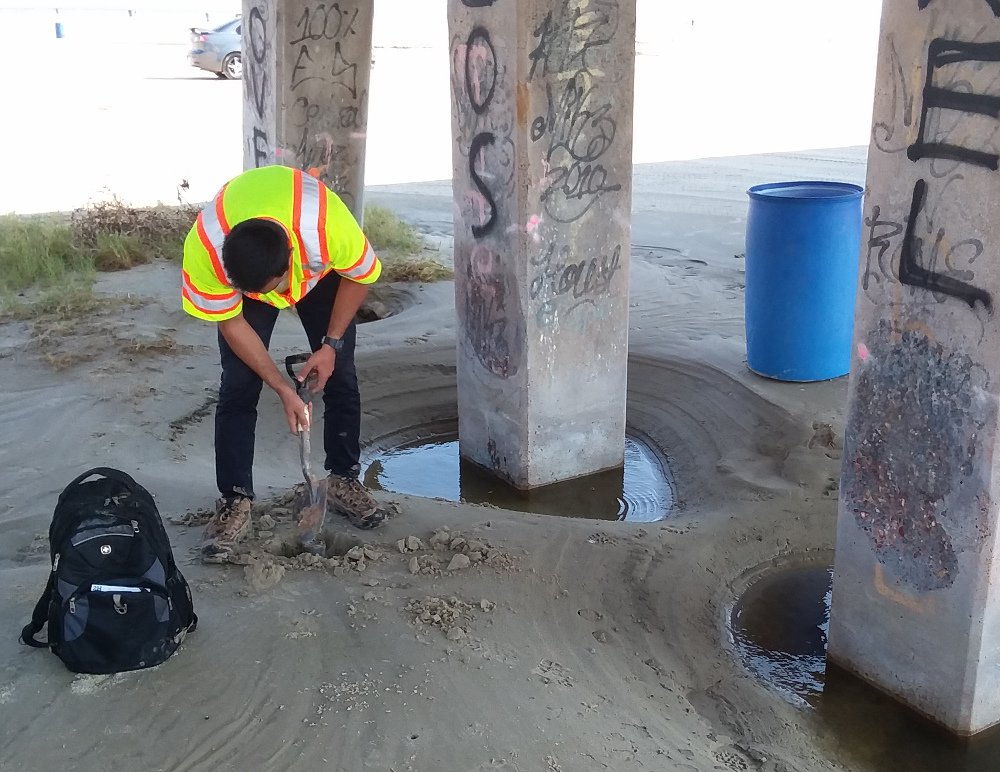 Post-Harvey Texas. On September 2-5, Stark and her team covered a large area, from Corpus Christi to Galveston, including some sites west of Houston. Team members included Navid Jafari (LSU), Nadarajah Ravichandran (Clemson), Iman Shafii (Texas A&M) as well as Stephanie Smallegan (U South Alabama). The group was assisted at locations around Galveston and Freeport by Patrick Bassal (WSP) and Jens Figlus (Texas A&M). Lee Wooten of GEI Consultants Inc. co-led the team.
"In the interest of people living in those regions, I was hoping to find minor geotechnical damages that do not pose significant risks and that could be fixed easily," Stark says.
"We found some severe erosion that led to damage of infrastructure or risks to infrastructure. This included severe river-bank erosion and failure, scour, as well as beach erosion." The team's report is available on the GEER website.
Smallegan's research focuses on morphological changes of sandy beaches, particularly on barrier islands and changes due to both ocean-side and bay-side hydrodynamics during hurricanes, and the interaction of coastal infrastructure with those processes.
"In terms of those research interests," she says, "I was expecting to find significant changes to the beaches, such as lowered dune heights, significant overwash fans, and scour or other signs of impact on the sediment transport from infrastructure — roadways, buildings and such." She was looking for high water marks and clear evidence of surge damage to structures on both oceanfront and bay front buildings.
"Fortunately for the communities we visited, we found noteworthy changes to the beaches mostly in areas that were not residential, but in those areas, we observed road undercutting and we saw that very large volumes of sediment had been mobilized, creating "channels" on the beaches," she says.
Post Irma Florida. From September 24-28, Stark's second GEER-supported team covered another large area, from Cape Coral to Key West. The travelling team included Luis Arboleda (U Central Florida) and Inthuorn Sasanakul (U South Carolina). Nick Hudyma (U of North Florida) co-led the team. They were assisted by members of the U.S. Army Corps of Engineers and the city of Key West.
"Again, I was hoping to learn from what we may find, but not find too devastating impacts. We found severe erosion of beaches that required nourishment, failure of sea walls, undermining and erosion of streets, as well as severe sediment relocation events that led to houses being flooded with water and sand, and foundations being exposed," she says. The team's report is available at the GEER website.
DESIGNSAFE TOOLS
While collecting their data, Stark and her team used the Designsafe-CI data portal to store and share their findings.
"DesignSafe made access to all data easy for the entire team. We used Slack to provide updates to the interested community. I found this useful because we could quickly share information, in real-time, without writing a lot of emails to different people, or overwhelming someone's account on a public social network — which may also reach the wrong audience.
Slack allows quick social-media type communication with interested researchers. We also used HazMapper, one of the DesignSafe software tools, to communicate our investigation sites." HazMapper enables first responders to quickly identify, record, and share a common operational picture of a post-disaster scene.
Smallegan agrees: "HazMapper could be hugely beneficial if you could use it as an app, where you could pinpoint your location and tag photos. Or make a Slack post directly on the map. And, if the data uploaded in a HazMapper app could be automatically backed up or uploaded onto a user defined folder in DesignSafe-CI, that would be a huge time saver."
"Just having a place where we can all simultaneously upload data and build upon that platform by adding analyses and reports is an incredible tool," Smallegan adds.
GEER Team Harvey (from left): Iman Shafii (Texas A&M), Nadarajah Ravichandran (Clemson), Navid Jafari (Louisiana State), Nina Stark (Virginia Tech), and Stephanie Smallegan (Southern Alabama) in Rosenburg, TX. (Photo: Iman Shafii)
FUTURE MISSIONS
Stark is eager to conduct more reconnaissance missions. "I am particularly looking forward to potentially using equipment from the NHERI RAPID facility," she says, "But I also envision using multiple NHERI facilities for related research projects and physical simulation."
For geotechnical and coastal engineers doing post-disaster reconnaissance, Stark and Smallegan both emphasize the importance of having a multidisciplinary perspective. "We need more cross-disciplinary communication and collaboration in our research communities. I think our recon missions were a very positive example for this," Smallegan says.
Smallegan also highlights the importance of leadership, and the ability to adapt to working with different groups to accomplish their mission. "Being one of the first groups in, we met one obstacle after another. Many things did not go as planned. However, largely due to Nina's leadership and having a very flexible functional group, our mission's effectiveness was not compromised," she says. "We just kept moving forward and quickly learned to expect and accept quick changes."
Disaster reconnaissance groups should be prepared to improvise, she says. Other tips from Smallegan include:
Have a list of target locations to keep the team focused and efficient.
Get to sites as soon as safely possible after the storm.
Take as many measurements as possible.
Be sure to get accurate pre-storm data, which is vital for valid analyses.