Opens in a new window
Opens an external site
Opens an external site in a new window
Opens an external site in a new window
Natural Hazards Research Summit 2022
October 6-7, 2022   |   Washington, DC
---
The 2022 Natural Hazards Research Summit was a rousing success!
Check out the sizzle reel video! Day One events featured many inspiring speakers, including a keynote from Reggie DesRoches, Rice University president, and remarks from Susan Margulies of the NSF Engineering Directorate. And do not miss the TED talks from community members Tracy Kijewski-Correa, Forrest Masters, Barbara Simpson, Lori Peek, Ellen Rathje, John van de Lindt, and Greg Deierlein. They're available on the NHERI YouTube channel. View them all on the YouTube playlist.
The NSF report from the organizing committee will be available soon. Stay tuned for info on another natural hazards community meeting in May, 2024!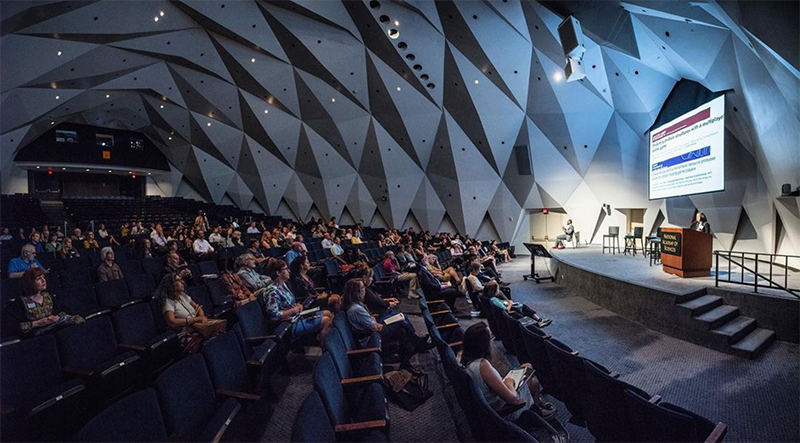 Don't miss the meeting of the year for everyone involved in natural hazards engineering research, policymaking, and engineering design.
Join us October 6 & 7 at the historic National Academy of Sciences as we take a deep dive into the research needs and priorities for our profession and the communities we serve.
The high profile program kicks off with a keynote from earthquake engineer and Rice University president-elect Reginald DesRoches, followed by a panel of distinguished experts from FEMA, NIST and NSF discussing national needs and priorities.
Add your voice in the Summit's visioning sessions, topic-based tracks where attendees provide input and ideas toward the future direction of natural hazards engineering research.
More highlights include:
Expert panel by leaders in academia, federal and local government, industry, and NGOs.
Ted-style talks covering simulation, data discovery and sharing, the social dimension in natural hazards research, tech transfer, early career opportunities, and technology transfer.
A town-hall style event to shape the future of disaster research networks.
Early-career track, with networking and meetings with program directors.
Sessions on advances in disaster reconnaissance, data publication, simulations and NHERI facilities.
Poster session and networking opportunities on wind, earthquake, tsunami and storm surge engineering, data and simulation, and social dimensions in disasters.
Early-career faculty and professionals, graduate students, and post-doctoral professionals are invited to apply for an NSF Travel Award (NSF Travel Awardees must be a citizen or permanent resident of the United States)
---
Contact Us
We would like to hear from you. Please contact us with Summit questions or comments at ramirez@purdue.edu.
---
Natural Hazards Engineering Research Infrastructure (NHERI)
Funded by the National Science Foundation, the Natural Hazards Engineering Research Infrastructure — NHERI — is a network of experimental facilities dedicated to reducing damage and loss-of-life due to natural hazards such as earthquakes, landslides, windstorms, and tsunamis and storm surge. NHERI provides the natural hazards engineering and social science communities with the state-of-the-art resources needed to meet the research challenges of the 21st century.
Learn more about NHERI at https://www.designsafe-ci.org/about
---
National Science Foundation (NSF)
The National Science Foundation (NSF) is the only U.S. federal agency whose mission includes support for all fields of fundamental science and engineering, except for medical sciences. NSF is tasked with keeping the United States at the leading edge of discovery in areas from astronomy to geology to zoology. In addition to funding research in the traditional academic areas, the agency also supports "high-risk, high pay-off" ideas, novel collaborations and numerous projects that may seem like science fiction today, but which the public will take for granted tomorrow.
---
Acknowledgement
The Natural Hazards Engineering Research Infrastructure, NHERI, is a shared-use network funded by multiple grants from the National Science Foundation. The NHERI Network Coordination Office is supported by Award CMMI-2129782.
The Natural Hazards Engineering Research Summit is supported by the National Science Foundation through a supplement to Award CMMI-2129782.
 
Natural Hazards Research Summit 2024
Based on the overwhelming positive feedback from this event, we are planning the next NHERI national meeting, slated for May 2024 in the Washington DC area. Stay tuned for a save-the-date and opportunities to shape the meeting!
Organizing Committee
Co-Chairs
Jennifer Bridge
Summit Co-chair
Professor, University of Florida
Lead PI, NHERI EF at UF
Daniel Cox
Summit Co-chair
Professor, Oregon State University
Lead PI, NHERI EF at OSU
Julio Ramirez
Summit Co-chair
Professor, Purdue University
Lead PI and Director, NHERI NCO
Committee Members
JoAnn Browning
University of Texas at San Antonio
Greg Deierlein
Stanford University
Bill Hansmire
Parsons Brinckerhoff Inc.
Tracy Kijewski-Correa
Notre Dame University
Claudia Marin
Howard University
Judy Mitrani-Reiser
National Institute of Standards and Technology
Jamie Padgett
Rice University
Stephanie Patch
University of South Alabama
Lori Peek
University of Colorado Boulder
Ellen Rathje
University of Texas at Austin
John van de Lindt
Colorado State University
Joseph Wartman
University of Washington
The NHERI Network Coordination Office is funded through an NSF grant awarded to Purdue University. Purdue University is committed to providing an educational and work environment free of discrimination and harassment and does not condone and will not tolerate discrimination or harassment of any person in the community.