Opens in a new window
Opens an external site
Opens an external site in a new window
Opens an external site in a new window
Natural Hazards Research Summit 2022
October 6-7, 2022   |   Washington, DC
Summit Photos
---
Day 1
On Day One, the Summit convened at the historic National Academy of Sciences Building in Washington, DC. Keynote speaker Reginald DesRoches kicked things off then joined our expert panel discussion on the future of natural hazards research. We enjoyed TED-style talks from leading researchers and closed the day with a community-wide visioning session. See details Day 1 program.
The NAS Building, dedicated in 1924, houses the executive offices of the National Academy of Engineering, National Academy of Sciences, and the National Academy of Medicine.
Right: Keynote speaker Reginald Desroches, President of Rice University – and earthquake engineer – highlights the Summit theme in his talk: Building Resilient and Equitable Communities.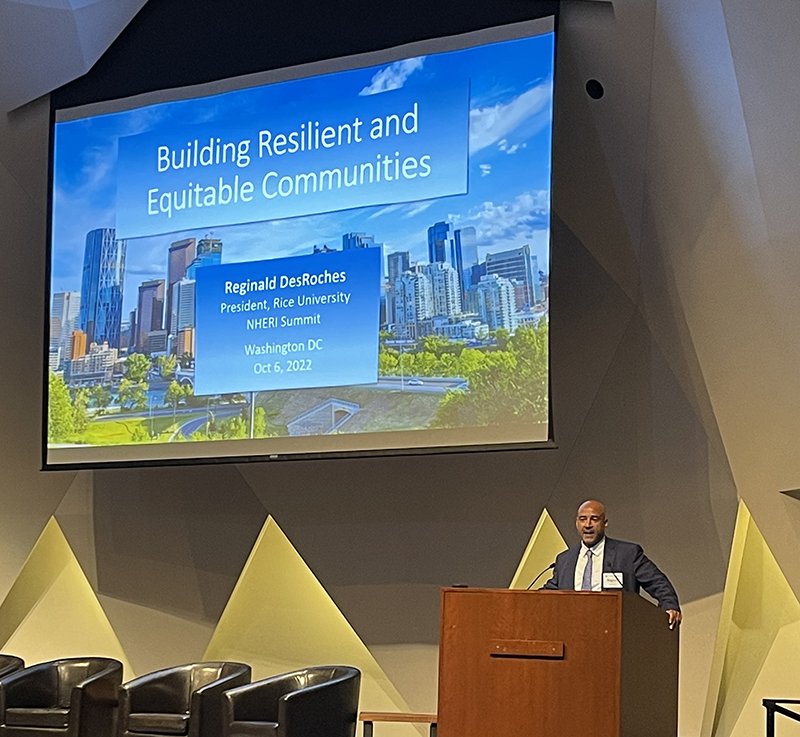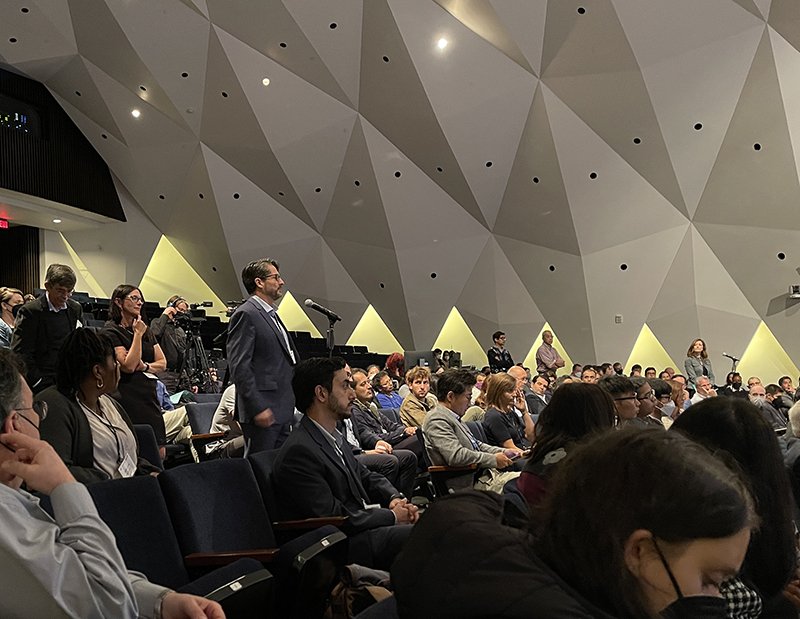 Audience members asked questions of the expert panel. Forrest Masters (shown standing) is a wind engineer from NHERI at University of Florida.
Members of the Summit expert panel chat before the session opens.
Tracy Kijewski-Correa, PI for the Structural Extreme Events Reconnaissance network (StEER) Image: Lori Peek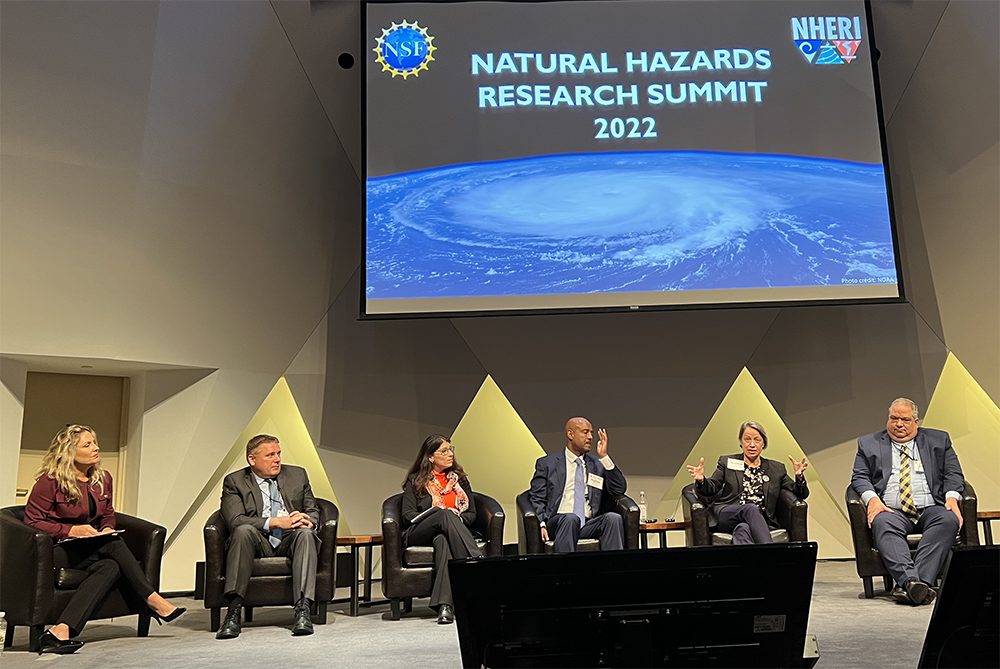 Federal agency experts join keynote speaker Reggie DesRoches for a panel discussing the nation's needs related to hazard and disaster research. From left, Jamie Padgett (moderator, Rice University), Scott Weaver, (IMCO), Judy Mitrani-Reiser (NIST), Reginald DesRoches (Rice University), Jacqueline "Jack" Meszaros (NSF), and Eric Letvin (FEMA). Image: Lori Peek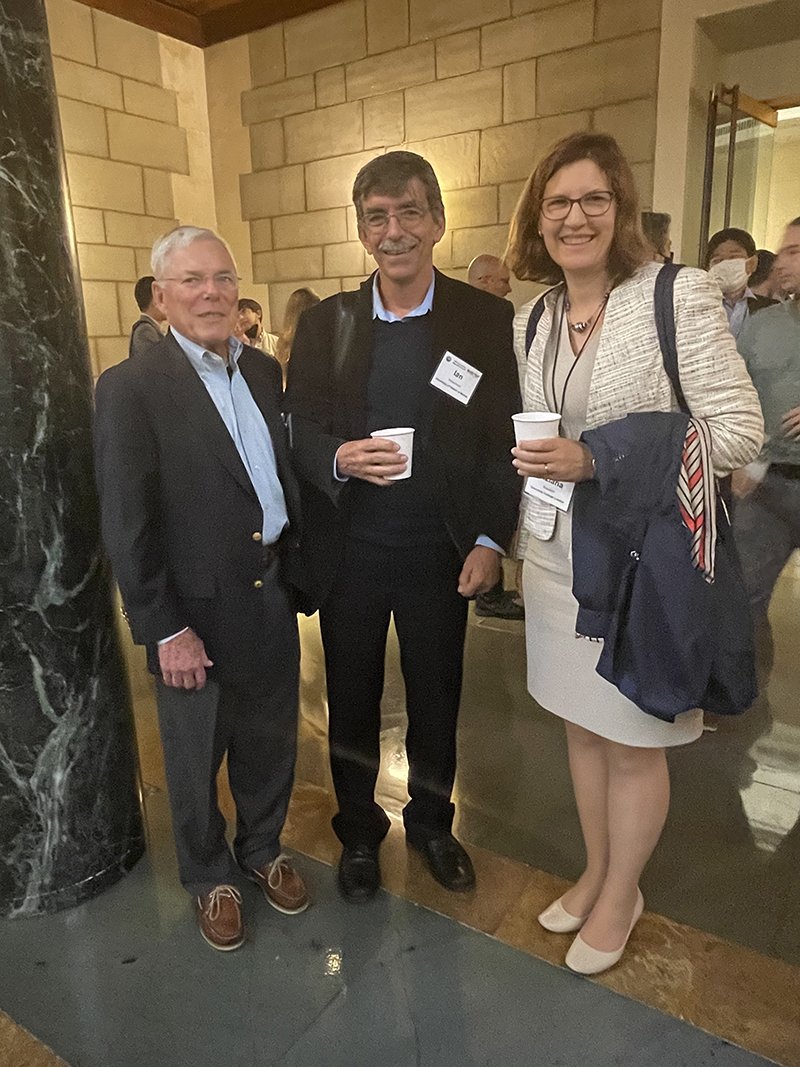 NHERI Network Coordination Office members Billy Edge (left) and Ian Roberts with earthquake engineer Tiziana Rosetto, Co-Director of the EPICentre Research program at University College London.
Julio Ramirez, PI for NHERI's Network Coordination Office, opened procedings of the 2022 Natural Hazards Research Summit.
Tracy Kijewski-Correa, PI for StEER, the Structural Extreme Events Reconnaissance group, gave a talk entitled From Research to Impact: How Collaborative Networks Are Changing Hazards Research.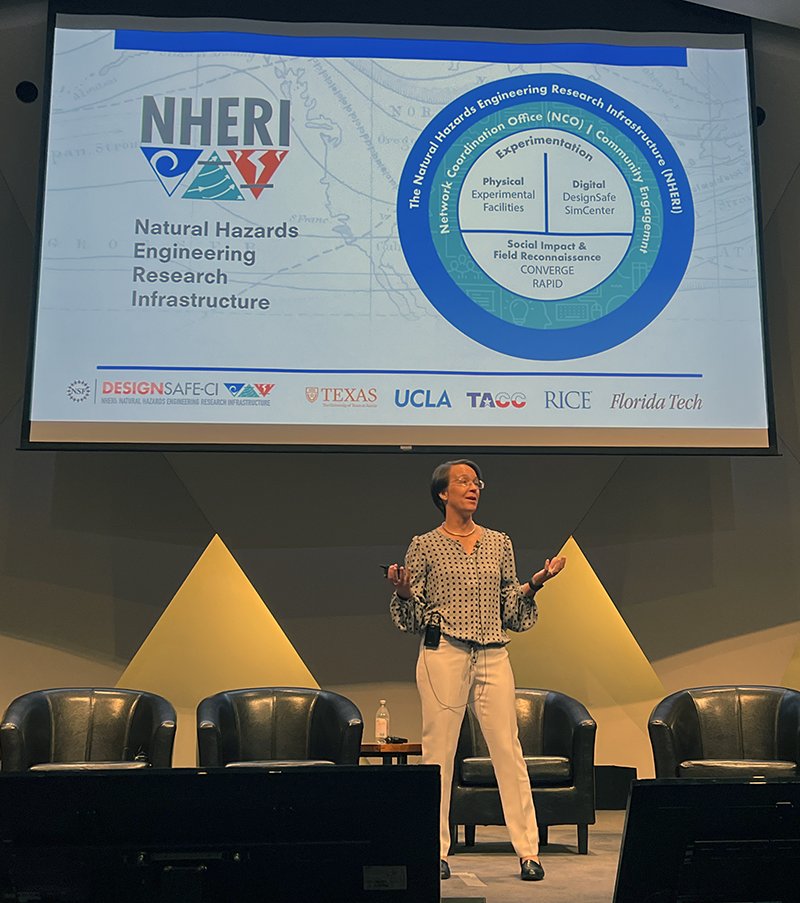 Ellen Rathje, PI for the NHERI DesignSafe cyberinfrastructure, gave a talk on the role of data in transforming hazard and disaster research.  Image: Lori Peek
John van de Lindt, co-PI on the NHERI Tallwood project, gave a talk called Enabling the Mass Timber Revolution.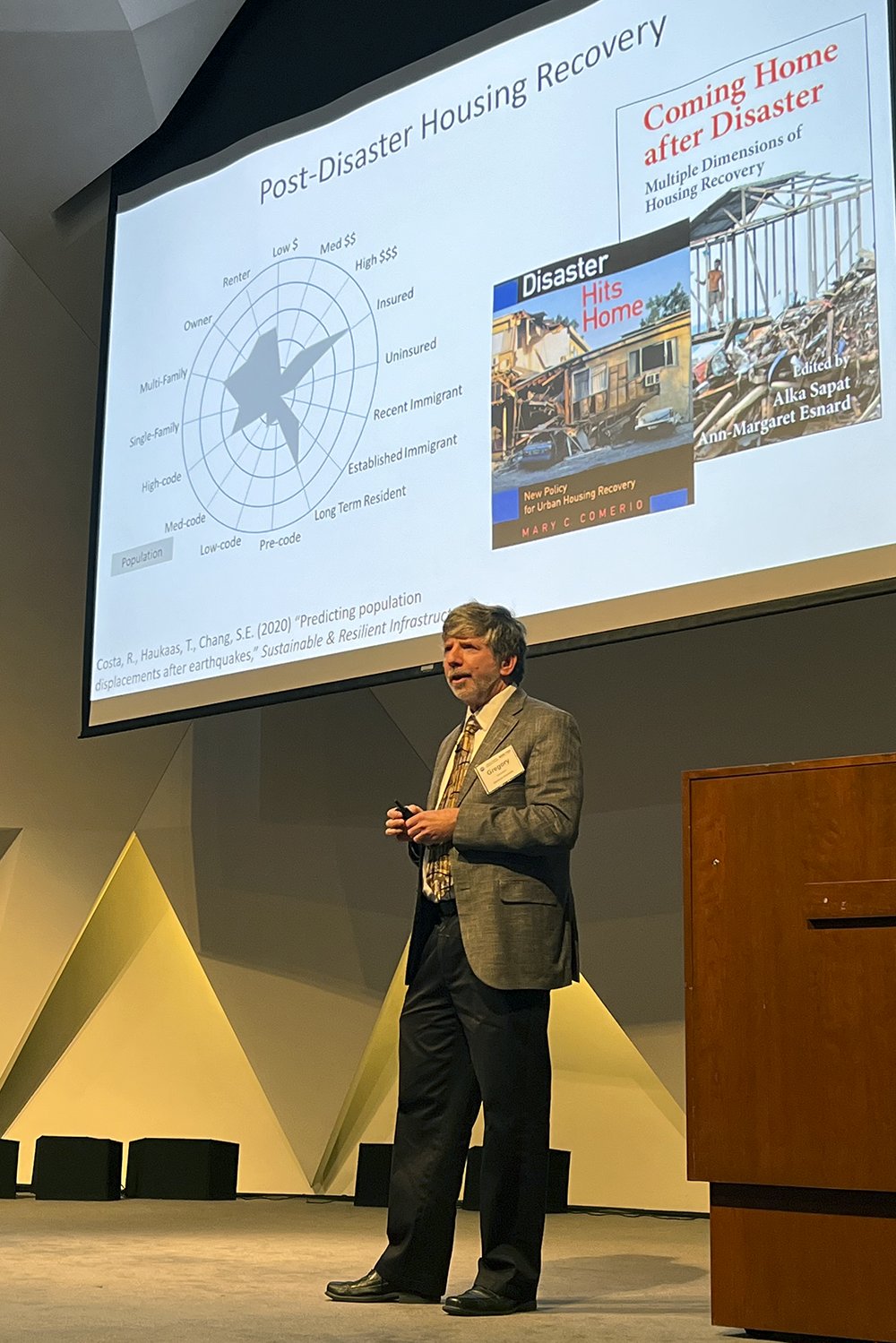 Greg Deierlein, Co-PI for the NHERI SimCenter. Image: Lori Peek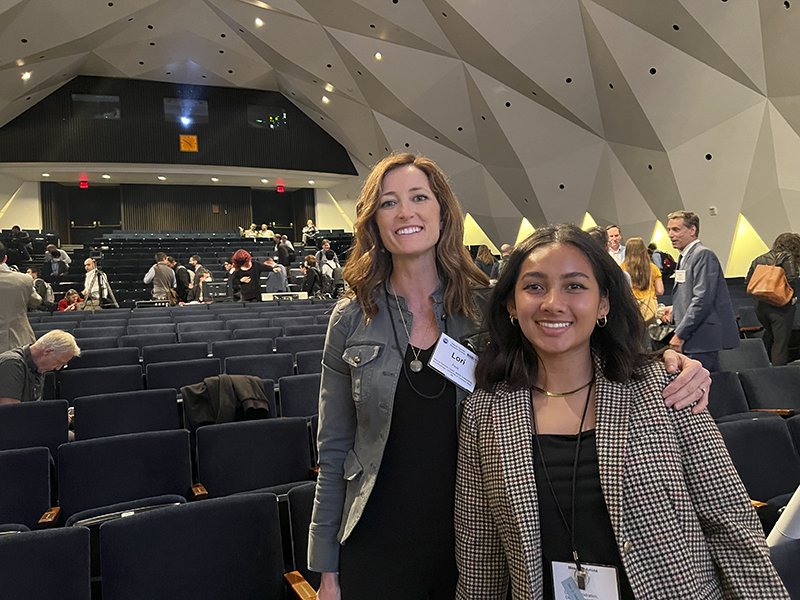 Lori Peek and NHERI CONVERGE REU alumna Amina Meselhe, now a PhD student at Oregon State University. Source: Lori Peek
---
Day 2
Day 2 at the Crystal Gateway Marriott focused on research needs in academia. Participants joined mini-workshops based on the previous day's visioning session, followed by a networking lunch and poster session. The afternoon included an early career panel and focused discussions on key topics: hazards modeling, data reuse, shared-use equipment, hybrid simulation, and enabling convergence in disaster research. Find details in the Day 2 program.
Right: Joy Pauscke, NSF program director for NHERI, makes opening remarks on Day 2 of the Natural Hazards Research Summit.
During the Visioning Session on the second day of the Summit, 280 natural hazards researchers are thinking about ways to make our infrastructure and community more resilient.
Ian Robertson, leader of the NCO effort to update the NHERI Science Plan, provided an update on the work.
One of the breakout sessions on Day 2 addressed short-term and long-term data and computational needs.
On Day 2, the NHERI SimCenter team led discussions on computational simulation & data needs in the 3-year and 10-year horizons.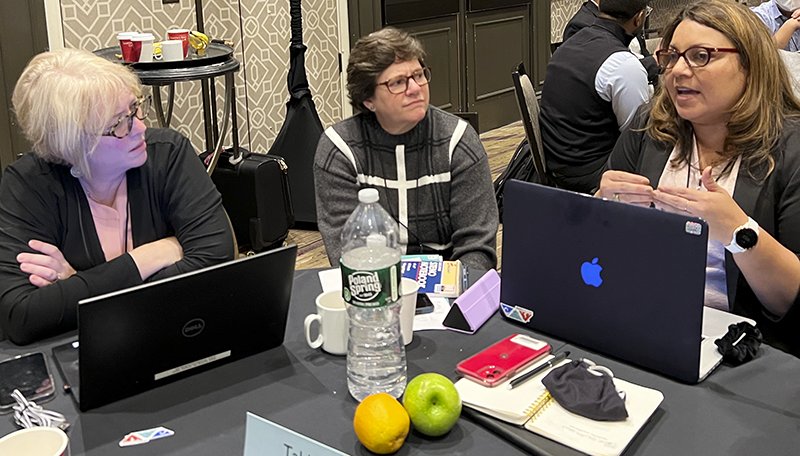 JoAnn Browning, Cheryl Ann Blain, Karina Vielma of the NHERI Network Coordination Office. Image: Lori Peek
---
Summit Coordination Committee
Many thanks to the co-chairs of the 2022 Natural Hazards Research Summit!
From left: Jennifer Thornhill, research coordinator Oregon State University; Julio Ramirez, PI Purdue University; Jennifer Bridge, PI University of Florida; and Dan Cox, PI Oregon State University.