Opens in a new window
Opens an external site
Opens an external site in a new window
Opens an external site in a new window
Education Corner
Published on November 27, 2018
"The number one reason students applied to the NHERI REU program was because a faculty member personally recommended that they apply."
On behalf of the Education and Community Outreach (ECO) Committee, I'm happy to report that our 2018 REU program was a huge success! Twenty-nine undergraduate students conducted research at 10 NHERI facilities. In two research blocks, students participated from May 30 through August 7 and June 18 through August 24.
Thank you for your continued support recruiting excellent students, providing mentorship, and cheering on our students as they conducted valuable research for the natural hazards engineering community. Your support was key to the success of our summer program!
During the NHERI REU Program, students attended virtual orientations, joined weekly Zoom research meetings, and attended career development workshops online. The highlight of their experiences was meeting their peers in person at the research symposium. Students travelled to Corvallis, Oregon, where they presented their research projects and scientific posters — and had a chance to tour Oregon State University's NHERI facilities.
From the REU post-assessments, we learned that students gained valuable research skills that solidified their career goals.
Student Outcomes
All 2018 REU students gained experience preparing and presenting engineering research. Participants also increased their academic and practical understanding of real-world, hands-on engineering research. 100 percent of our 2018 REU students said the program added to their previous confidence in the engineering field as well as to their knowledge of the Natural Hazards Engineering Research Infrastructure community.
Mentorship Experience
100 percent of 2018 REU students said they gained experience collaborating on research projects with an experienced mentor and engaging in quality mentorship. We are grateful to all of the faculty, staff and graduate students at the NHERI EFs who shared their knowledge and time with future natural hazards engineers!
Overall, the REU Summer Program was a huge success. Students delivered high-quality research papers, research posters, and presentations, and they provided positive feedback on their summer experiences.
Also, for the first time this summer, NHERI REU students participated in a social media challenge. They submitted photos working with their peers at their sites which were posted on the NHERI Facebook page. The challenge was a fun way to see their camaraderie in action as well as share their research experiences with the world. We look forward to sharing with you next year's REU Facebook challenge!
The 2019 REU applications are now available online on the DesignSafe website. The applications are due Feb. 1, 2019.
Please encourage your undergraduates to apply. In the past two years, we found that the number one reason students applied to the NHERI REU program was because a faculty member personally recommended that they apply. If you or your students have any questions about the program, feel free to reach out to us at nheri-reu@utsa.edu.
The NHERI REU is an outstanding experience for college students with limited research opportunities and for students looking to explore the field of natural hazards engineering research including earthquake, wind, tsunami and coastal engineering as well as research in cyber-infrastructure, computer simulation, and disaster reconnaissance. We welcome all majors interested in these areas to apply.
We look forward to another successful REU program in 2019. Thank you again for all your continued support.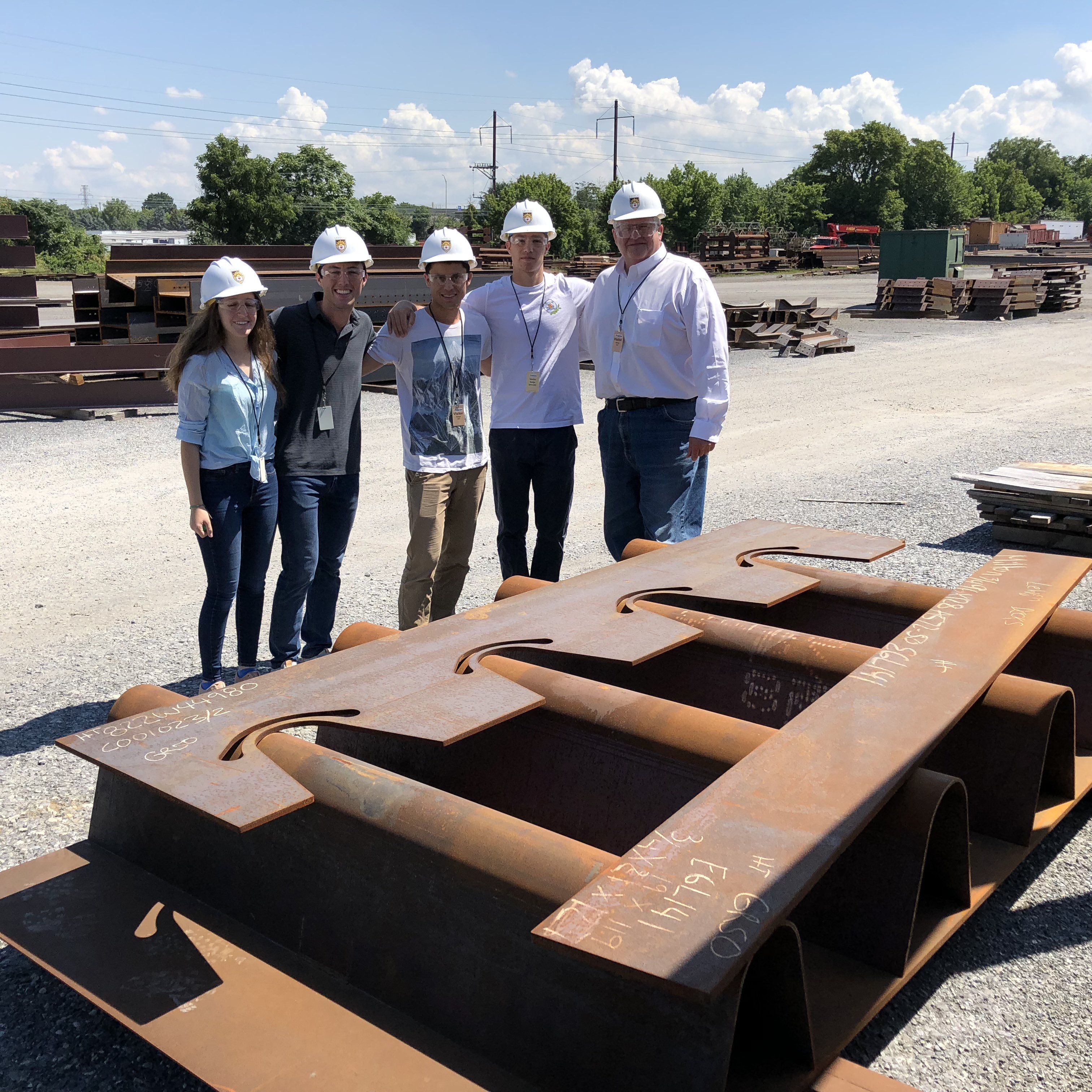 Lehigh University REU students touring the High Steel Structures fabrication plant. From left, REU students Natalie Rosato, R. Bailey Bond, Ben Zager, and Peter Guadagno, with Peter Bryan of the Lehigh experimental facility.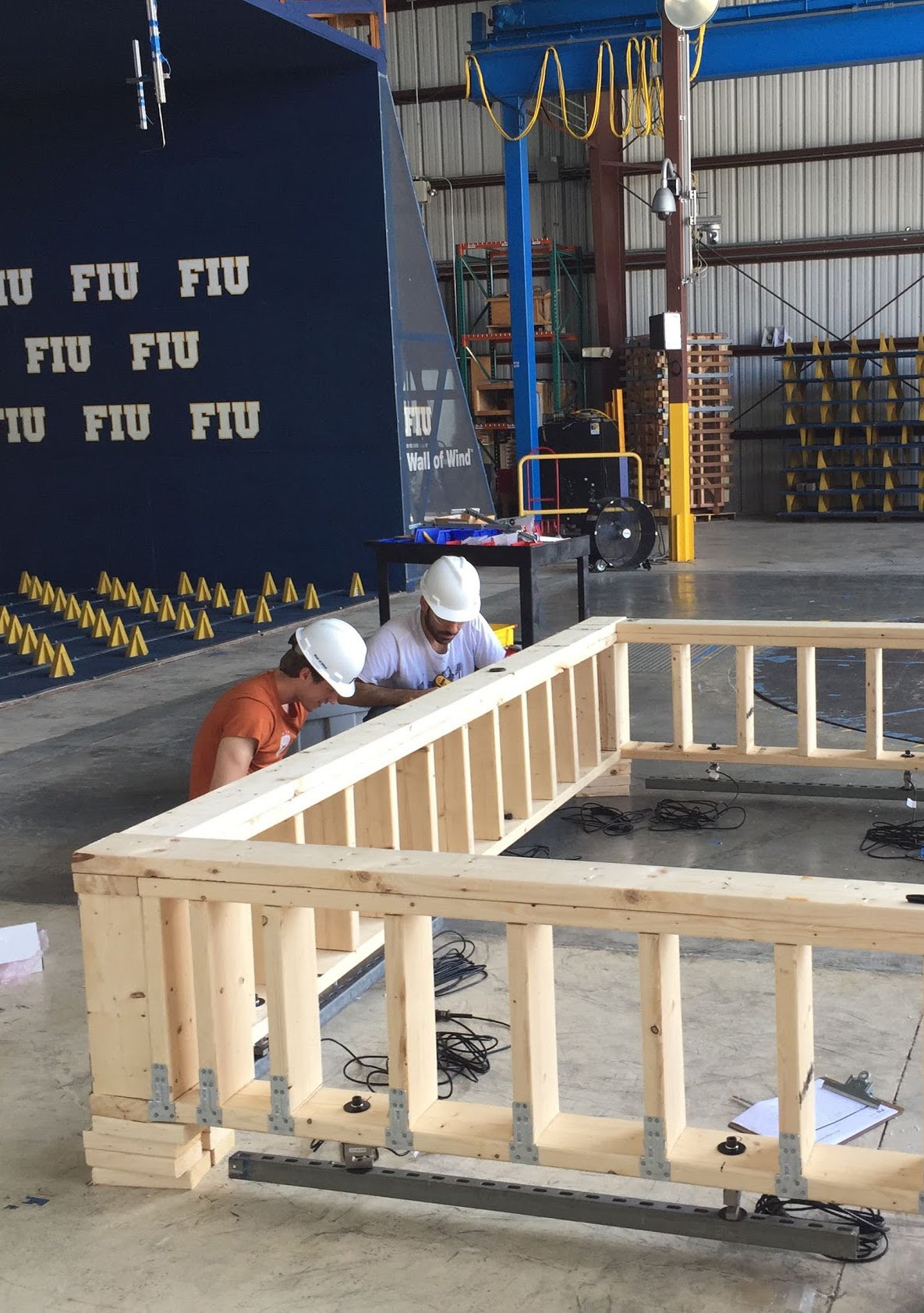 Florida International University REU students Ahmed Saleh (in white) and Walker Hood (in orange) installing the load cells for a Department of Emergency Management project. The structure would be tested under high speed wind to investigate its response under such drastic conditions.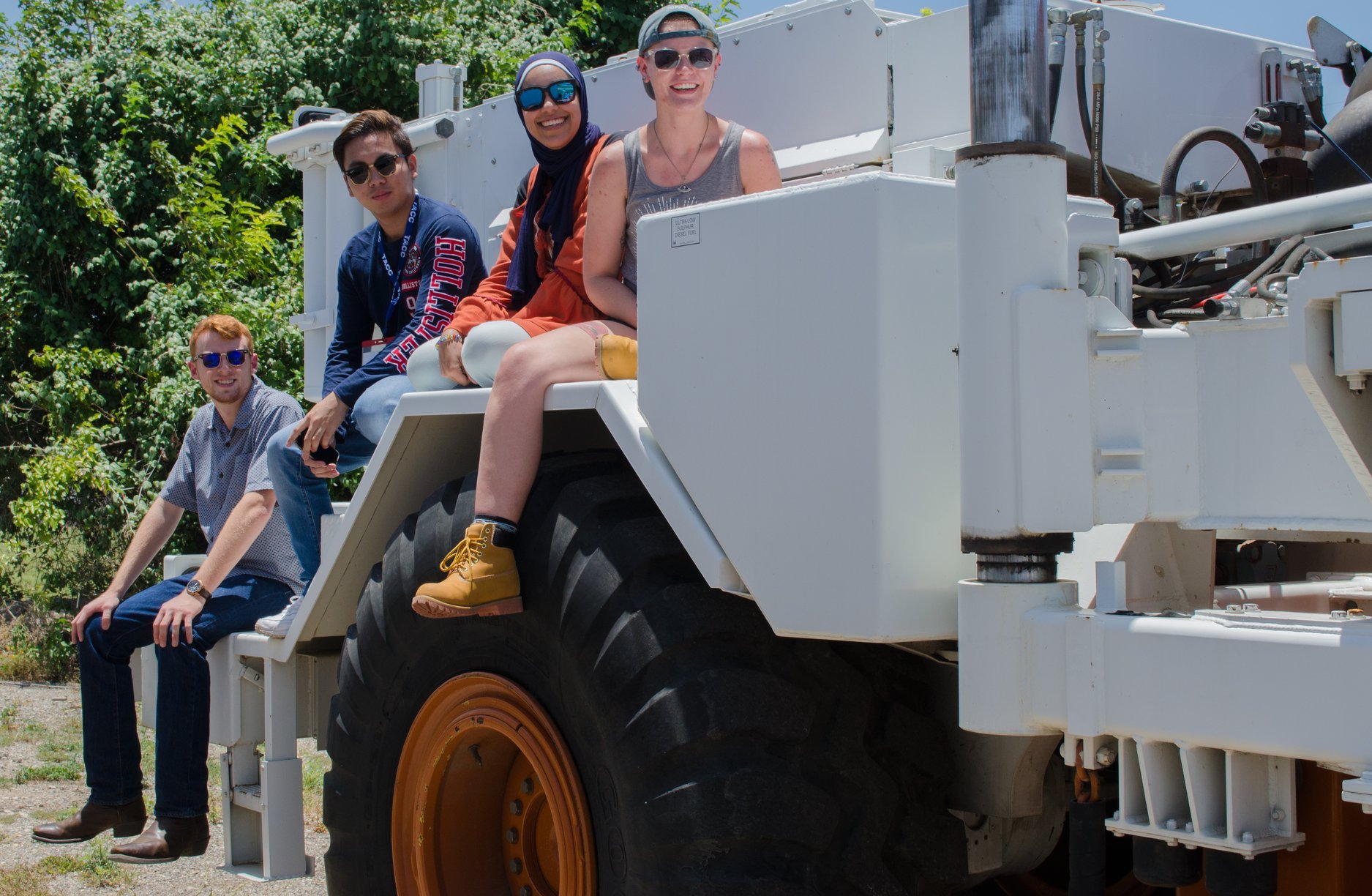 NHERI REU students sitting on the Liquidator mobile shaker at the NHERI@UTexas site. From left: Jack Gaither, Nilo Espinoza, Salwa Badr and Emma Donnelly-Bullington. Photo: Jorge Salazar.